Reader D has a unique question: what to wear in the field? More specifically, to visit a factory (and ride in her client's plane!)
I am going on a site visit to a factory near Seattle. The visit includes riding in a small plane and then visiting a large factory so I will need to be casual, wear flat comfortable shoes, yet still look professional. Any advice? Although I am a senior associate I will be the sole representative for my client and want to make sure I come off as professional as possible.
Congratulations on the opportunity — it sounds fun (riding in a private plane is on my Bucket List) and like a good career opportunity. As far as fashion goes, I think my answer depends on one question: can you wear denim around your client? If so, I think a pair of dark (preferably black) jeggings skinny jeans, tucked into flat boots, topped with a button-front and blazer, and accessorized with your normal work jewelry, would probably be my best guess for an outfit. (Update: There's a lot of disagreement with me in the comments, which is fine, but just to be clear: when I say "jeggings" — I mean skinny jeans that have a bit of extra Spandex in them to make them more comfortable, but are still primarily denim. See our 2020 roundup of the best jeans for work and play!) Here's my thinking:
2020 Update: These are some of the best jeans for work (affiliate links): 1) Paige 2) Madewell 3) Topshop 4) Wit & Wisdom 5) Levi's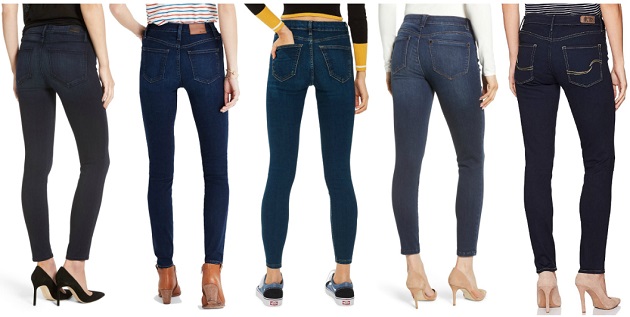 – Factory = boots. While ballet flats and other flat shoes have many things to recommend them, on the off (off) (off) chance something falls on your foot, you should be as protected as possible. Also, I think if there's any uncertain footing that requires delicate stepping (e.g., over pipes), you'll want to be in shoes that you know will not fall off. Oh, another reason: if it's at all muddy or dusty on the runway (or in the factory), you'll want the dust to stick to your boots rather than your pants.
– Factory and small plane = pants. See above re: delicate stepping. I think it's also possible in the factory you could be walking on grating, or on metal stairways, with people walking or working below, such that you wouldn't want to wear a skirt. I could also see there being some awkward stairways to get up to the plane (although it's entirely possible I've just watched Arrested Development too much).
– Factory and small plane = tight-fighting, non-voluminous clothing. You wouldn't want to get a flowing cardigan or skirt caught on a piece of machinery, or (ack) in some part of the propeller.
– Professional = blazer, dark pants. I would suggest that you carry over the jewelry you normally wear with suits to this more casual outfit — if it's pearls and diamonds, do it; if it's a statement necklace that you always wear, do it. Part of this is for a continuous look: the client has seen you wearing the jewelry before, and even though you're in a different type of outfit now you're still, at the core, the professional lawyer he knows. Another part of this is to help YOU feel confident and be in your zone for your most professional self. For me, for example, that means putting on my good watch whenever I have a business meeting, no matter what I'm wearing… even if I don't wear the watch when I'm lazing around the house or hanging out with friends.
So all of these thoughts, above, send me to jeggings, flat boots (get 'em shined before you go!), a nice top, a blazer, and your work jewelry. There are some non-denim leggings that have enough weight to the fabric that they can be worn as pants (despite the popular Buzzfeed "am I wearing pants" flowchart) — I got a nice ponte pair from Ann Taylor earlier this year. If you really would rather wear proper trousers, I might still advise wearing flat, knee-high boots beneath them — that way if conditions are really horrible you can tuck your pants into your boots.
A few other considerations: plane and runway = wind, so I might suggest pulling your hair back from the get-go. Keep in mind, though, that the factory may require you to wear a hardhat, hairnet, and/or goggles… so I wouldn't do anything too fancy that will interfere with those requirements. In other words: low "on purpose" ponytail, not a French twist.
Readers, have you had to visit factories (or, speak up ladies, how many of you have ridden in private planes)? What would you wear?