Sure, we all know what basics women are supposed to have in their closets, but if you're buying one for the first time or replacing one you've worn into the ground, it can be a pain to find exactly the right incarnation in stores. In "The Hunt," we search the stores for a basic item that every woman should have.
We haven't done a roundup on the best jeans to wear to work in far too long — so I thought we'd go on a hunt, particularly since we're all stuck working from home for a while now!
A lot of readers have noted that if you're not on Team Sweatpants, odds are good you're on Team Denim — one of the biggest marks in their favor is that jeans have less give than sweatpants, so you can notice more quickly if you're gaining or losing weight. Fair point!
For those of you in business casual offices, which are your favorite jeans to wear to work? For those of you with "jean Fridays," how do you wear jeans to work? In your mind, how are "jeans for work" different from weekend jeans — and how does that translate during these crazy days when we're all working from home?
For my $.02, I'd say that the best jeans for work should be:
dark rinse or largely one color — not too much distressing or fading
no rips or other embellishments (e.g., embroidery)
probably a more traditional cut (skinny, bootcut, straight leg) versus a trendier cut (Mom jeans, baggy boyfriend jeans, some of the crazy paper bag waists)
Denim is always special to me because I worked on a denim encyclopedia for one of my first seven jobs!)
This post contains affiliate links and Corporette® may earn commissions for purchases made through links in this post. For more details see here. Thank you so much for your support!
Some of our Hall of Famers are pictured here (am I the only one who distinguishes denim mostly by what the back pocket looks like?)
Below: 1) Paige 2) Madewell 3) Topshop 4) Wit & Wisdom 5) Levi's
Some of the best plus-size jeans for work: 1) Universal Standard 2) Madewell 3) Lane Bryant 4) Wit & Wisdom
(If you are interested in plus size workwear, please sign up for CorporettePlus, our newsletter! Signing up helps us gauge interest in the project, and we promise not to blast your email more than once a week at most. (Right now it's really infrequent!)
Psst: here's our latest conversation about skinny versus bootcut.
The Affordable, Stretchy Jean
Wit & Wisdom dominates a lot of the top-rated denim at Nordstrom. Their jeggings have 598 great ratings; their skinny ankle jeans have 570 rave reviews, their stretch skinny jeans have 407 great ratings, and their bootcuts have 170 great ratings. (The brand is also one of my personal favorites — I find them flattering, stretchy enough to handle her curves, and the price is hard to beat!) They look great, especially for the price, and they come in petite and regular sizes 0–16, as well as plus sizes. Wit & Wisdom Ab-Solution Denim / sale options!
Along these lines of "stretchy comfy," I'd include personal favorites like NYDJ and Kut from the Kloth in general — I've loved the Alina style in the past from NYDJ; their Marilyn and Barbara cuts are also extraordinarily highly rated.
If you're a fan of Paige but not these exact ones, this ultra skinny is a slightly different option that's a bestseller at Nordstrom and Bloomingdale's. Some other contenders for fancy (expensive) denim: these skinny jeans from AG are bestsellers at Bloomingdale's and Nordstrom, and these J.Brand skinny jeans are bestsellers at Bloomingdale's.
Affordable Trendy Jeans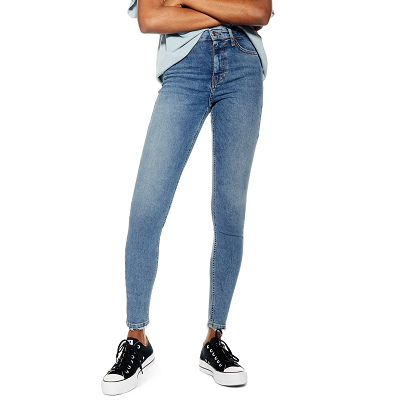 These jeans come in different lengths by inches, like men's jeans, which is great if you're looking for something shorter (and huzzah for brands finally offering that option to women!). Of course, Topshop will be on the younger, smaller side, but a lot of Nordstrom customers seem to really like these jeans. They're available in blue, gray, and black denim and range from $41 (sale price) to $75. Topshop Moto 'Jamie' Skinny Jeans / sale options!
Other contenders here include Everlane ("premium Japanese denim"), for sure — Reformation is on the pricier side but I'd probably include them here as well. (Although there's a lot of Reformation denim down to $53-$64 in the spring Nordstrom sale!) What else would you include in this category?
In terms of other OG brands, what else would you include? I might say Gap, for example, but I've heard far more rave reviews of sister store Old Navy's Rockstar jeans than I have recently of Gap's denim. Madewell denim seems to be a ton more popular/on-point than J.Crew's. What else would you guys include in the OG category?
In general, what denim are you wearing right now? What cuts, styles, rinses? What do you think are the best jeans to wear to work?
Like this feature? Check out other recent installments!
Stock photo via Deposit Photos / belchonock.