Reader C has a great question about how to deal with her fiance, who wants her to sign a pre-nuptial agreement… should she sign a pre-nup, readers?
After 7 years of dating (since my junior year of college) and one year of being engaged, my fiance just brought them up. Both of us have advanced degrees but he's in finance and I work in public interest law. I am significantly less financially secure than him and will make significantly less in my career. But we've always functioned like a team. We've both made moves and career decisions for each other. He's my best friend.

But I'm really hurt. Our wedding is only a month and a half out and this feels very rushed to me. We both have said we would never get divorced (and after 8 happy years together, I truly believe we'll make it), but his phrasing is that "he analyzes risk for a living and he just wants to be extra secure that in the unlikely event of divorce, he is prepared."

I think that even having a pre-nup opens the door to divorce and don't understand why if he says he doesn't believe in divorce that he'd request one. This feels like the biggest breach in our relationship ever.

Advice? Am I being ridiculous? Is he? How many corporette readers have pre-nupts (statistics I found said 5-10% of marriages but that includes second marriages and marriages with children from previous marriages where I think it makes more sense)? Can anyone help me get on board with this or am I right to be freaking out (after all, a pre-nupt can only hurt me)?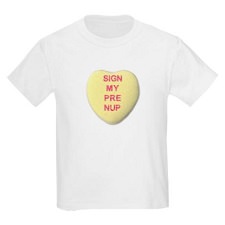 Interesting question. I've seen articles that say pre-nups are on the rise (even though the oft-quoted statistic that 50% of couples divorce isn't really true).
Personally, I come to pre-nups from the other side of things: even though I'm wildly in love, as well as Catholic and of the "divorce is not an option" mindset, I'm the one who brought them up with my husband, R.
I broached the subject with this little speech:  Good Kat and Good R are marrying now, and we love each other and of course would want to take care of each other (or at least be fair to each other) even if something were to happen and if we were to divorce.
But — if we actually WERE to divorce, that would be a sea change (because we love each other so much right now and can't possibly imagine it!!) and, in that event, we'd probably be dealing with either Bad Kat or Bad R or both.
And my point was that if we really loved each other now, wouldn't it be a nice thing if Good Kat and Good R had agreed to the terms of the divorce — and not Bad Kat or Bad R, who probably would have hurt feelings and maybe a bit of blood thirst.
Furthermore, even though the pre-nup terms we discussed were very close to New York state law, something else I liked was that if the law changed, or if we moved to a new state, we wouldn't have to deal with new information — the terms of the divorce would always be a known quantity.
Another side of this discussion, of course, is the adage "don't marry someone you wouldn't want to divorce."  I think that's very true — but I will say that sometimes qualities that can be attractive to a person, such as competitiveness and determination, can turn against you, and turn hard. If you're up against that partner in a divorce, a pre-nup can be a great way to guard against an unfair divorce.
So I would look at the agreement your fiance is proposing (or the terms that he's proposing, if nothing is written yet) — are the terms fair to you?  Are they what a loving mate would want you to have now, if things go sour in the future? It sounds like he's going to have a lot of assets (or already does) — what do you want of that?
It doesn't hurt to talk explicitly about how the situation would change if you have children, especially in the event you take time off from your career to stay home with them for a bit.  (Which, no matter how strongly you think you know one way or another whether you'd like to be a working mom or not, can totally change once the baby arrives — some women find they just can't leave their little one; others can't deal with the drudgery of baby rearing.)
I recommend the book What to Do Before I Do
to you, if only to think about all of the different things you should discuss.
Now, that said, R and I never actually got around to signing the pre-nup — it turned into a post-nup, which we intended to sign before we bought the apartment, but never quite got around to it. And now that we have a son… well, meh. (We always joke that everything we have is his now, anyway.)
Readers, what are your thoughts? Do you have a pre-nup? Would you be offended if your partner wanted one? What is your answer to Reader C's question: should I sign a pre-nup?
Social media images via Stencil.