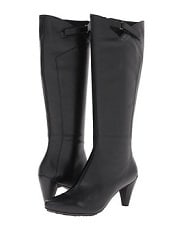 2017 Update: We still like a lot of these low-heeled tall boots, but you may also want to check out our most recent discussion on what boots to wear with tights to work. 
Sure, we all know what basics professional women are supposed to have in their closets, but if you're buying one for the first time or replacing one you've worn into the ground, it can be a pain to find exactly the right incarnation in stores. In "The Hunt," we search the stores for a basic item that every woman should have.
I always hesitate to do a Hunt for knee-high boots for the office because, while they've come a long way in the working world, they are still a heavily "know your office" kind of issue.  Still, I feel like every woman has at least one pair of knee high boots — for today's Hunt I decided to focus on the "under 3 inch" category of heeled boots.  Readers, have you bought a pair of low-heeled boots recently?  Do you wear them to the office?
Update: check out our 2015 roundup of heeled, stylish knee-high boots here.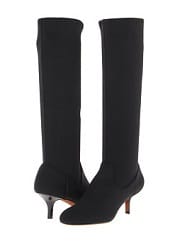 I'll admit: I found a cheaper boot from a reader-recommended brand — but the pictures on the site were horrible, so I didn't include (here's the link if you're on a budget though). Which means that our Hunt starts today at $159 with these lovely Donald J Pliner crepe boots. I like the oval toe, the 2″ heel, the stretchy fabric, and the sale — the boots were $298, but are now marked to $159 at 6pm. Donald J Pliner Yazi Black Crepe Boot
I love these wedge boots from Sofft — they look modern and sleek while somehow also looking comfortable.  They're $219 (and they also come in "tan.") Sofft Annora Boot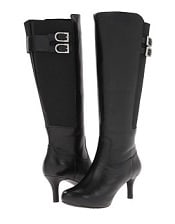 There's a lot to like about these Rockport boots — not only do they come in regular and wide calf sizes, but they also have a 2.5″ heel (with a .5″ platform) and they feature "adiPRENE® and adiPRENE+® by adidas® sport technology in the heel and forefoot to absorb shock with every step."  Nice. They're $240. Rockport Seven to 7 Tall Boot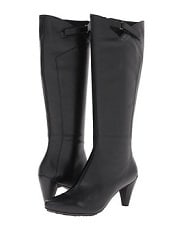 I've never owned a pair of Tsubo boots, but I've heard wonderful things about their comfort over the years (and I know that Sally at Already Pretty is a big fan).  This pair has a 2.5″ heel, and I like the slightly pointy toe.  They're $275, and also come in a "charcoal" suede. Tsubo Faline Boot
A thicker, more walkable heel may be on your wish list for a pair of comfortable boots, and these Taryn Rose boots with a 2.25″ heel fit the bill.  They are on the pricier side, though: they're $499. Taryn Rose Dodie Boot
Like this feature? Check out other recent installments!