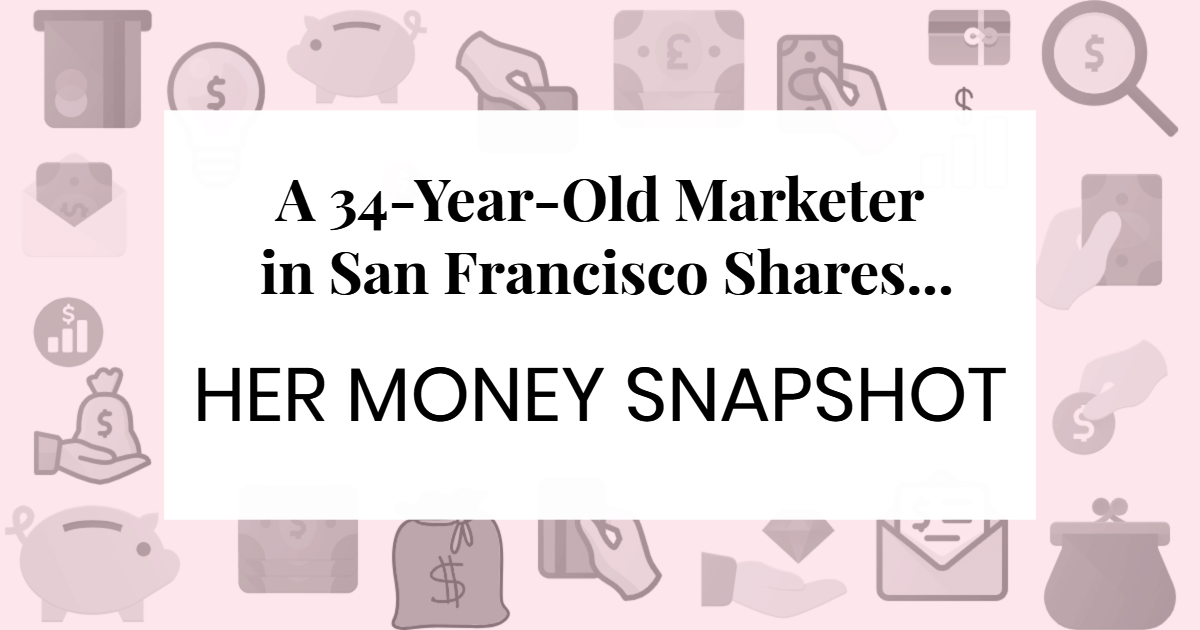 For today's Money Snapshot, we're talking salary, net worth, and travel budgets with a reader in San Francisco who works as a marketer at a small tech firm. She notes, "SF is a wonderful place to live. It can also be maddening, even when you make an objectively good income. I never say that our income is not enough, because that's frankly obnoxious. If I'm 100% honest, though, I do wish we were able to put more towards retirement and travel, and potentially a rental property. … Other than 'must-pays' like mortgage, taxes, and insurance, we spend the most on travel: $12,000 a year for trains, planes, hotels, and Airbnbs."
(Unfortunately, we did not have a working email address for her for asking follow-up questions or for a corona-update; if this is you, please write to us if you have any problems!)
We got a few requests from readers to launch our own "money diary" series, so we've asked willing readers to fill out a form with lots of details about debt, spending, saving and more! If you'd like to fill out the form and be considered for a future personal money snapshot, please click here to submit your response! You can see a PDF of the questions if you want to review them ahead of time. See others in the Personal Money Snapshot series here.
Please remember that this is is a real person who has feelings and isn't gaining anything from this, unlike your usual friendly (soul-deadened, thick-skinned, cold-hearted, money-grubbing) blogger — so please be kind with any comments. Thank you! — Kat
Name: Evie
Location: San Francisco
Age: 34
Occupation: Marketer at a small tech firm
Income: $180,000
Household income: $320,000
Partner's age: 33
Net worth: Joint: $900,000 — includes home equity, retirement savings, cash accounts
Net worth when started working: $9,000 in undergrad loans at age 22
Living situation: Own our home — $3,800/month mortgage + $280 HOA but we've been paying an extra $2,000 a month towards the principal.
Debt
What does your debt picture look like?
Main debt is mortgage: $707,000 left to go! Goal is to pay down mortgage to under $600,000 then stop paying ahead. Even though we have a decent rate, I hate the thought of over half of my payment going to interest. Outside of home loan, $2,000 in partner's college loans.
How much money are you spending each month to pay down debt?
Not including mortgage, $100 a month for student loans
How did you pay for school?
Between us, we have two bachelor's and two master's. Undergrad was a mix of grants, loans, and family contribution. My master's was from my savings, grants, and a $50,000 inheritance from my grandparent. I paid for all $70,000 of partner's master's with my earnings. We made it through $220,000 worth of tuition debt-free and I'm very grateful we were able to do so.
Home debt: Share your theories and strategies.
We have a 30-year mortgage at 4%. We started with $800,000, but just over a year later, we've paid off $93,000 in principal. Based on the amortization schedule, we're paying $1,500 in principal and $2,300 in interest. I have a vague goal of paying it off in 20 years so we can potentially head into a downshifted career or early retirement without mortgage debt.
Have you ever done anything noteworthy to avoid or lessen debt, such as cashing out your 401K early?
Does living with a third person in a sub-900 square feet, 1-bathroom condo count as noteworthy? I thought about raiding our Roth IRAs for a bigger down payment but ultimately was glad we did not have to pull that lever.
Savings, Investments & Retirement
How much do you save for retirement?
Today — $38,000 (max out both our 401Ks). In years past we also maxed out Roth IRAs.
How much money do you allocate to other tax-savvy investments/accounts?
Nothing. I used to have an HSA but not anymore.
How much do you save outside of retirement accounts?
We don't have a great savings plan. It's whatever is left over after all the must-pays and travel. Maybe 2020 is the year I revisit that arrangement [written in 2019].
Talk to us about investments.
We have all index funds with Vanguard — 80/20 stocks/bonds. We also have an accountant for our yearly taxes.
Do you have an end goal for saving (e.g., early retirement or job change) or are you just saving for a rainy day?
All of the above. We want to move to Europe at some point for a few years. But I want to keep our place in SF and I know we'd have to take a big pay cut if we move out of the Bay Area, so trying to plan for that possibility. Also, tech is boom/bust and in love with youth, which brings with it its own set of challenges. We're not getting any younger, and I imagine although our income may continue to grow for a few more years (I hope), at some point it will plateau and possibly decline.
What's the #1 thing you're doing to save money, limit spending, or live frugally?
We share our home with a friend who contributes $2,000 a month (not included in the income above) to the household. We put all of this money back into the mortgage. Our friends have joked that we all need alternative relationship arrangements to afford a place in San Francisco.
When did you start saving seriously? How has your savings strategy changed over the years?
I started saving with my first college internship. I try to take care of the big items (income, housing) so that I don't feel like I'm nitpicking on the small things. I've been lucky that I can do that for the most part thus far.
Have you ever made a big money move or investment with savings in mind, such as rolling over an older IRA into a Roth IRA or superfunding a 529?
No. I should though!
Do you have an estate plan? A trust?
No estate plan or trust.
How much do you have in cash that's available today?
$30
How much do you have in cash that's available in a week?
$50,000
How much is in your "emergency fund," and where do you keep it?
No set emergency fund per se, but in an emergency we'd use the $50,000 cash stated above.
How much do you have in retirement savings?
Our retirement accounts total $500,000. About two thirds is in my name and the rest in my partner's.
How much money do you have in long-term investments and savings (CDs, index funds, stocks) that are not behind a retirement wall?
Nothing. We should fix that, shouldn't we?
If property values (home, car) are included in your net worth, how much are those worth?
Property is $1.1–$1.2M; car we can maybe sell for $6,000.
Spending
How much do you spend on the following categories on a monthly basis?
Groceries: $200
Restaurants, bars, takeout, and delivery: $700–$900. Food when we travel is also included here. We usually go out to eat two to three times a weekend, which in SF works out to be $50–$60 per check.
Clothing and accessories: $150 — my weaknesses are cashmere (so light! so warm!) and supportive shoes that don't look orthotic.
Transportation: No car payment. Subway and bus pass is covered by work. Gas, $100; Lyft/Ubers, $30–$80 depending on whether we go to the airport.
Rent/living expenses: $3,800
Entertainment: $100–$200, more during our travels. I like to take cooking classes.
Other major expenses: I take Pilates and dance classes at $20–$25/class, one to three times a week. I spend $200–$250 on tickets during ballet season. Massages/bodywork are about $150–$300 a quarter for the both of us. With most entertainment I try to find free or cheap options.
Health care — premiums and other costs: Premiums are mostly covered by work. Total around $150 a month. My partner recently had an injury and saw a specialist who is out of network, and that was $600. A few years ago, I had a similar injury and saw the same specialist. I spent a total of $6,000 on specialist, MRIs, weekly PT sessions. That opened my eyes to how expensive medical costs can be.
What's your spending range for these things? What's your average?
Vacations – Range: $1,500 for weekend getaways to $5,000+ for week of international travel. I try to go on two to three international trips a year and as many domestic trips as we can.
Vacations – Average: $4,000
Charity – Range of donations: I donate to political causes, which aren't really charities. Charity-wise, I donate to Planned Parenthood.
Charity – Average donation: I'm not great about this. This year, nothing. Previous years, <$1,000. I figured if we have any estate left when we die it'll go to a charity.
Individual items of clothing – Range: $20–$150
Individual items of clothing – Average: T-shirt, $20; cashmere sweater, max of $100; shoes, $100. I went through a phase when I was buying a lot of clothes that I eventually donated because they didn't fit my lifestyle. Now I try to stick with brands I know and trust. I typically buy clothes from Old Navy/Gap, Everlane, Boden, and Anthropologie.
Car or Other Vehicle – Last purchase / current main vehicle: $500–$3,800. I lived in Texas previously and can't believe what I can get for the money.

Apartment or house – Current main residence: $3,800 mortgage plus $280 in HOA
Any other large expenses?
Parking spot, $325; HOA, $280; property taxes, $1,100/month (average); umbrella and auto insurance, $150/month (average); phones and subscriptions, $125/month; car repair, $150/month (average). Also, $1,000/month, traveling — I live for vacations.
Fill in the blank on this question: I could save _____ if I stopped ______, but I don't because _______.
I could save $1,000 a month if I stopped traveling, but I don't because I live for vacations.
When was your wedding, how much did it cost (total), and how much did YOU pay?
Total cost: $7,000 in 2013. My parents gave me $10,000 no strings attached as a wedding gift. We put it in with general savings but one could argue they paid for it, since money is fungible.
Wedding: Tell us about it!
Daytime wedding with 35 guests at a restaurant in a coastal resort town. I ordered cake for a "family reunion" so we didn't have to be pressured into buying a fancier cake. My dress was $1,000, and looking back I would've been equally happy with a $400 dress.
If you own, how much did your home cost?
$1.1 million
If you have vacation homes, timeshares, or income properties, how much did those cost?
Can I call our home an income property because it's taking all our income?
Are there any other large personal expenses in your life, now or previously? Skincare — I spend around $1,000–$1,200 a year on Skinceuticals and Biologique Recherché. On the other hand, I spend less than $150 a year on makeup. I also see a hair stylist at $90/visit, three times a year.
How has your family provided financial support in your adult life, if any? (Or, do you provide support to them?)
My parents have given me a lot of financial support. They are able and happy to do so, and their gifts have little to no strings. I know their decisions have enabled me to have a lot of choices I wouldn't otherwise be able to make. They paid for a big part of my undergrad degree, gave $10,000 for my wedding gift, and gave $100,000 so we could put down a bigger down payment. For a few years after I graduated college, they would give me $500–$1,000 for my birthday. When we go on family vacations, they pay for lodging and flights.
At any point in your life to date, has inheritance played a role in your money situation?
My grandma's estate paid for $50,000 of my graduate degree. My partner's grandma left $2,000 for their college tuition.
Does your family provide any non-financial support (such as regular childcare)?
My mother has volunteered to babysit my non-existent child.
Money Strategy
Do you have a general money strategy?
This is not very witty or sophisticated, but it encapsulates my general approach: Try to work hard enough so I make enough money but not so hard that I burn out and have to take extended time off. Try to stay as healthy as I can within my control. Invest in index funds. Enter retirement mortgage-free. Do things in the relationship that decreases risk of divorce.
Time vs. money — do you spend money to save time (e.g., cleaning service)? Do you donate your time instead of money? What else does this phrase mean to you?
I pick flights that are convenient and maximize vacation days. We don't have a cleaning service because I'm afraid it's like Pringles — once you pop you can't stop. I volunteer with a couple of organizations that promote cross-cultural exchange.
What are your favorite resources for personal finance?
I don't read any personal finance blogs or books because they stress me out. FIRE stresses me out. I grew up with a lot of anxiety about money. Reading about side hustles or life-hacking or forgoing lattes only makes it worse. When I need to educate myself, I study the specific topic — for example, how much umbrella coverage we need or what's the best asset allocation for our life stage. I'm coming to terms with the fact that I can never save as much as I need to feel safe, because unless I have a pot of $10M+ today, one catastrophic illness and/or decades of long-term medical care will wipe out anything I can reasonably put away. All I can do is do the best I can with what I have and hopefully I'm making choices that 80-year-old Evie would be happy with.
What advice would you give your younger self about personal finance?
Take that job at Google!!! Hahaha. Other than that? Don't spend all your time worrying about money. Don't be preoccupied with conventional signs of success. Think about what you need to create a happy and fulfilled life. And stop comparing yourself to people around you. It will suck your soul. To think of it, that's advice I'm giving my current self and trying to implement.
Icons via Stencil.