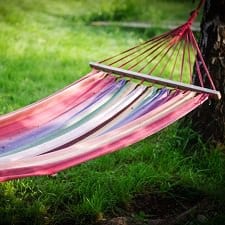 I asked the Corporette FB group a while ago what financial resources people were loving, and a reader suggested we do a post on the FIRE movement — financial independence/retire early — so I asked Rebecca Berfanger to round up some great resources on the movement for beginners! Readers, have you considered retiring early as a serious goal? (Has anyone considered and rejected it as a goal?) What steps are you taking to make it happen — and what will you do once you quit? – Kat
Have you ever looked at your financial situation — income, investments, debt, and other factors — and wondered if you could retire comfortably in your 50s, or your 40s, or sooner? We took a look at the Financial Independence/Retire Early movement (FIRE), which emphasizes ways to achieve just what it says: true financial independence that comes from savings and investments that allow you to retire completely. Have you thought about retiring early? Do you have any ambitious retirement plans such as FIRE or other strategies? 
Psst: We've also talked about cash savings vs. retirement savings and retirement savings in general (as well as having a great discussion about how much women should save for retirement in general).
While FIRE will work differently for everyone, depending on how much your employer matches your retirement plan, how much you can afford to live on, and how much you can contribute to your 401k and other investments without a tax penalty, here's a guide to Financial Independence/Retire Early for beginners:
What kind of FIRE plan is right for you if you don't want to cut back your expenses? What if you live in a high cost of living area?
An important part of FIRE is an emphasis on cutting expenses in order to increase your investments, but even within FIRE, there are different mindsets. One is "LeanFIRE," which is just what it sounds like. You figure out the minimum that you'll need for retirement — with a focus on living frugally — whether you'll be in a modest home in a low or moderate cost of living area, or even traveling around in a trailer or RV. (Even then, you could possibly monetize that living situation into a blog or YouTube channel — but then you wouldn't necessarily be a FIRE purist because you'd still technically be working.)
If that isn't a good fit for you, there is also "FatFIRE," where you figure out how much you would need to be financially independent and live a comfortable lifestyle, even if you live in a high cost of living area with high property taxes and other expenses you can't avoid. For either LeanFIRE or FatFIRE, the general consensus is to save at least 25 times your annual expenses (not income) before you retire.
What are the benefits to FIRE, other than being able to leave your job?
By getting into FIRE and making a budget of your current expenses, you might figure out how you can cut back here and there without totally changing your lifestyle — something you've maybe been thinking about doing anyway. If you start investing those savings sooner rather than later, you'll already be earning instead of letting your money sit in a low-interest checking or savings account. You might also find it's easier to directly deposit that extra money into your retirement fund or other investments before you even have a chance to spend it.
What are the risks of FIRE?
The obvious risk is that no one can predict what the actual cost of living will be in the next 30, 40, possibly 50 years, assuming you are still alive and no longer working or, by then, no longer able to work.
One of the most unpredictable expenses is the future cost of health care, which has continued to increase every year. Chances are, you or one of the family members you care for may have an unexpected medical expense that wasn't included in the regular annual expenses you planned.
There are also unknown risks with any financial investment. (See below for where FIRE advocates invest.)
One way to counter these risks is to plan for a FatFIRE. Even if you underestimate your expenses, you'll still fare better than someone planning for the bare minimum in expenses, something those on LeanFIRE path might do.
How much do you have to earn to make FIRE work?
The goal is to be able to cover your future expenses even if you can't match your current income. If you don't make enough in your full-time job to achieve this, the FIRE community encourages starting a side hustle or two. However, this isn't possible for everyone due to time constraints, and some people already work a second or third job just to keep up with bills. In fact, FIRE is often criticized for only being an option for those who are privileged enough to make more than what they need.
However, if you don't already have a side hustle and you do have the time, it might be worth considering for reasons other than a goal of early retirement. This Forbes article suggests the benefits of having a side hustle, while Harvard Business Review also provides ideas on how to get started.
Where do members of the FIRE community invest their money?
Two preferred types of investments are low-cost index funds, specifically Vanguard Total Stock Market Index Fund Admiral Shares (VTSAX), and rental real estate. FIRE enthusiasts don't have a lot of faith in cryptocurrency, such as Bitcoin, or even in individual stocks. Some FIRE proponents also attempt to achieve FIRE with entrepreneurship, but that's the riskiest path.
Can you do FIRE if you have or want to have kids?
Like other aspects of FIRE, you must consider all expenses, earnings, and investments. Think about how you can save on childcare expenses and are there things you can plan for your child's future where you will still have enough financial independence to also afford things for your child — college tuition, extracurricular activities, private education, etc. A 529 Plan might also help in determining expenses as they relate to your children (or future children), and might even have its own tax benefits for families.
How can you get started — what are the best resources for beginners?
Finally, while you should talk to a financial planner or accountant when making major financial decisions, especially when it comes to taxes, don't be surprised if they encourage more traditional retirement planning or specific investment tools that don't fall in line with the FIRE philosophy. Also, even if you don't want to retire early, consider the benefits of following the suggestions of FIRE to help you save for an emergency fund, or to have just enough to be able to quit your job or make a career change in the future.
Let us know: Have you considered FIRE for yourself? When did you start saving for retirement? When you cut back on expenses, do you put the money toward debts such as student loans or a mortgage, or toward a down payment on a house, as opposed to investing for retirement? Do you have any barriers to retiring early? What resources would you suggest for Financial Independence/Retire Early for beginners?