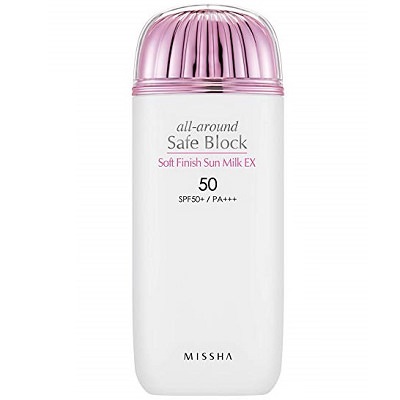 Well, it finally happened: I'm almost out of the beloved Bioré sunscreen that readers turned me on to a while ago. Reports on the newer versions of the sunscreen haven't been as complimentary, so I've been on the hunt for another daily sunscreen. I can't remember where (I feel like it was an article about what products dermatologists use, but I'm not sure!) I saw a link to this sunscreen, but when I saw that it was only $12, I made an impulse buy. (The one I'd been considering, but haven't tried yet, is the Elta MD Sunscreen — at $35 it isn't so much more expensive, but hey, $12 is better than $35…) I've got to say, I'm really impressed with this Missha sunscreen! It is a very watery substance, much like the original Bioré, but it has a thicker feeling once it's applied. It blends and absorbs well into my skin — the only con I saw was that the first few days the slightly powdery fragrance annoyed me. It's $12 at Amazon; apparently SokoGlam, Target, Wal-Mart also carry the line. (There are a few different colors of caps — I have the one with the pink cap; it looks like the blue cap is for waterproof. I'm not sure what the difference is between the pink cap and the green cap! Missha All Around Safe Block Soft Finish Sun Milk EX SPF50+/PA+++
Two other mini-reviews for sunscreens I've tried: I Woke Up Like This feels more like a physical sunscreen; not watery at all — and it's slightly tinted to offset a white cast; it's probably the most moisturizing of the sunscreens I've tried. (It was included in this Costco "Case Full of Seoul" my mom got me for Christmas.) I only tried Tatcha's sunscreen briefly in Sephora, and at $65 it's definitely on the Very Expensive side, but it has a very watery, weightless feeling like the original Bioré — and it's got Sephora's green "clean" seal of approval.
This post contains affiliate links and Corporette® may earn commissions for purchases made through links in this post. For more details see here. Thank you so much for your support!