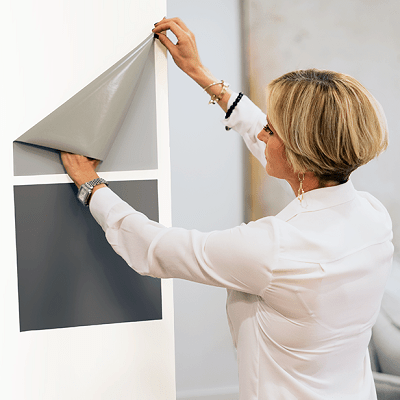 Readers turned me on to the paint company Samplize, which sends you paint color samples for you to test out on your walls in a peel-and-stick format. As they note on the website:
Unlike traditional paint swatches which are merely dyed to mimic color, our paint samples are hand painted with the specific paint color from each company. Two coats are applied with rollers for color accuracy and texture that is as good as it gets.
Real manufacturer paint
Displays color just like a wall
Shows underlying wall texture
We have a tiny painting project here at Casa Griffin and I couldn't decide what color of blue I wanted, so I went. to. town. I had something like $300 worth of samples in my cart originally. My husband and I whittled them down (admittedly, not as far as we could — don't have a martini while trying to limit your samples!) and ended up buying a ton of samples in blue. They shipped super quick and we've been moving them around in the space we want to paint, trying to make sure we know the deal on all the walls.
Do you NEED to get super large painted samples or could you just go off the typical paint chips? I suppose it depends on the color — I think it would actually matter more for a very light color, where you're deciding between Chantilly Lace or Calm, for example — but it was really fun to do for deep, dark blues. (I think we're going with Blue Chip, but Caribbean Azure and California Blue were both close contenders.)