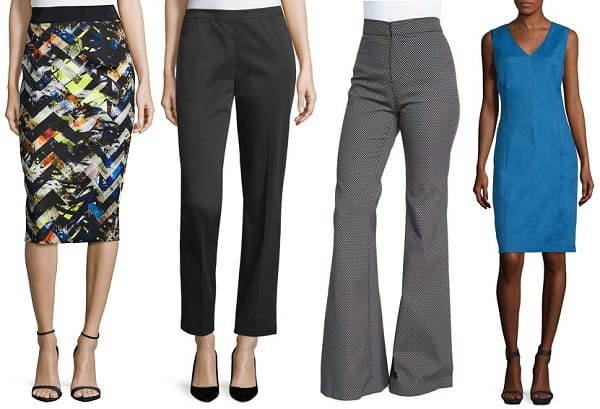 Pictured: Skirt / Ankle Pants / Flare Pants / Dress
There's a pretty epic sale going on over at Neiman Marcus — lots of lucky sizes, but the deals are approaching the "crazy" stage.  Good workwear selection (particularly if you like Lafayette 148 New York), as well as great cashmere.  I wouldn't wear them to work, but there are a ton of nice crop tops for casual/going out type clothes.  Details on what's pictured above, as examples of the sale:
That's just from the price range for today's morning post, under $150 — Akris comes down to $95-$600 in the sale, Donna Karan is on crazy sale, etc, etc. Filter by your size first, then sort either by discount (to find the best deals) or by low price.  Happy hunting, ladies!
On the plus side, this sweater looks lovely, and someone needs to buy this neon yellow rain coat (even though it's still, uh, $500).
P.S. The Beauty.com Friends & Family 20% off sale is on, as well — great time to stock up on old favorites or try new ones.  I'm loading up on my beloved Caudalie lip conditioner, and pondering whether to try this "cult favorite" cleanser. Here's one of our previous discussions on what to get at the Beauty.com sale. (Ooh, and sister site Drugstore.com also has some sales going on — trying to find a link to the 15% off sitewide sale I think is going on; try this link for 20% off all haircare.)