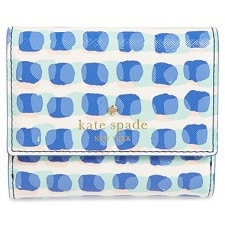 I just saw a great study on this, so I thought we'd discuss — do you leave room in your budget to take advantage of sale prices? Do you do it in a disciplined way ("I have $300 to spend for fun purchases, no more!") or is it just part of your budgetary cushion? Which sales do you splurge on? 
This seems like a great follow up on our recent post about
how to make a budget:
 Of course it's great to be aggressive with your
savings
,
student loan payments
, and
investments
 — but be wary of trying to live on too tight of a budget if you don't have to. Probably the biggest long-lasting effect the recession had on my money habits is that I leave enough room in my budget for unexpected sales on household items. When I'm in the grocery store or the pharmacy, I look for items with good sale prices and then purchase them even if we don't need the item immediately (provided we have the storage space). The headline of the HuffPo article I saw about a relevant study says it all: "
Poor People Have To Spend More On Toilet Paper Than The Rich: Study
." The study found that low-income households don't have the cash to buy in bulk, so they end up paying higher per-item prices; the article also mentions that poorer people often end up paying more for "discount" toilet paper than richer people do on "premium" toilet paper. (A lot of readers agreed with me when we talked about
everyday splurges
: sale prices or no, life is too short for cheap toilet paper!) I'm not the best about checking it now, but in the past I've kept a Google sheet on my phone to track "good prices" (per count) for expensive regular purchases like diapers, coffee, our preferred brand of toilet paper, and ibuprofen gel caps. (I'm ok with store brand vs. Advil, but I really prefer the gel form.) These days I mostly consult the chart if I'm setting up a new
Subscribe & Save
shipment in Amazon, but I also check the list on the rare occasions I'm in Costco. I had a friend who made a huge list for everything she had ever bought, but I just include the most expensive things we buy frequently.)
Ladies, how about you: Do you buy household items only when you need them, or do you stock up to take advantage of sale prices? Do you keep track of prices and sale prices on items you buy regularly? Do you leave room in your budget for unplanned but smart purchases? 
Further reading

: 
Pictured: love this wallet! It's $88 at Nordstrom. (Not on sale, ironically.) 
We are a participant in the Amazon Services LLC Associates Program, an affiliate advertising program designed to provide a means for us to earn fees by linking to Amazon.com and affiliated sites.