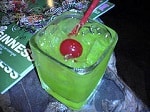 Reader R has a question that goes pretty well with our discussion of networking with older men — how to network with older women. Here's the question:
I'm a 24 year old summer clerk with a public defender's office. I got the gig by networking through my friends; specifically, by getting to know their mothers and fathers who work in the legal field. Now, however, I've gotten to become friends with my friends' parents and their colleagues, who are in their 40's and 50's. Do you have tips on navigating the waters of friendship with women who are quite literally old enough to be my mother? I'm frequently invited to lunches and happy hours with them and I always accept the offers and enjoy my time, but I'm curious as to what tone I should be striking. They always address me and treat me as a colleague, and I'm frequently told I act like I'm 30 (in a good way), but I want to keep fostering these friendships in an appropriate way.
It sounds to me like you're doing a great job and don't really need any advice! For my $.02, here are some thoughts:
It's probably a good idea to be clear with yourself about what your goal is — it's to learn from these women, not to enjoy the mozzarella sticks at the bar. Your goal is to get on their radar as someone who they would recommend for a new hire, and possibly even consider you as a mentee.
To that end: during this summer, try to listen more than you speak. The concerns these women face now will probably be struggles you'll face in your own career at some point. Listen to the advice, and ask questions where you can.
It's fine to talk about yourself if you're asked, but within limits. Don't overstep by talking too much about yourself — not everyone at the gathering will be thrilled to hear the latest drama that occurred between your boyfriend, roommate, or mother, or your 5-minute take on the new restaurant or movie.
Watch your table manners when you're out, and don't drink to excess. (And this is a minor note, primarily because I couldn't think of anything else to use to illustrate the post, but it probably isn't the best idea to order "young" drinks like Midori Sours if you're out with older friends — if you can order what they're having. Pictured: Midori Sour, originally uploaded to Flickr by Nicole Lee.)
Start building your contact files. This sounds a little creepy, but stick with me because I got this tip from some movie (which escapes me now), but if it's from a movie it must be the proper way of business, right? In any event, what I've done — primarily with older people — was to keep written notes on our conversations. If they told me how they had gotten to where they were (a fairly typical question I've asked), I would briefly note the progression so I didn't have to ask again the next time I met with him or her. It might look like this in my notes, which I would usually keep with their contact information:
from SmallTown, OH –> [Ivy League schools]–> worked as a ____ at [large nonprofit]–> [firm] –> inhouse for [large nonprofit]–> inhouse for [giant company]–> current position at [small nonprofit]
I'd also keep track of their partner's name, as well as any children that they mentioned and a few facts about them ("just bought house upstate; recently into spelunking").
When you leave the internship, try to stay on their radar. With the example contact above, if I saw an interesting article that I didn't think she'd have come across on spelunking, or something on one of the entities she had worked for, I would send it her way. Aim for one or two lunches or breakfasts a year to stay on their radar, as well — review your notes on them, see if there's anything you want to ask them about that will further benefit your career ("So when you went from [firm] to [large nonprofit], how did that happen exactly? Who did you use for your references? Was it awkward to leave [firm]?") as well as remembering the course of conversation ("so are you and X still spelunking upstate?"). Maybe I'm alone in that I have to keep track of things like this, but for friends you don't see often it helps to have notes. Like I said, when I was younger this was primarily with older people who I only saw once or twice a year in a mentee capacity — now I keep notes on friends I haven't seen in a long time, keeping track of what their partner's name is; if they're married, what date they were married; what their kid's name is; when the kid was born, etc. (All of this was made easier by my Palm Pilot — I'm just recently upgrading to an Android phone, which is requiring some new contacts systems, but I'm sure I'll get it sorted eventually.)
And I should probably note — to me this is just what a healthy networking relationship looks like (as opposed to one where you're worried there's some sex-related ulterior motive); there's nothing specific here for older women.
Readers, what's your advice for networking? Would you give Reader R any additional advice, or different advice?