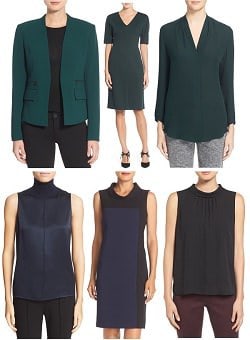 November 2023 Update: Curious about the next big Nordstrom sale? We don't know when the 2024 Nordstrom Anniversary Sale will be, but the next big sale will be their Half-Yearly Sale around Dec. 24. Unfamiliar with the NAS? Check out this page for more info on why it's the best sale of the year.) Sign up for our newsletter to stay on top of all the major workwear sales, or check out our roundup of the latest sales on workwear!
The below content is about the 2016 Nordstrom Anniversary Sale.
WOW I'm liking the Nordstrom Anniversary Sale this year — there are SO.MANY.CUTE.DRESSES, many of them with sleeves, and a ton under $100. I'm going to round up my Nordstrom Anniversary Sale picks below, but first I'll shout out some general workwear trends I'm seeing in the NAS sale — I also have a tip for you cardholders if you're having problems choosing Triple Points on checkout.
Workwear Trends Observed in the NAS Sale
Pictured at top, a few quick workwear trends I observed in the NAS sale: first, evergreen/forest green is BIG for fall. Second, mock necks and turtlenecks — particularly the sleeveless variety — are also a strong look. Finally, as you can see in the middle navy dress, there's also a pretty strong continuation of the trend to combine black and navy together; you can also see it here and here.
Pictured, Row 1: green blazer / green dress / green blouse // (Row2): blue turtleneck / shift dress / black mockneck
A Tip for Nordstrom Cardholders Having Problems with Triple Points
A great way to really take advantage of the sale is to choose today as your "triple points day" (if you still have one left for the year). I've already placed one order today, and was having problems at checking choosing the Triple Points option — just as I did during their "personal 10 point day."
I called the number at the top of the screen (there's also an online chat option) and the customer service rep confirmed that several people were having problems with it because they have a new system of some sort — so she applied it over the phone and then told me to go ahead and check out — she said that was the best option for the moment. It was only a 3 minute wait or so, so I'm glad I called. Here's a link to their customer service page if you're having problems.
Nordstrom Anniversary Sale Picks for Workwear
Without further ado, these are some of my top picks for work clothes from the Nordstrom Anniversary Sale. Note that within each grouping, the sale picks go in the order of least money to most money.
ALSO, where available I've tried to note if petite, cusp (14-18), or plus sizes are available, or other points of note (like great reviews or other colors offered). For our full collection of plus size picks from the Nordstrom Anniversary Sale, please consider signing up for our CorporettePlus newsletter, or visiting our Plus-Size Workwear page.
Nordstrom Dresses for Work
There were SO MANY great dresses for work that this Nordstrom sale roundup is going to be very heavy on work dresses. The amazing thing about them is that there are a ton of great choices under $100. First up, ranging from $66-$84 on sale: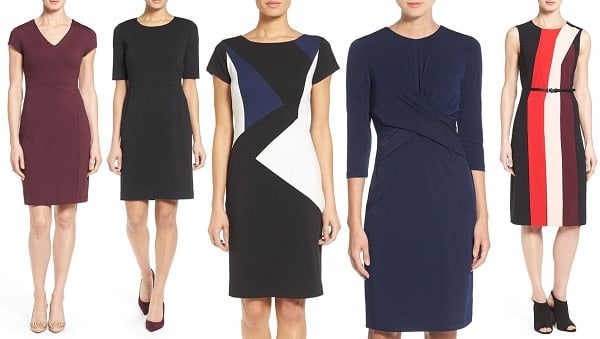 Pictured: purple dress (petites also, 0-16) / black sleeved dress (2-16, also in plus) / black navy white colorblock (petites and plus also, 2-16) / navy sheath dress (2-16) / belted colorblock (petites also, 0-16)
Next, ranging from $84-$91, some more favorite work dresses from the NAS sale: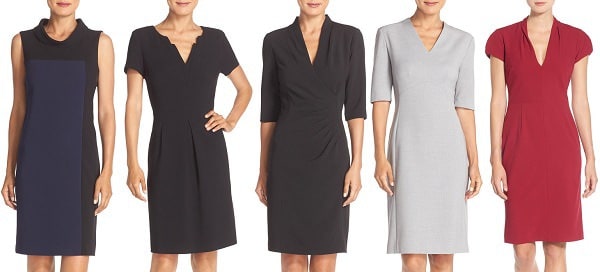 Pictured: black/navy colorblock (2-16) / black flare dress with detailed V-neck (petites, 2-16, plus sizes also) / black dress with longer sleeves (petites, 2-16, plus sizes also) / gray dress with sleeves (petites and plus sizes also) / red scuba sheath
And some of the slightly more expensive NAS dresses I loved, from $98-$429: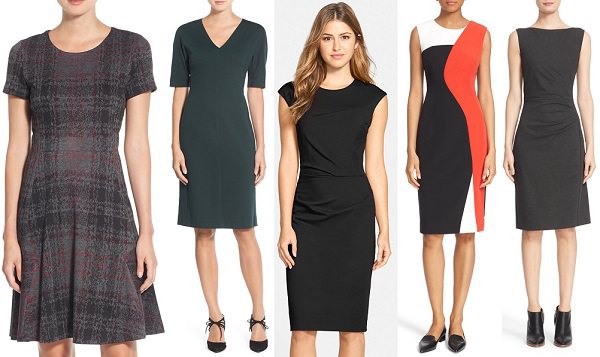 Pictured: gray print fit & flare / green dress (4 colors, 5-star reviews, 2-16) / black dress /black/white/red colorblock dress /grey ruched
Blazers from the Nordstrom Anniversary Sale
Some of my favorite picks for blazers from the Nordstrom Anniversary Sale, ranging from $48-$112: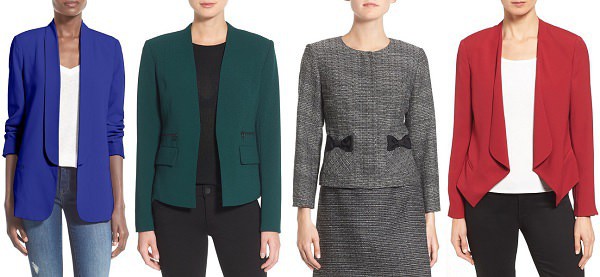 Pictured: blue slouchy boyfriend blazer (black also, 138 4-star reviews!) / green blazer (black also, petites too) / bow trim tweed / red drape front (plus sizes also)
Not pictured: this $37 knit blazer looks great for a more casual office, and if you're in the mood to splurge, this Armani blazer is to die for…
Nordstrom Tops for Work
There are a ton of cute tops in general, but as far as tops for work go, these were some of my favorites. Note that the color evergeen and the sleeveless turtleneck/ high mock neck are HUGE for fall, so this is a great time to refresh your wardrobe with those two trendier themes. Prices range from $45-$196: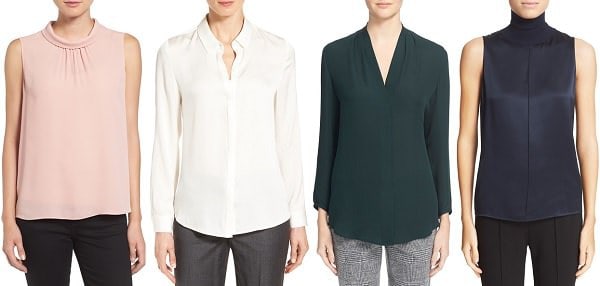 Pictured: mock neck blouse (petites also, XS-XL, 5 colors) / stretch silk blouse (petites also, XS-XL) / silk evergreen blouse (P-L) / navy turtleneck
Office Bottoms from the Nordstrom Sale
For me, the sale is definitely stronger on the dress side than it is for pants and skirts — but there were still a few standouts, ranging from $45-$209.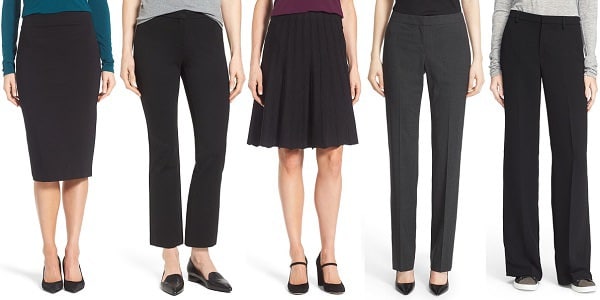 Pictured: ponte midi / kick flare knit ankle pants (petites also, 0-16) / knit A-line skirt / gray pants (0-18) / wide pants
Nordstrom Sale Picks for Women's Suits
Some of the usual suspects for women's suiting are well represented in the sale, including Halogen, Classiques Entier, Lafayette 148, and Hugo Boss. My four favorite suits were these: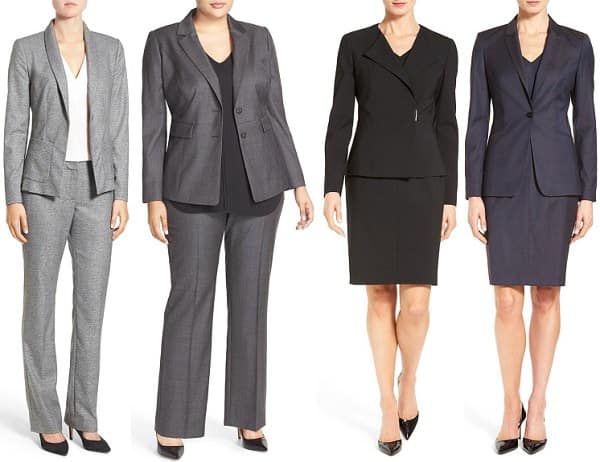 Pictured:
Not pictured: the affordable blazer I loved from this morning has a matching skirt! They're not pictured together on the Nordstrom site, but here are links to both: blazer / skirt
Finally: just for kicks: this morning as I was looking through the sale I asked my husband his opinion on this dress — I loved the colors but wasn't sure about the pattern. He considered it earnestly for a while, then said, "I think it would make a nice costume on Star Trek." Alrighty then! So: know your office.
What are you guys getting at the sale? What have you bought, what are you eyeing?