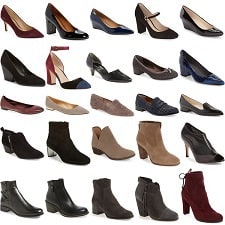 November 2023 Update: Curious about the next big Nordstrom sale? We don't know when the 2024 Nordstrom Anniversary Sale will be, but the next big sale will be their Half-Yearly Sale around Dec. 24. Unfamiliar with the NAS? Check out this page for more info on why it's the best sale of the year.) Sign up for our newsletter to stay on top of all the major workwear sales, or check out our roundup of the latest sales on workwear!
The below content is about the 2016 Nordstrom Anniversary Sale.
It's day two of the excellent Nordstrom Anniversary Sale, and I've rounded up 25 shoes to drool over, whether for work or beyond. In keeping with the NAS spirit, these are all fall shoes that are temporarily discounted — prices will go back up in a few weeks when the sale ends. Right now the sale is only open to Nordstrom card holders; it'll open to the general public in about a week. Shoe shopping online can be a pain in general (I know I'm groaning every time I add three or four similar looking shoes to my shopping bag), but Nordstrom's free shipping, free returns, and open ended return policy really helps soften the blow.
Ladies, which are your favorite shoes from the 2016 Nordstrom Anniversary Sale?
(Psst: you can check out all of our coverage of the NAS sale here, or you can click the link at the top of the page.)
Heels from the Nordstrom Anniversary Sale
Almost all of the heels listed below come in a bunch of great colors — if anything came in more than 5 colors I noted it in the description. Also noted in the description: any extended sizes beyond 5-11, extra widths, and — while I've heard all of these brands mentioned as comfortable heels, I've also added "comfort" in the description for any brand or shoe that I think of as being a comfortable brand or have heard specifically comfortable things about that particular style.
First up: a ton of great heels, priced $69-$109:

Pictured above: purple spike pump (6 colors, 4-13, M W) / patent block heel (4-13) / blue wedge / black Mary Jane block heels (4-12) / wedge (comfort)
The next batch ranges in price from $159-$254.

Pictured above: block heel (comfort) / pointy toe (comfort, N M) / colorblock pump / d'Orsay pump (comfort) / block heel with bow (5-13, comfort) / pointy block heel (4-12, N M, comfort)
Flats on Sale
There are a ton of great flats in the Nordstrom Anniversary Sale! I'm particularly loving the spike flat ($69!) — in most colorways the heel is not a contrast heel, so the spikes are even more of a subtle detail. One of the trendier shapes I'm seeing and loving is the slipper/skimmer flat (#3 and #5 below) which looks surprisingly cute with dresses. Old school penny loafers are also coming back in.
The flats below range from $56-$129:

Pictured above: berry flat (5-12, comfort) / spike flat (7 colors, sizes 4-13) / perforated flat (4-12, 5 colors) / penny loafer (4-13, M W) / skimmer flat (comfort)
Nordstrom Booties in the NAS
Knee high boots are still being sold, but booties are taking over, and I think, have a much more modern look with everything from skinny jeans to skirts and dresses. However — do note that booties are not appropriate at every office. Details like peep toes and buckles (particularly clanky ones) may raise eyebrows at work, as well as trends like wearing booties with skirts and the popular no-socks look. Know your office!
The pictured booties below range from $79-$259:

Pictured above: block heel bootie (4-12, MW, comfort) / stretch bootie / beige perforated bootie (5-13) / khaki bootie (4-11) / mesh peep toe
The next batch of booties range from $259-$349:

Pictured above: leather bootie (comfort, waterproof) / block heel bootie (4-13, comfort) / gray suede bootie (5-12, comfort, waterproof) / the classic bootie! / purple boot (4-12, comfort)
Ladies, which shoes have you bought at the Nordstrom Anniversary Sale? Are you looking to add some trendier pieces to your working wardrobe, or are you on the hunt for more classic styles?