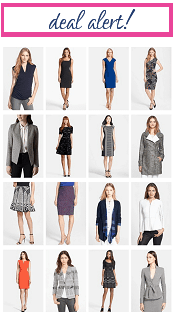 2019 Update: The Nordstrom Half-Yearly Sale has started — check out all our workwear advice and Nordstrom sale roundups to make the most of the sale! Also, sign up for our newsletter to stay on top of all the great sales!
The below content is about the 2014 Nordstrom Half-Yearly Sale.
As promised, I thought I'd round up my favorites from the Nordstrom Half-Yearly Sale that just started this morning. (Note that cardholders earn double points today and tomorrow!) After 73 pages of sale clothing, I made a few notes for you guys in terms of what's there for workwear:
And now, some of my favorite pieces that we haven't posted before, in order of low to high — hover over the picture for more info on it (or click through):
(And I'm JUST realizing I have a problem with black/white/gray pieces — funny, funny.) Readers, what have you picked up at the Nordstrom sale? What are you looking forward to picking up?