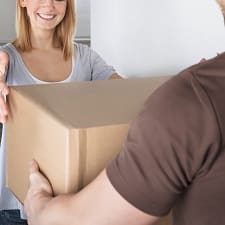 Does your work wardrobe need a bit of a refresh — or are you just building one for the first time? It can all be a bit overwhelming in stores, so today I thought we'd round up some online stylists for your work wardrobe (especially since Keaton Row closed up shop)! A big welcome back to freelancer Ashley Wermick! – Kat.
I don't know about you, but sometimes, shopping at the mall or a department store can just be overwhelming. So many people, so many clothes, and so many fitting room disappointments.
Luckily, there are companies that cut out the middleman and send fabulous clothes right to your door, and also share expert ways to style looks for work, play, and more. We're discussing five of our favorites below…
MM.LaFleur
If you're in a workwear slump, MM.LaFleur is the answer. Once you answer a personal style questionnaire, you'll receive a custom "bento box" filled with office-appropriate dresses, separates, and even accessories. You have four days to try everything on, and you only keep the pieces you want. (Note that all of the items they sell are from their own brand.)
Shipping is free both ways and so is your first bento box. Subsequent orders charge a $25 styling fee, but that's waived if you purchase an item. MM.LaFleur currently carries sizes 0P to 16, with prices averaging between $110 and $365 per piece.
Trunk Club
Next up in our roundup of online stylists for your work wardrobe: Trunk Club. Offering high-quality, ready-to-wear clothing, Trunk Club (now owned by Nordstrom) provides styling services for both men and women.
You can either visit one of their seven brick-and-mortar "Clubhouses" (currently in New York City, Los Angeles, Chicago, Boston, Dallas, Washington, D.C., and Charleston) or have handpicked clothing sent to your home. If you choose the latter, there's a $25 home try-on fee, which acts as credit toward the items you keep.
For women, Trunk Club offers petite through plus sizes, as well as maternity gear. Items cost, on average, $100 to $300 each. In addition, they'll only send boxes when you request them, though you can opt to receive them at regular intervals.
Stitch Fix
Seeking out casual weekend gear, business casual looks, or even the perfect dress for that upcoming summer wedding? Let Stitch Fix be your own personal stylist.
Just fill out a fun little personal style quiz, then your assigned stylist will handpick five items based on your personal preferences, measurements, and budget.
There's no pressure to buy — in fact, you only pay for the items you keep. There is a $20 stylist fee, but you can use it toward your final order. Bonus: If you buy all five pieces, you get 25% off your total purchase price.
Stitch Fix offers personal styling services for sizes 0-24W, as well as petite and maternity sizes.
Dia & Co.
Dia&Co. is an online personal styling service that caters exclusively to women sizes 14 and up. There are similarities to Stitch Fix, such as the $20 styling fee that gets applied as credit toward purchases, and the 25% discount if you buy all five items in your box. Most items are priced between $50 and $55.
What's cool about Dia&Co. is that they look beyond the label sizes to find items that truly match their customers' measurements and body types. Vanity sizing can be a pain, but Dia&Co. takes the guesswork out of finding clothes that fit.
Cladwell
In a different vein than the services mentioned above, Cladwell is a suite of apps that takes the guesswork out of building a wardrobe and choosing daily outfits. Cladwell's Capsules helps you build the perfect capsule wardrobe by cutting out clothing and accessories you never wear and keeping and purchasing quality items you truly love.
Their newest app, Outfits, sends its users outfit ideas based on items in their closets, weather conditions, and more. Simply use the app to select clothing similar to what you already own and Outfits does the rest. Both apps are free to download, but each has a $4.99 monthly subscription fee.
Have you used any of these shopping services, or others that are similar? Did you have a good experience? When you're considering signing up, what do you see as the most important features of shopping services for work wardrobes? Are you most likely to use them for workwear or weekend wear? 
Picture credit: Deposit photos / © AndreyPopov.