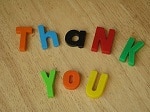 Should you send a thank-you letter by e-mail or by snail mail — and on letterhead or stationery? Reader K wonders…
I am a rising 2L and am starting to prepare for the upcoming interview season. I've always been told to write "Thank Yous" after an interview. I haven't had stationary since high school and I'm wondering if you have any recommendations! I want to pick something that represents me, however I want it to be professional and conservative at the same time. Any advice?
We haven't talked about how to thank your interviewers since March 2010 (aww, back when I was anonymous and writing in the plural). I'm curious what the readers have to say about this, because I think my own rules have changed over the past few years. (Pictured: Thank You, originally uploaded to Flickr by vistamommy.)
For my $.02,
– For interview week, I think an e-mailed thank-you is the appropriate thing, within a day or two (tops) of the interview. Hiring and callback decisions are made quickly and I really don't think you have time to wait for the postal service.
– If you do want to mail your thanks, I would do it in a type-written letter on normal-sized paper. Personally, my resume has always had my name at the very top in a large font, and on the next line it has my address, phone number, and email address, all separated by bullet points but on the same line (pic below). Call me cheap, but I've always just copied those two lines for a "personal letterhead" that I've used for printing from my computer; if you wanted to be fancier you could certainly buy some proper letterhead using those same lines from some local place — I believe both Office Max and Staples have a number of reasonably-priced options for creating that kind of stuff.

I think it's an interesting question whether you should use fancy paper or regular printer paper. The last time I interviewed, it felt antiquated to me to send a type-written thank-you note on the nice Crane stock (with matching envelopes!) that I had used since law school. Since then, any business correspondence that I've sent, I've sent on regular paper, using regular envelopes.
– Some thoughts on stationery… Let me be up front:  I love stationery. Love love love it. My favorite are correspondence cards with my name on the top in a raised ink — the correspondence cards are the perfect size for brief thank-you notes to my grandmother, my friends, whomever. I got my latest stuff from Fine Stationery, but I've been drooling over some of the patterns and styles available through my friend (and fellow blogger) Kalyn Johnson, who has a new line called Effie's Paper inspired by her grandmother — truly gorgeous stuff. But here's the thing:  I think personal stationery is for personal correspondence; see above re: thank-you notes to my grandma. I have once used personal stationery to send business correspondence — to thank a man I'd known for 10+ years and looked at as a mentor — but honestly it felt weird, and in the future I think I'm going to stick with type-written correspondence for business.
But this is just my $.02 — readers, what do you say? Let's take a poll…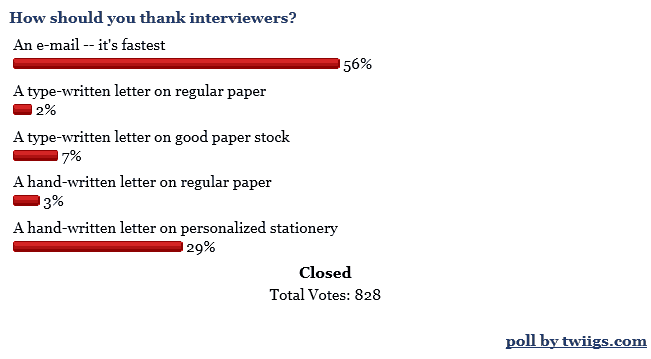 P.S. For all of you grammar/spelling dorks out there, here's my simple way of remembering the difference between stationery and stationary:
– StationAry involves Action or the lack thereof
– StationEry may involve Erasers
I like to think I've made those up myself, but perhaps that is part of what my fancy journalism degree bought me.