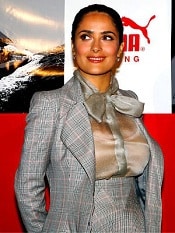 This has come up a few times with regard to the TPS reports, and one of our readers suggested we take a poll on it — which we enthusiastically agree with. Are all sheer fabrics bad for the office, such as chiffon, slightly sheer silk and jersey, and so forth?
2012 Update: You may want to see our newer thoughts on sheer blouses at the office…
For our $.02: A black sheer fabric is always going to be veering into boudoir territory. (We will admit, though, that we have a sheer black blouse that we wear underneath sweaters and sweater-vests.) However, women's blouses have traditionally been in fabrics like silk, crepe, and even chiffon, all of which tend to be slightly sheer — it's one of the reasons women in the older days had to wear slips and camisoles as a matter of course. (And: We have just spent far too long searching Google Images for one of the many examples we know we've seen of anyone from The Thin Man through Tootsie through Working Girl wearing sheer blouses, all to no avail. Grrrrr.) Our point, though: as long as your undergarments are covered tastefully by a camisole, a slightly sheer blouse or sweater peeking out beneath a jacket is not unprofessional. (Although we would say that full-on sheer, like Salma Hayek's wearing, is unprofessional. We don't even think a more demure camisole would have saved that one.)
What say you all?