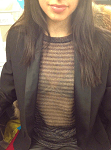 A reader alerted me today to a post on XO Jane about a fashion editor wearing a sheer top to work, entitled "DO THIS DON'T: WEAR A SHEER SHIRT TO WORK." Uh, no.
Now, as this editor admits, she's never worked outside the fashion and beauty world, so maybe our resumes just aren't lining up — but even for a creative field, this is the kind of look that would just make me think "Wow, that poor girl must not realize her top is totally see-through. Maybe I should tell her?" In fact, I disagree with almost every single line in her column. So I thought I'd give my take on dressing in semi- or totally-sheer looks for the office, compared against her tale…
1. "Yesterday I knew I wouldn't have the chance to stop home after work before going out that night, so I wore this completely see-through, sparkly Isabel Marant top with a tuxedo jacket."
Dear readers, there are these amazing things called "handbags" — sometimes called "purses," "totes," "briefcases," or even just "bags" — into which you can put all sorts of things, including changes of clothes.
Now, with all due respect to this editor, perhaps she had a big work function that night that required her to wear an edgy, sheer top.
But for more conservative fields like law and others, the message you broadcast when you wear eveningwear to work is that your evening is more important than your day — not a good message to send.
2. "In real life the nude bra underneath wasn't visible, so I sort of looked topless, albeit glittery. Like a figure skater."
I'm going to step away from the proposition that it's ok to look like a figure skater at work, and instead focus on the first part of the sentence — "in real life the nude bra wasn't visible."
Bob, can we have a big gameshow "unnnh" wrong sound again? If it's visible when you take a picture of it, I'd say your bra has a 95% chance of being visible anywhere. Just because the lighting in your bedroom doesn't detect it doesn't mean that the lighting in your office — or the coffee room — or the conference room — won't be the same.
In fact, I would advise all of my readers that when you're in doubt about the appropriateness of an outfit, take a picture of yourself on your digital camera that morning and check it out. Sheerness, visible pantylines, wrinkles, stains, and more will all be visible.
3. "…You could always layer a nude cami under either of these options, but I never do, since adding another top ruins the way your see-through one naturally hangs."
I'm going to disagree with all of this. I think a good quality camisole will never ruin the way a blouse hangs on you — if it does the camisole is way too big or the blouse is way too small.
I'd also argue that for the workplace, you should never wear a nude camisole — stick with black or white. The reason? So you don't look naked beneath your clothes.
While the editor describes wearing the sweater to a big meeting where "no one gave her a second look," I'm sure that wouldn't be true if she worked in a more conservative industry.
You never want people to have to take a second — or third — look at your outfit, because while they're inspecting your outfit, they're not listening to what you're saying. Worse, your coworkers should never feel like they CAN'T look directly at your outfit for fear of seeing something they shouldn't.
(For example, that really nice, married, older male boss who has a daughter your age — he may be too embarrassed to look at you, or purposely avoid working with you in the future if you dress like that.) A plain (non-lacy) black or white camisole makes it clear that they can, in fact, look at you.
4. "[Wearing a nude cami] defeats the purpose of wearing a sheer shirt."
What is the purpose, exactly? Is it "to show your bra"? Because if that's the purpose, why wear a top at all? I would argue that there are some sheer fabrics — silks, cottons, even the occasional chiffon — that add an interesting drape, or a lovely softness, or even the perfect misty white, that make them worth wearing to work, despite the fact that they're sheer.
I would say, obviously, that sheer or semi-sheer tops are still risky for the office (see my points above in #3), but possibly acceptable if accessorized appropriately — with a black or white camisole — or even a turtleneck — beneath, or worn under a vest.
Readers, what do you think of the XO Jane article? Do you wear sheer tops to the office?
Psst: some of our favorite camisoles for work!

Pictured above, our favorite camisoles for work: one / two / three / four (25+ different color combos in a 4 pack!)– don't forget about demi-camisoles too, such as this, this or this — or chemisettes!)