A few weeks ago on Project Runway the contestants had to design a look to take Brooke Shields' character on Lipstick Jungle from "day to evening" in a single look. We wanted to scream at the television — we've never bought into the idea that women want to wear their office garb out for the evening. Every time we see an outfit that's supposed to take you from day to night, it doesn't… In our experience, if we're going out on a work night we either need to change into a cocktail dress (to attend a charity event at a museum or something) or to casual-but-sexy wear for a date or a night out with a girlfriend and a hip restaurant. ("Casual but sexy wear" has meant, for us in the past, either a casual dress or designer denim and a cute top). And if it's just a local neighborhood restaurant or someone's house, who cares enough to change? In any case, an outfit for work that's too sexy for day makes us feel uncomfortable, and wearing our work clothes — no matter how "sexy" they are — while out and about just makes us feel drab and boring. So we've always gone the two outfit route.
After Project Runway, though, we started wondering — are we alone in this? Is everyone else actively looking for seamless day-to-night looks? Please take the poll and then comment away… particularly if you've found something that works great for day to night, do tell.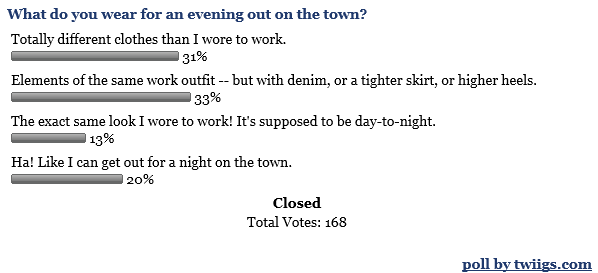 Pictured above: 13th street, originally uploaded by g. rox.