2020 Update: We still love these comfortable work heels — but you may want to check out our most recent roundup of the best black heels for business attire instead.
Sure, we all know what basics professional women are supposed to have in their closets, but if you're buying one for the first time or replacing one you've worn into the ground, it can be a pain to find exactly the right incarnation in stores. In "The Hunt," we search the stores for a basic item that every woman should have. Psst: check out our frequently updated Guide to Comfortable Heels!
2020 Update: Here are some of our Hall of Famers! 1) Sam Edelman 2) Mark Fisher LTD 3) Rockport 4) Vionic 5) Cole Haan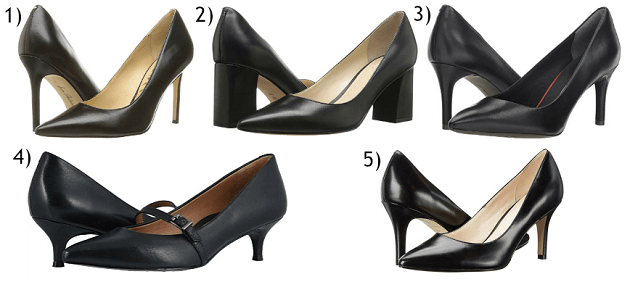 In today's hunt, we search for reasonably-heeled black leather pumps — nothing higher than 3″…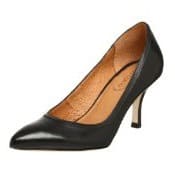 Corso Como makes extremely comfortable shoes — their insoles are lined with gel. Available at Endless for $154.95. Corso Como Women's Cate Pump
These black leather shoes also have a 5-star comfort rating on Zappos — and are at a slightly lower price point of $89. Calvin Klein – Dolly (Black)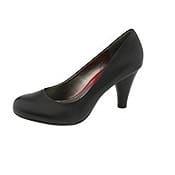 These are exactly 3″, but we'll make an exception because they come in so many colors and get great ratings for comfort. (Hmmn, perhaps we need a pair of peacock blue pumps.) Available at Zappos for $83. Kenneth Cole Reaction – Inner Space (Black Leather)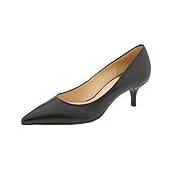 We just couldn't do a round-up of basic black pumps without including one of our favorite brands, Cole Haan. These Air Pumps are made with Nike Air technology — we won't be playing basketball in our pumps any time soon, but it's good to know someone's making the shoes as if we were. Available at Zappos on sale for $243. (2″ heel; also available in 3″ heel.) Cole Haan – Fiona Low Air Pump (Black Calf)
If you're upgrading and want something in a slightly higher price range, these Prada leather pumps (2.5″ heel) are only $360 at Saks. Prada Linea Rossa

We've always envied the women who can rock the 4″ heels on the red carpet — and we've somehow developed a taste for the lipstick red of the Louboutin pumps. Unfortunately, their towering heels make them next to impossible for us to use to navigate at the office. Fortunately, there are more sensible pumps if you're like us — these are far sturdier and more walkable, with a 2.75″ heel. Available at Saks for $595. Christian Louboutin – Miss Tack Pumpstktktktk LINK6
Like this feature? Check out other recent installments!