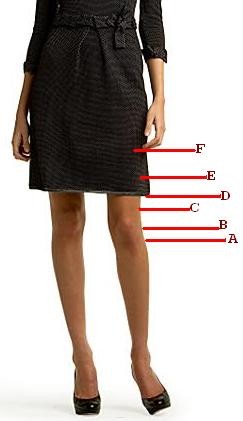 About a week ago we asked you: when is your skirt too short for work? The poll is still ongoing, but we thought we'd fill you in on the results so far.  Tons of people voted (thank you, Above the Law, for the link!), and the majority of you (31%) said that C was fine, with the D-supporters bringing up the rear at 18% (although another 11% said D was an acceptable length if tights were worn).  Only 7% of you went more conservative (saying only A or B were acceptable).  Lots of commenters noted that the more fit a woman is, the shorter a skirt she can get away with.
As with everything else in life and fashion, rules can be broken.  However, nothing's worse than unwittingly breaking a rule and looking back days or weeks (or years) later and wincing.  Ways to break the rule intelligently and get away with a shorter skirt:
– Make sure your top half is covered up and 100% professional.  Even if you normally just wear a sweater or other top to work, this may be the day to wear a blazer.  (A boxy blazer can look great with a shorter skirt or dress.)
– Choose your accessories wisely. You want to be sure to look grown up, fashionable, and classic — not like a fashion victim, and not like a little girl playing dress up.  Nothing too noisy, nothing too bright.  Think understated and classic (maybe take your cue from Nina Garcia on Project Runway).
– Choose your makeup and scent carefully. If you alternate scents, you may want to pair a deeper, more masculine scent with a miniskirt and avoid florals and fresher scents.  (Think vetiver and patchouli, not vanilla or rose.)    Similarly, you may want to avoid a glossy lip on a day that you're wearing a shorter skirt.
Incidentally: Note that some online retailers, such as ShopBop, allow you to peruse their clothes by length of skirt — a search on "knee length" brings up the beautiful (and work appropriate) DvF dress at right, available for $345.  Diane von Furstenberg Bundia Dress