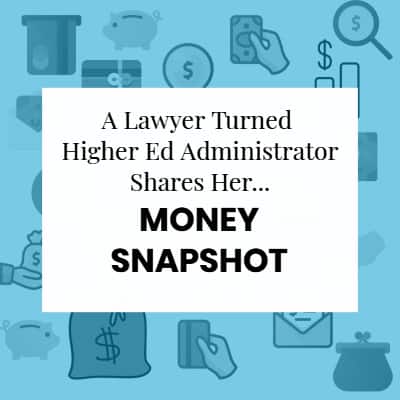 Eeek – we are thrilled to present our very first personal money snapshot! By way of background: we got a few requests from readers to launch our own "money diary" series, so we asked willing readers to fill out a form with lots of details about debt, spending, saving and more! If you'd like to fill out the form and be considered for a future personal money snapshot, please click here if you'd like to see the form and/or submit responses! You can also see a PDF of the questions if you want to review them ahead of time.
Today's snapshot features reader P, who notes: "I have worked almost exclusively in public administration or higher education, so not a high roller here! Husband had a job loss early in career (about five years ago) that screwed us up."
Please remember that this is is a real person who has feelings and isn't gaining anything from this, unlike your usual friendly (soul-deadened, thick-skinned, cold-hearted, money-grubbing) blogger — so please be kind with any comments. Thank you! — Kat
Name: P
Location: Chapel Hill, NC
Age: 32
Occupation: lawyer –> public higher ed administrator
Income: $83,000
Household income: $165,000
Partner's age: 34 (husband)
Household net worth: About $100,000
Net worth when started working: $26,000 (age 24)
Current debt: $15,000 credit card debt, $2,000 student loans
Living situation: Currently renting; rent is $1,400/month. (I do not contribute to rent.)
Debt
What does your debt picture look like?
Aggressively paying down $15,000 in consumer debt (credit card) accrued due to a job loss, a period of underemployment after a relocation to a much lower cost of living area (from D.C. to Chapel Hill), and shopping like an idiot. I have about $2,000 left on my student loans, which was only $10,000 to start.
How much money are you spending each month to pay down debt?
$2,000
How did you pay for school?
I made educational choices that left me with as little debt as possible (full scholarships to both undergrad and law school, albeit to lower ranked, less challenging institutions than I could have succeeded in). I always had two jobs during school (except for during 1L). Parents generously paid my rent and let me drive a family car.
What is your living situation?
We rent because we moved here with very little in savings and have lower-paying jobs. We sold our home to move to D.C., which subsequently ate our money ($2,500/month in rent for a 1-bedroom in Maryland), and now we rent for both money reasons and for flexibility reasons. We are planning to purchase again in 2019, thankfully, as we build savings and have a better grasp on what we want from our home.
Have you ever done anything noteworthy to avoid or lessen debt?
We had to cash out a small retirement account when my husband lost his job in 2013. We used it as a stopgap for some major things, but ultimately he re-invested about $4,000 of that.
(In honor of this series' original title, Tales from the Wallet, here's one of our favorite wallets!)
Savings, Investments & Retirement
How much do you save for retirement?
I invest about 15–20% of my gross pay each month (target date retirement funds), with some of that as an employer match. Higher ed has its minimal benefits for things like matching!
How much do you have in retirement savings?
$70,000 (just mine)
How much do you save outside of retirement accounts?
We fund an emergency account for about $400/month, a down payment account at about $1000–$1500/month, and a vacation fund at $100/month. Buying a house is first priority, and a not-sucky retirement is the other. We are childfree and find that impacts some of our decisions with relationship to both the house and retirement.
What's the #1 thing you're doing to save money, limit spending, or live frugally?
We just don't buy a lot of stuff, clothes, disposable things. We're relatively minimal with our "stuff" consumption. And we bring lunches!

How much do you have in cash that's available today?
Twenty bucks? Idk, I'm a millennial.
How much do you have in cash that's available in a week, such as with an online savings account?
$20,000, all of my banking is online, no brick and mortar (includes $7,000 emergency fund).
Spending
How much do you spend on the following categories on a monthly basis?
Groceries: $600
Restaurants, bars, takeout, and delivery: $400
Clothing and accessories: Less than $100
Transportation: Household spends about $330 (gas plus car payments, two cars)
Rent/living expenses: $1,400
Entertainment: $25, Hulu and Netflix only
Health care: $50/month each for two individual plans; no kids
What's your spending range for these things? What's your average?
Vacations – Range: $50–$7,000
Vacation – Average: $2,500
Individual items of clothing – Range: $10–70
Individual items of clothing – Average: $40
Apartment or house – Range: $1,000–$2,600
Apartment or house – Current main residence: $1,400 (rent)
Car or other vehicle – Range: $8,000–$10,000, always buy used, hate cars
Car or other vehicle – Last purchase / current main vehicle: $10,000, used vehicle
When was your wedding and how much did it cost?
2010, $30,000 total (parents paid), $250 for my wedding ring, about $300 for bridesmaids' gifts, $250 for husband's gift. Was married at 24 to my high school sweetheart (still am!). Tradition in my family is parents pay; it is "their party in our honor," and the guest list was big (175+) due to very large families. Did not get married in a church. Married by judge I interned for, on lawn of beach club in New England. No honeymoon, as we had just started jobs.
Are there any other large expenses in your life, now or previously?
Husband doesn't do the taxes anymore… didn't know how to calculate "income" for IRS purposes so we had a $6,000 tax bill one year. Ugh.
Money Strategy
Do you have a general money strategy?
Make as much as you can while still having a life and being happy; spend it on the experiences and food you really want.
Photo credit: icons via Stencil.