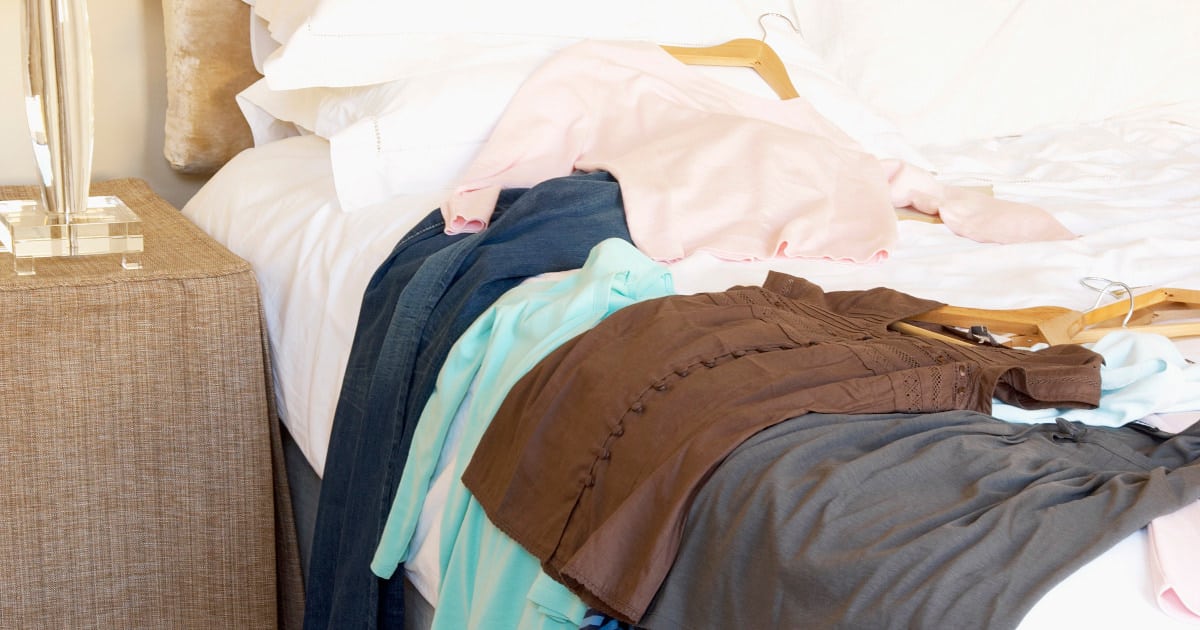 A while ago, I saw a fun piece on Well + Good called 5 Activewear Pieces You Need to Get Rid of ASAP, and I thought it was interesting enough that we should do our own take on it. These are my best suggestions for the five kinds of workwear pieces you need to get rid of ASAP — what are yours? In general, how do you know when to throw out workwear?
(Throughout this post, I've tried to sprinkle suggestions for recycling rather than trashing, as well as adding to the Further Reading section below, but stay tuned: We'll do a separate post on the best ways to recycle your workwear, because there's a lot of info.
(Update: Here's our post on where to recycle, donate, and sell your work clothes!) 
In general, note that each location of Dress for Success has its own guidelines for what they'll accept; H&M will always accept old clothes for recycling from any brand in any condition in exchange for a coupon; and some cities have special options for recycling clothing.
See, for example, this post on the partnership between NYC's Department of Sanitation and Housing Works, or this piece on clothing recycling in North Carolina — both will hopefully give you a good idea of what to Google in your city.)
This post contains affiliate links and Corporette® may earn commissions for purchases made through links in this post. For more details see here. Thank you so much for your support!
1. Workwear Pieces to Get Rid of ASAP: Anything That Can't Be De-Pilled.
Take a good look at your pieces made of ponte, tweed, and other knits. On dresses, you may see pilling on the armpits and seat; on pants, you may notice it along the inner thighs as well as the seat. A de-pilling device like this or even this (affiliate link) can work wonders — but if not, it's probably time to throw the piece away.
2. Anything That Came Back Yucky From the Dry Cleaners
When older suits made of triacetate start coming back "shiny" in spots (particularly at the seams), that can be a sign the garment has seen better days. We've talked about how to deal when your clothes smell and drycleaning just doesn't help, as well, with a lot of great reader suggestions in that post.
3. Anything with Stains That Don't Come Out
Oil/grease stains, printer ink stains, bleach stains — sometimes you just can't save an item. Depending on where the stain is, however, you (or some savvy thrift store shopper) may be able to repurpose the piece.
4. Undergarments That You're Not Wearing Anymore
This one may be a stretch for workwear, but if you have a big division in your lingerie drawer between "daytime/office lingerie" and "date night/bedroom lingerie," it may be worth assessing separately. Note that sometimes you can donate old bras — Soma often offers a percentage off if you bring in an old bra during one of their donation drives.
Otherwise, eye them with suspicion and get them out of your closet — even if you've kept stuff in hopes of changing sizes, because unfortunately, items with elastics and a high component of stretch in the fabric do not hold up well over time. (Update: It looks like H&M and other clothing recycling programs will even accept old (clean) underwear, so… yay!)
5. "Fast Fashion" Shoes and Bags That Are Falling Apart
We've rounded up vegan shoe brands in the past, and there are shoe care products designed for these kinds of shoes — but if you've bought ultra-budget shoes from Payless or other fast fashion brands (I'm thinking Zara, Topshop, H&M, Mango, etc.), then a scuff, rip, or other minor damage could be fatal to the shoe and render it unwearable for anyone.
Do check out Soles for Souls, though, and see if there's a donation spot nearby. (I'm curious if anyone's company has a drive for these kinds of things so that you can make donations en masse!)
Over to you guys: What are your best tips on how to know when to throw out workwear? When you donate old workwear, where do you donate it? When you recycle old workwear and other clothes and textiles, where do you recycle?
Further Reading:
Stock photo via Deposit Photos / londondeposit.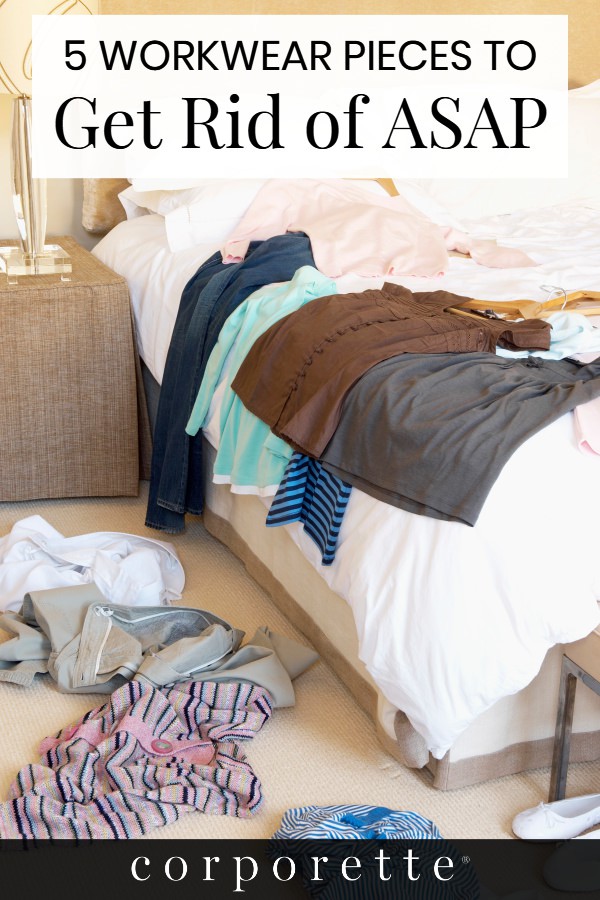 We are a participant in the Amazon Services LLC Associates Program, an affiliate advertising program designed to provide a means for us to earn fees by linking to Amazon.com and affiliated sites.