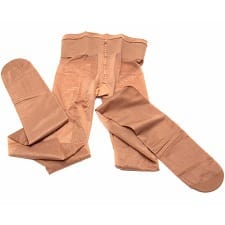 2017 Update: We still stand by this advice on how to wear stockings without ripping them — we've also updated links below. You may also want to check out our guide for how to wear pantyhose for work!
More reader mail to catch up on… I thought this reader Q was particularly relevant given some of yesterday's questions in comments about when/how to wear nylons.
First, while you've discussed whether or not to wear stockings, I could really use some advice on HOW to wear them once one decides that they're appropriate. I rip stockings to shreds whenever I wear them, so I would really appreciate tips on finding a durable brand, as well as how to properly care for them.
I would agree with most of the commenters in yesterday's post that stockings/nylons/pantyhose aren't necessary for most day-to-day activities. If you're interviewing? Nylons for you. If you're going to court or to a big meeting? Ditto.
As for which brand, we got a ton of great suggestions when we ran a poll on whether black hose or nude hose was better for an August interview (the readers overwhelmingly contradicted me, saying nude hose was the way to go for an August interview); check out those pantyhose brand suggestions in comments. 2017 Update: People seem to really love the Donna Karan Nudes line of pantyhose*, available at Nordstrom — you can also check out our latest discussion on the best lingerie for office looks. 
*This post contains affiliate links and Corporette® may earn commissions for purchases made through links in this post. For more details see here. Thank you so much for your support!
In terms of other tips for wearing stockings… it sounds crazy, but a pedicure is almost more important when you're wearing hose than when you're barefooted because it stops your toenails from shredding the hose. Secondly, you may want to look for various bells and whistles, such as reinforced toes (although this will limit your shoe choices if you have any shoes with a very low vamp). Also, maybe it's just me, but I feel like control-top hose last longer than hose without; this may be because they stay put better and I'm not constantly yanking them up. If that isn't enough, there are gloves* that you can buy to wear while putting on your pantyhose (although, unless you carry them with you, they won't help when you have to go to the bathroom.)
Otherwise, in terms of technique, I've found it's best to put them on slowly — take the leg opening and gather the fabric until all you've got is 3-4 inches of hose to put over your toes. As you step into the hose and pull them up your leg, un-bunch the fabric as you go, trying to pull the hose tight enough as you go.
As far as caring for pantyhose, the best advice is to hand-wash them, particularly if you shell out for a very nice pair (Wolford, La Perla, etc). I am (generally) far too lazy to hand-wash anything, however, and I've had success with the delicate cycle of my shared industrial washer in my apartment building. My method: get a lingerie bag or hosiery bag to put your hose in. Keep bras (or anything with hooks) out of this load if you can. Add sweaters, workout clothes, etc, and wash it on the delicate cycle, in cold, with Woolite. Whatever you do (for the love of God!) airdry your pantyhose.
Readers, what are your tips on how to wear stockings to work? What are your best tips for how to put on pantyhose without ripping them accidentally, or getting runs in your nylons?
Picture credit: Deposit Photos / firstblood.