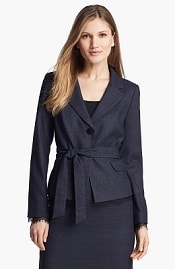 Today's reader mail deals with the inevitable problem: buying the same clothes as your coworkers.
I have just started my career and I am building up my wardrobe essentials one button down at a time so i am kinda slow because i had to start from scratch (my college wardrobe wasn't ahem 'ladylike'). I have this amazing pinstripe navy skirt suit. it's basically my pride! my big-day suit (and for now the only real suit I got….). Today a coworker showed up wearing the same!!! (of course i look better in mine) but i don't know what to do.. do I have to keep wearing mine and run the risk of bumping into that colleague dressed alike, or do I wear it as separates, or do buy another 'big day' suit? For the info: the coworker is two ranks higher than me in hierarchy so it's flattering we got same suits, I rarely run into her. My problem is how will it be perceived, and what is an appropriate way to make a joke about it… or ignore it.. i am just confused.
We used to work around the corner from an Ann Taylor, and whenever they had a big sale half the girls at the office would show up in the same pieces. It's an inevitable fact of office life, particularly when there are a finite number of stores catering to professional women. For our $.02: Don't sweat about it. The only possible exception might be if it's just you and that colleague, staffed on an assignment that would involve having a "big day" at the same time — e.g., her deposing someone while you assist — in which case you might want to coordinate your fashion in advance, possibly by saying something jokingly like, "Yay, can't wait to pull out my navy J.Crew suit!")  Otherwise, if you just happen to work in the same office, you might want to try experimenting with different color combos to wear under the jacket or shoes — we've sung the praises of purple shoes a number of times; brooches and scarves can also add another dimension to normal suits. If you really feel weird about it, you might want to notice how your colleague dresses — plain vanilla (white blouse, navy or black shoes?) or with pizazz (purple shoes, yellow top) — and go the other way. If you happen to show up at a meeting with 5 or less people, wearing the same suit as your colleague, just nod at her with a smile, say "Great suit," and move on.

As you build your working wardrobe, yes, it's fine to wear the suit as separates. We will say, though, that we hope you're not wearing the same suit every week at the office. (We mean this in the best "big sister" way possible, honestly.)  If you're in a position where a suit looks appropriate that often, you should really have at least two or three suits. (Yes, it stinks that guys can get away with just having one or two suits — it just isn't the same for women.)  If you have a bit of money to spend (say, $500-$1000), look at a place like J.Crew or Banana Republic where you can get multiple pieces (one or two jackets, skirt, pair of pants or two) for the money, and mix and match within those pieces. If you don't, head to your local Filene's or TJ Maxx, or even Macy's — there are plenty of suits available for $99 – $150. (For example, pictured above: Classiques Entier Edith Weave Belted Jacket, available for 60% off at Nordstrom Rack.) (Our older advice on this topic can be found here.)
Readers, what do you think?