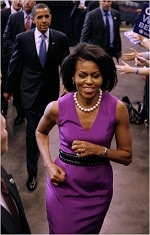 A while ago, we got this intriguing e-mail from a reader:
As a late graduation present, I was considering asking my folks for a classic strand of pearls. This turned out to be more complicated than I had thought. Is it (still) true that younger women shouldn't aspire to larger pearls? I don't want to buy a strand that will look silly when I'm in my 30s and 40s — what's the largest I can get away with in my 20s?
The article she linked to explained that larger pearls were for older women — the largest sizes being for women "45 and up," with the smallest sizes being intended for "older teens, 16 to 24."
For our $.02: We love our 7.5 MM x 8 MM pearls and wear them all the time — several times a week. They stodge up a questionable outfit and make us feel like we belong when we're at an event with much bigger wigs than us. As for the size, we would say that if you're wearing suits you're old enough to get this size of pearls (which, according to the website, is the last size of pearls acceptable for women under 35). Go to the store and try on different pairs — you'll eventually find one that feels and looks at home on your neck — and THAT'S the size and length you should get. (We went with 18″ and would never look back, but if you wear button-down shirts or crewnecks frequently you may prefer to go with the tighter 16″ length.)
Stay tuned for a roundup of some of our favorite pearl and faux pearl necklaces! In general (as of 2022) note that Mikimoto has great quality pearls — and note that between 7mm – 8mm is the most common size, so try to copy that if you're going faux. (One possible source for faux pearls: this Etsy shop.)
This post contains affiliate links and Corporette® may earn commissions for purchases made through links in this post. For more details see here. Thank you so much for your support!
We would recommend splurging and getting the best set of pearls you can afford — if you can, go for the top grades of Mikimoto brand pearls, sold at finer jewelry stores. Even Zales sells a set of mid-level Mikimoto pearls.
If you do end up buying this mid size (6.5 through 7.5MM), don't consider it money spent on something you can only use for 15-20 years — another look that's hugely popular among older women is the double- and triple-stranded pearl necklace, and you can convert a single strand necklace INTO a double- and triple-strand necklace if you want to (either by resetting the pearls or getting a special clasp to link the first necklace with a second necklace).
As for larger white pearls — 8.5MM and up — we would actually recommend going fake. You're in good company — Jackie Kennedy, Michelle Obama and Barbara Bush have all notoriously gone for large faux pearls. (And if you want to wear them and you're 25, go for it, we say.)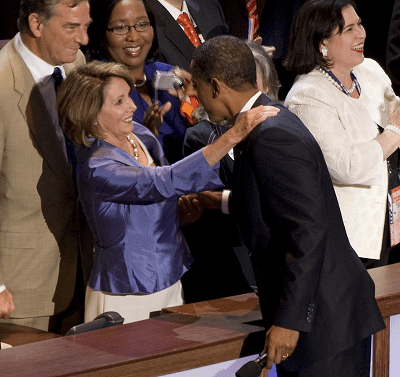 Another option that would probably carry you from your 20s through your 70s would be to really go all out and get a rare colored pearl, a la Nancy Pelosi's Tahitian pearls. (Hers reportedly cost $80K!))
We're curious — what are other people's thoughts on pearls? What would your advice be for our reader? Do you wear them frequently? Did you inherit them or purchase them for a specific event, like your wedding? Have you upgraded a set recently?