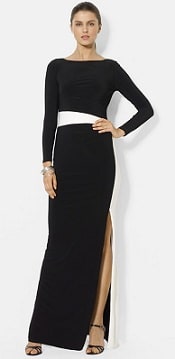 Today's reader mail has to do with someone who is in need of advice for what to wear to a gala event…
Dear Corporette – You have never steered me wrong, and I definitely need advice on this one: I have been invited by a former boss & mentor (partner of a French law firm) to a gala dinner in DC, where he is to receive an award. What is appropriate dress? I have several gala-type dresses, things I wear to the opera or to very elegant weddings…but I am not sure how conservative to be at such a gathering of professionals.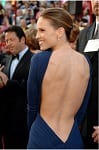 Thank you for the compliment!  We're happy to give our $.02, but really, we hope  our DC-based readers can help her out. We've only been to gala events in New York, at which people have worn anything from black business suits (and looked boring but professional) to actual floor-length dresses. Our rule of thumb would be that if the men are supposed to wear a tuxedo, then you should be in a floor-length dress (or the pants version of a floor-length dress). Avoid tons of sparkles and surprising flashes of flesh — it's one thing to bare your arms and unintentionally show a little cleavage, it's another thing to pull a Hilary Swank (pictured at right) and wear a dress that's too low cut in the back. We would advise you to wear either a wrap, a jacket, or a shrug, just so you have some way to modify your look as the night goes on.  For our money (or as inspiration), we'd suggest something like the dress pictured above — the high neckline and classic cut makes it a sure hit.  Above:   Lauren Ralph Lauren Colorblock Jersey Gown, was $170, now $102.