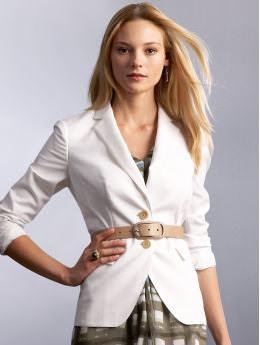 Today's reader mail comes from someone curious about what to wear with a white blazer…
I heard that white blazers are very versatile for work, so I purchased one from Banana Republic:  Women: White blazer – White


But I was having trouble matching it up with other clothes (shirts, pants, skirts), because it's such a stark white, and I can't really wear white shirts underneath it. Any suggestions? Thank you!
First, we would recommend adopting the policy that, when money and opportunity present themselves, that you always buy all pieces of a matching set.  We used to just buy cardigans, then wish we had the matching shell; the same will inevitably go with this blazer, which has several pairs of pants that match it (one of which is on sale: Women: Jackson sleek wide-leg pant – White).  That said, there are tons of things you can wear with a white blazer that are otherwise not matching.  Gray pants and a black blouse will be spiffed up and made more summery with a white jacket, perhaps with a bold necklace or pair of pumps to add a pop of color (think yellow or red).  The paisley printed blouse we featured earlier today would look great with a navy pencil skirt, accented with a white blazer.  Pretty much any color combination will work — we would even argue that the only one to avoid is black pants and a white shirt, worn with a white blazer, but that's only because of our general distaste at wearing white and black together in combinations that might get you mistaken for a waiter.  (We understand that may be peculiar to us, though.  We're working on it.)
The trick with having a versatile white blazer is to make sure that it's fitted enough, or has enough details, that it doesn't feel like you're wearing a lab coat.  Avoid boxy shapes at all costs.  A belt, as illustrated in the photograph from Banana Republic, will make it more fitted — it will also let you experiment with brighter, fuller skirts that you otherwise might not be wearing to your job.
Readers, any other tips?