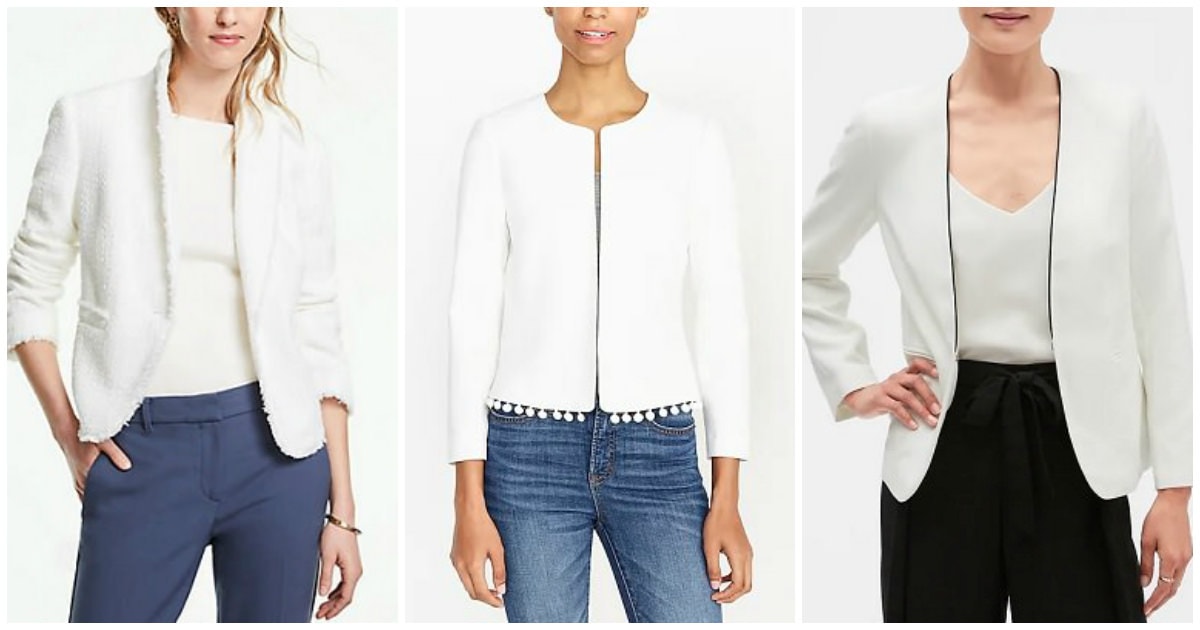 Sure, we all know what wardrobe essentials for work professional women are supposed to have in their closets, but if you're buying one for the first time or replacing one you've worn into the ground, it can be a pain to find exactly the right incarnation in stores. In "The Hunt," we search the stores for a basic item that every woman should have.
Awwww, we haven't gone on a hunt for white blazers for work since 2013 — let's see what's out there now. For my $.02, the white blazer can be a great staple for spring and summer, instantly freshening and lightening up any outfit. The trick, of course, is to get one that doesn't make you feel like you're playing doctor for the day. To that end, I've always avoided the "classic blazer" shape for white blazers — if it has regular lapels, odds are good you're going to feel like you're wearing a lab coat. (But not always, of course — if you've already got a white blazer with lapels that you love to wear to work, by all means, go on wearing it!) Similarly, a shrunken blazer tends to avoid the "doctor" vibe much better than a hip-length blazer. With all that said… there are a ton of those blazers (hip length! with lapels!) out there in stores right now, so if you're wearing that kind of white blazer, do share some of your styling tricks with us.
Readers, are you fans of white blazers for work for summer months? (I've tried to include jardigans and sweater blazers in today's Hunt, but didn't find many — have you found one in the past that you love?)
White blazers for work under $100: J.Crew Factory, Ann Taylor Factory, Ann Taylor Factory, New York & Co.
Patterned (but mostly white): 1.State, Halogen, Zadig + Voltaire, Express, Loft,
Plus sizes: J.Crew Factory, Banana Republic Factory, Talbots, 1.State, (sign up for our newsletter focusing on plus-size workwear!)
Petite sizes: Banana Republic Factory, Ann Taylor Factory, Ann Taylor Factory,
Cusp Sizes (16-18): MM.LaFleur (lucky sizes only left), WHBM, J.Crew Factory, Ann Taylor Factory, Ann Taylor Factory, New York & Co.
Machine Washable: J.Crew Factory, Ann Taylor Factory,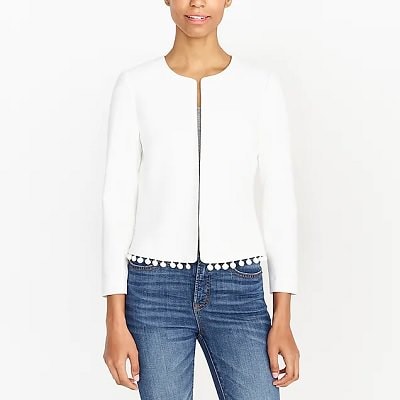 Ok — I feel like we're starting this Hunt strong, as one of the cutest blazers is also one of the most affordable — I love this blazer from JCrew Factory! It's available in sizes XXS-3X, it's machine washable, and the blend of cotton/linen is certain to be breathable. I like the bracelet sleeves, the sleek, collarless look, and yes, the poms.
This collarless blazer is fully lined, and I love the black detailing along the edge — just enough for some definition. It's $72, and available in regular and petite sizes 0-14.
This sweater jacket from Boden is definitely more on the "cardigan" side of things, but I feel like the red detailing and pockets put it in "sweater blazer" territory. The wide open weave should be nice and airy, and I like the casual vibe. It's $110, and available in sizes XS-XL. Other knit/jardigan-y options include this ivory sweater jacket from Talbots, this roomy sweater blazer from J.Crew (also at Nordstrom), and this "open blazer cardigan" from Nic + Zoe.
While doing this Hunt I saw a lot of higher end versions of basically this look — long, collarless, with hook and eye closures. (For example.) I like that this Talbots linen blazer comes in regular, petite, plus, and plus size petite size ranges — all for $159-$179.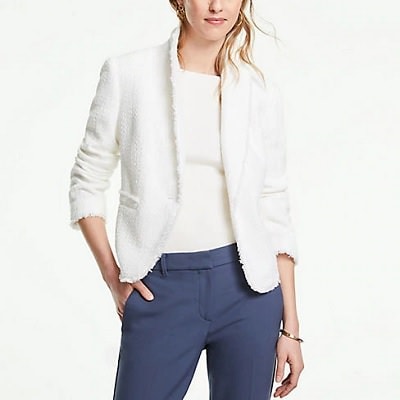 A little tweedy goodness is a great way to move away from "lab coat," and I'm loving the fringe details on this Ann Taylor blazer. It's available in regular and petites up to size 18 – regular and petite up to size 18 — and (whoa) is machine washable. It's $169.
There are much more expensive white blazers to be had, but I think we'll round out this Hunt with this $245 option from Of Mercer — I like the tweed fringe, the "hint of metallic thread" as well as the "fusion of uptown class and downtown cool." (It's also machine washable — and made in NYC!) It's available in sizes 00-14, in white and black.
Readers, how are you styling white blazers for work — and have you bought any recently?
Like this feature? Check out other recent installments!
This post contains affiliate links and Corporette® may earn commissions for purchases made through links in this post. For more details see here. Thank you so much for your support!