Now, by your question, we're guessing you're a hard size to find, either because you're above or below the normal (2-14) range. Some suggestions for places to look: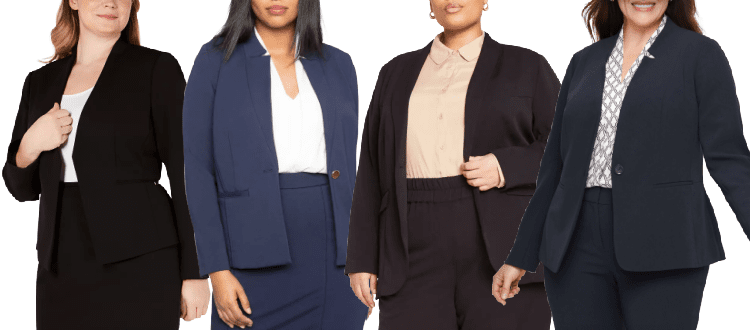 If you're bigger:
Check your local Macy's, Filene's, TJ Maxx, Lord & Taylor, or Dillard's for their suit section — I'd be surprised if they don't have a variety of brands up to size 24 or 26. Look for brands like Tahari, Kasper, or LeSuit — they're all trustworthy brands that would be fine for a woman of any size to wear on interview. Macy's has a limited selection online; check out this Calvin Klein Woman One-Button Seamed Pant Suit
As commenter M just noted, Nordstrom's also has a great selection of wear-to-work clothes online, (Nordstrom Plus-Size: Wear To Work) as does Saks (the jackets can be found here)
Land's End (returnable at Sears!)
Travel Smith — nice selection of plus-sized clothing. For example, check out this short jacket and matching pants. (We couldn't find a skirt suit on the website, unfortunately…)
If you're smaller, these brands run small and offer small sizes:
Check out the more expensive brands — anything worn by an actress or model or someone who is professionally thin. In our experience, sizes in those brands can run several sizes below those in normal stores you'd find at the mall.