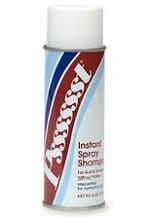 Today we got a request from a reader:
Which dry shampoo does Corporette recommend?
We must admit, we're new to the dry shampoo genre — we've only tried two, an expensive one from Sephora ($24 per can) and a cheaper one from Ricky's (also available at Drugstore.com).  The first one felt like our head was encased in a cloud of perfume — the scent was truly overwhelming.  The second one, Psssssst, is what we use when we have to skip the shower, for whatever reason.  It's available at Drugstore.com for $5.99: Psssssst Instant Spray Shampoo, Unscented
.  We've also heard very good things about the Bumble & Bumble dry shampoo, but every time we go to a store that sells it they seem to have every color in stock but ours.
In all honesty, though, we've found that what works best is to take a shower, soak your hair — massaging your scalp with your fingers — but to skip the shampoo.  Perhaps add a bit of spray-on, leave-in conditioner when you get out of the shower, and style as normal.
Any other suggestions from readers?