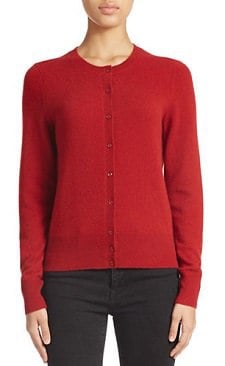 Sure, we all know what basics professional women are supposed to have in their closets, but if you're buying one for the first time or replacing one you've worn into the ground, it can be a pain to find exactly the right incarnation in stores. In "The Hunt," we search the stores for a basic item that every woman should have.
If you're going to buy a single sweater to start expanding a work wardrobe that mostly consists of black/gray/navy suits and white/blue blouses, what should you pick first? In my mind I think it's got to be a burgundy or red cardigan sweater — preferably in a silk blend so you can wear the sweater year-round(ish), wash it easily, and get a great drape if you button it and throw it around your shoulders — either on your summertime commute (after July 15 I'd say) or over a blazer as another layering piece in winter or spring (before March 15 I'd say). (So in other words, consider retiring it from March 15-July 15, but otherwise wear it all the other seasons.) It's also festive for the holiday season and Valentine's Day. You can pair it with oranges and pinks in the fall, and pale blues and even lavender in the winter. Ladies, what color cardigan do you wear the most? What is your favorite cardigan brand and style? 
Note that the Lord & Taylor cashmere sale seems to be quietly happening today — lots of L&T-brand cashmere is marked down to $59-$69, including a nice red cardigan, pictured above, for $69 (was $174). 
First, some general round-ups for special interests:
Hall of Fame: Halogen, Talbots, Lands' End, Brooks Brothers, Nic + Zoe (cranberry; matching tank here), Lord & Taylor (red dahlia), Tory Burch ("sorrel melange")
Plus sizes: Halogen® (1x-3x), Loft (XXL), Lands' End (1X-5X), Sejour (0X-3X), Lord & Taylor (0X-3X)
Petite sizes: Loft (XXS-XL), Ann Taylor (XXS-XL), Karen Scott (lucky sizes only), Lord & Taylor (lucky sizes only)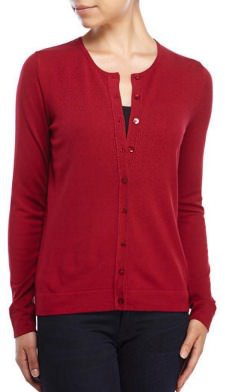 This banded cardigan from August Silk unfortunately has only two sizes left in the red (it was originally available in sizes S-XL, as it still is in a couple of other colors), but it's on sale right now for only $22 (marked down from $59), so that explains it! (On a similar sale: this ribbed V-neck cardigan at Ann Taylor.)  The fabric is a blend of viscose/silk/nylon and is machine washable. The sweater is available at Century 21. August Silk Long Sleeve Basic Cardigan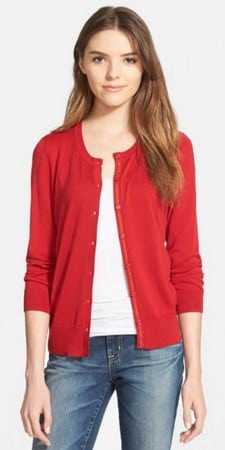 This red cardigan from Halogen® has a "slim, contemporary" fit, 3/4 sleeves, and pretty grosgrain trim on the button placket. The sweater has 600+ reviews, which are overwhelmingly positive; Nordstrom says "94% of reviewers recommended this product" — and is hand-washable. It's available in sizes XS-XL and right now is on sale for $27 (was $46). Halogen® Three Quarter Sleeve Cardigan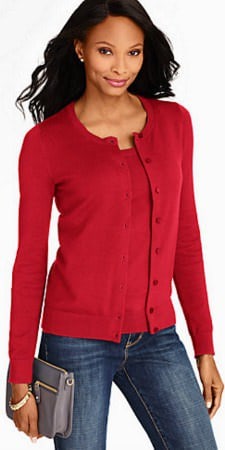 This cotton-blend, machine-wash cardigan is a great deal right now — today at Talbots you can get 40% off your entire purchase, which takes this down to just $38. It's also nice that it's available in four size ranges: misses, petites, woman (X-3X), and woman petites (although the red is only in stock in lucky sizes in the regular size range). It has 50+ excellent customer reviews, as well. Note that while the cashmere version of the Charming cardigan doesn't seem to come in red right now, they do have a bolero-like "Charming dress cardigan" in red. Pictured: Talbots Jersey Stitched Charming Cardigan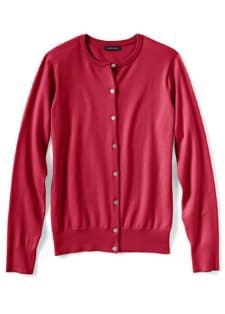 This popular cardigan at Lands' End is 85% Supima cotton (it includes 2% Lycra spandex for stretch) and is machine washable. It's available in regular, petite, tall, and plus sizes and has an average rating of four stars from 1,500 (!) reviews. It's $49-59 full price (and select sale colors are $24-29 right now). The matching short-sleeved sweater is here. Pictured: Lands' End Supima Cardigan Sweater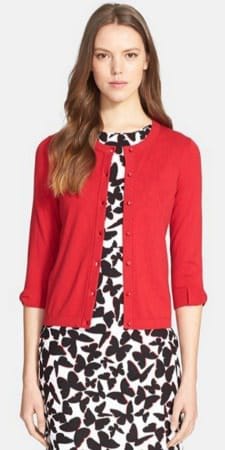 This cotton-blend Kate Spade cardigan is now only in stock in medium in this "spicy red" color at Nordstrom, but all sizes (XXS-XL) are available in the "lollipop red" version, which actually looks bright orange on the model but seems more of a classic red in the fabric close-up. (Zappos has a different photo to look at — and if you're intrigued, you may want to contact the famously-excellent Nordstrom customer service team to find out more about these two shades.) The washing instructions for this cardigan advise "dry clean or hand wash cold" for this cotton blend that includes a bit of cashmere. It's $198 at Nordstrom; the "lollipop red" linked above is reduced to $118. Pictured: Kate Spade 'Somerset' Cotton Blend Cardigan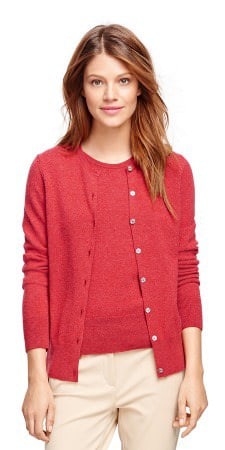 This classic, banded cashmere cardigan from Brooks Brothers has real shell buttons and grosgrain trim on the top and bottom plackets. It's available in sizes S-XL and is marked down to $238 from $398; the matching shell is here. (The sweater is "dry clean" but apparently not "dry clean only" — check the label and proceed at your own risk before throwing it in the delicate cycle.)  Brooks Brothers Cashmere Cardigan
Like this feature? Check out other recent installments!