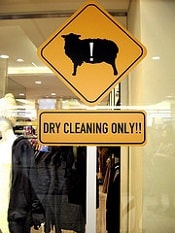 Which fabrics dry clean the best? Are there any to AVOID at all costs because they don't launder well? Reader A wonders:
I noticed that some of my dry clean only clothes seem fine to wear for a few times without dry cleaning and others look (or even small) bad after wearing them once so I feel I need to take them to the dry cleaners. What can I look for before I buy something to know if I'll be able to wear it a few times between dry cleanings? Any fabrics, colors, cuts or brands that help with this?
Great question, and I'm curious to see what readers have to say. We've talked a lot about
laundry
(and I still like our guide to
drycleaning suits
), but we haven't talked about this particular question. For my $.02:
Be wary of blends.  Sometimes blends are good — yay for cashmere and silk! Sometimes blends — particularly with rayon or polyester — are bad, bad, bad.
Avoid drycleaning for as long as you can.  The chemicals aren't good for you or the clothes — readers have recommended vodka sprays; Febreeze also comes in an unscented version now. Hang your clothes up as soon as you take them off, and let them "air out" a bit before you put them back in your closet (or on your body).
Know the difference between a tag instructing you to "dry clean" versus "dry clean only."  What a "dry clean" tag means is that you CAN dry clean it, but you can also possibly wash it. In fact, the more "pure" a fabric blend is, I think the odds are better that the tag will say "dry clean" rather than "dry clean only." I've said it before, I'll say it again: I've thrown wool and cashmere sweaters in the washer (gentle cycle, with Woolite) and almost always had good results; I've even washed wool pants that said "dry clean" instead of "dry clean only." For me the biggest assessment here is whether there's ironing involved (I don't iron). If I think something will look like a crumpled mess after coming out of my washing machine, I'll continue dry cleaning it. If not, I usually throw it in the washer. Proceed at your own risk here, of course, and you may want to consider a "waiting period" of one year before you wash a "dry clean" item.
Layer smartly.  We talked yesterday about using camisoles and t-shirts with sleeves to "extend" the wear — because any residue from your deodorant, as well as sweat, are going on the sleeves of the washable t-shirt, the sweater stays mostly pristine. Similarly, you may want to consider boyshorts instead of thongs beneath wool trousers if you want/need more coverage.
Readers, what are your tips on which fabrics dryclean the best? Are there any that you avoid outright (or any brands you avoid outright) because you've found they don't launder well?
Pictured: dry cleaning only!! / united arrows yokohama, originally uploaded to Flickr by puamelia.
We are a participant in the Amazon Services LLC Associates Program, an affiliate advertising program designed to provide a means for us to earn fees by linking to Amazon.com and affiliated sites.