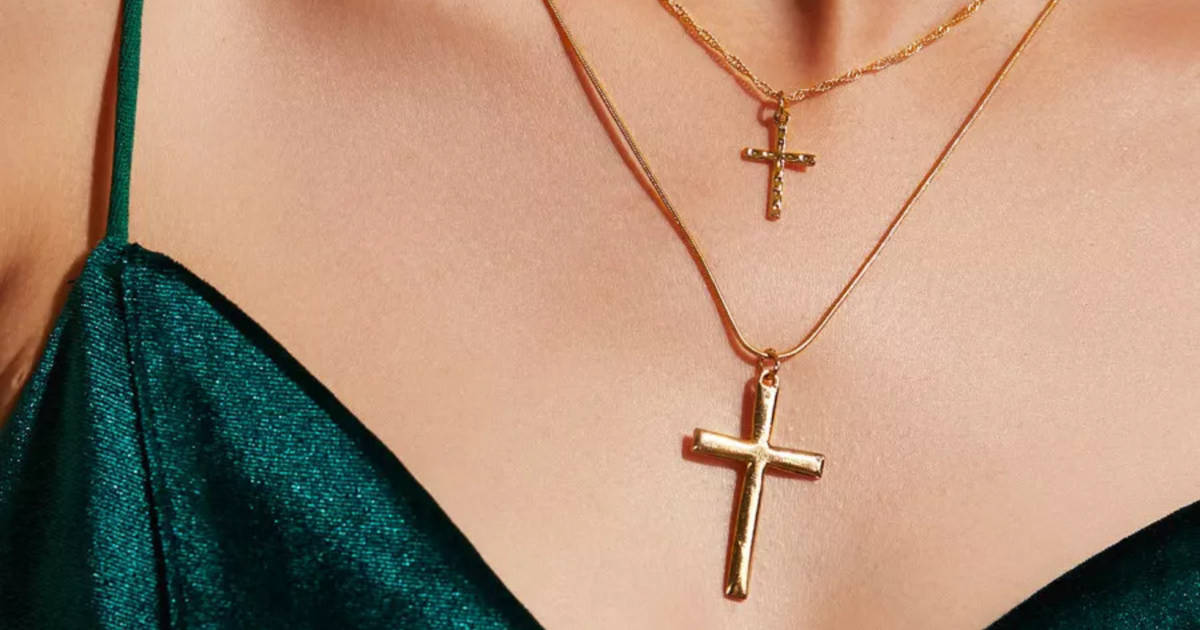 Can you wear religious jewelry to the office? Reader S wonders if it's appropriate…
I was wondering what you and all of the other readers think about wearing religious jewelry to work. I'm not talking about a head covering, or skirts as required by a religion, but more along the line of wearing a Star of David or Crucifix to work. If its small, and simple is that OK, or do readers tend to shy away from that?
The easy answer is: of course you can wear religious jewelry if you're working for a private company. (I'm not actually up on the laws regarding state workers or public school teachers or the like — there may be special rules for those jobs.)
If your boss or coworkers have a problem with silent displays of religion, I suspect there are several people in your organization and community who will want to know about it. (Pictured at top: Shein. More expensive: Elsa Peretti Infinity Cross pendant, still available at Tiffany & Co (2018).)
Hunting for great jewelry for the office? As of 2023, we're long been fans of affordable brands like Kendra Scott and Gorjana, as well as mid-tier brands like Monica Vinader, David Yurman, and Stephen Dweck. For our $.02: spend money on things like a good watch (or watch strap), gold or diamond earrings, a pearl necklace, and more.
The harder answer is: religion is a touchy subject, and ultimately I'm not sure what to say. (And I'll be very curious to hear what readers have to say!) I have worn crosses from time to time, but tend to do so only when I'm actively praying (for a sick relative, or a friend suffering a loss, etc) — and sometimes I'll wear it under a sweater because I want to keep my thoughts to myself.
I think there's a difference between wearing a piece of jewelry and actively trying to "recruit" people to your religion, and I would generally advise against the latter, at least at the office.
{related: how to build a tasteful jewelry collection}
(Full disclosure here: I'm a cafeteria Catholic who rarely goes to Mass, and while I consider myself spiritual I don't consider myself religious. I also live in NYC, where people don't generally talk about religion.)
{related: how much jewelry should you wear to work?}
Readers, what are your thoughts? Can you wear religious jewelry to the office — or should it be kept out of the workplace? (And if so — why?)
Psst: here are Kat's latest favorite ways to store jewelry…