When you first start working, how do you build a tasteful jewelry collection for work — one that's interesting but still polished? Reader A wonders…
I come from a decidedly non-professional background, and most jewelry I've bought has either gone out of style in a month or been so cheap I feel it doesn't fit with my upgraded wardrobe. I don't want to look like I'm loaded down with bling, but I also don't want to look like my grandmother. Do you have suggestions for classic pieces that I can wear to school and then to summer internships? My particular school is extremely competitive (aren't they all?) and many women dress in business casual every day.
How to start building a jewelry and accessories wardrobe is a great question, and something I struggled with when I started in BigLaw. My previous jewelry collection was a mix of thrifted/self-made/funky — and at first, I didn't see any real problem mixing it with business suits. Then one day I got called into a Big Meeting. Great, I thought, I'm wearing a basic black suit and a simple blouse.
My confidence disappeared sitting in the VIP's office, as I became acutely aware of the statement ring I'd chosen to wear that day: a large green agate ring (we're talking 2″ long) on a chipped, undetermined piece of metal. I'd paid $20 for it at a DC flea market. What must he think? I wondered. I wound up turning it to face my palm as I took notes and asked questions about the assignment.
Psst: here are my latest favorite ways to store jewelry…

This post contains affiliate links and Corporette® may earn commissions for purchases made through links in this post. For more details see here. Thank you so much for your support!
How to Build a Tasteful Jewelry Collection for Work
I'm curious to hear what readers say here, but I'll offer a few suggestions:
– Noise is never good. Clinking bracelets, tinkling earrings… if anything you're wearing makes noise when you type or when you're walking down the hallway, then think twice before buying it for or wearing it at the office. I always think of that scene in Working Girl when Melanie Griffith's character is wearing way too many clanky bracelets.
– Less is more when you're just starting out, at least in terms of quantity. Get 1-3 pairs of earrings in good metals (for your own comfort and health) and build from there. Think diamond or pearl posts, or very small hoops that "hug" your ears — I often find the huggie earring to be the most comfortable for taking phone calls. I often think about that quote about how you should take one accessory off, every morning, before leaving the house — I tend to wear no more than 3 at a time for work, maybe 4. (Watch, earrings, necklace. Ok, fine, 4: my wedding rings.)
– Avoid bling. A few weeks ago I sloppily wrote about not liking diamonds for the office. Clarity was not my friend that day, what can I say. To be clear now: I have no problem with diamond studs, diamond huggies, diamond rings (engagement rings or tasteful right-hand rings). But I think dangly diamond earrings are inappropriate for the office, diamond-bedazzled watches, or other cocktail-type diamonds. (To be honest, we're probably not talking actual diamonds here but faux look-alikes on cheap jewelry).
– Wear a watch, at least when you're just starting out. It doesn't have to be an expensive watch, but I think it does subtly communicate to people that you're responsible, aware of time, and other good traits.
– Have a nice-looking set of pearls (whether faux or real) for those days where you don't know what to wear but want to wear something. They look nice on interviews, and I always seem to notice other women wearing them at major networking events like conferences and gala dinners. You will get use out of them. If you're uncomfortable with pearls, there are many solid-looking but basic gold or silver necklaces out there.
– Don't be afraid to show personality, but don't let it distract from the professional traits you want to show at the office. For example, some of my jewelry is fun, some of it is edgy, some of it is a little wacky — I tend to try to have more fun by mixing colors (e.g., a purple dress and a green necklace) than I do in wearing aggressive pieces that don't go that well with a working wardrobe anyway.
Hunting for great jewelry for the office? As of 2022, we're long been fans of affordable brands like Kendra Scott and Gorjana, as well as mid-tier brands like Monica Vinader, David Yurman, and Stephen Dweck. For our $.02: spend money on things like a good watch (or watch strap), gold or diamond earrings, a pearl necklace, and more.
I took pictures below of stuff I've worn to the office, but maybe I should take pictures of what I own that I wouldn't wear to the office — think my giant pink neon bib necklace from Kate Spade, my 4″ long Jill Platner infinity pendant, my large spiky glass red/orange ring, some of the pieces of vintage jewelry that are meaningful to me (the blue glass triangle pendant, a weird olive mermaid pendant), any of my cocktail rings that are more than 1″ long. Do feel free to experiment with color and style. Some thoughts on different things you can try that are outside the fairly conservative advice above:
statement rings — avoid bling and go for quality, but I still think there's a wide variety of rings that might make a colleague say, "wow, cool ring."
stackable rings — you find these with different color gemstones, different initials — make a stack of rings that are meaningful to you.
signet rings — I think I remember Nina Garcia saying in some magazine that she likes to wear a gold signet ring with her family's crest, on her pinky finger. As someone who doesn't have a family crest (at least as far as I know), I always liked the idea of putting a small bird on a signet ring, since my maiden name means "little bird" in German.
short colorful necklaces — you can find these at mall stores, on Etsy, at museum stores, at mall stores…
a simple pendant necklace — if you can go for a good gemstone, or at least something meaningful to you. I bought a lot of my pendant necklaces on great sales at Macy's.
layered pendant necklaces — this takes a bit of thought but can be a very delicate but interesting look when done right.
opera-length necklaces — these aren't very "in" right now, but I would argue that they're a classic look. Especially if you can find them made from simple beads, these opera-length necklaces aren't too expensive but they can be worn in a lot of different ways — worn 3x around the neck for a shorter look, doubled around the neck (worn as a choker and a longer necklace), doubled around the neck (for a mid-length necklace), or worn long and tied in a knot at the bottom. I generally think of them as being longer than 36″.
brooches — these tend to be very trendy some years and not in other years, but I think they're a classic look as well. To be honest most of my favorites are vintage ones that I picked up through the years at flea markets.
– Don't fall into a rut. I've noted it in my 360 Review of Linda from Better off Ted, and guest poster Emily Ward-Dickerman noted it in her recent 360 review of Mack from The Newsroom — especially with necklaces it's really easy to fall into a rut. I've found that I tend to grab what's out — so if you make a point of putting your jewelry away every night, you can keep it fresh.
When I was working my go-to basics were my diamond huggie earrings (which I honestly don't think were that expensive) or tiny sterling silver huggie earrings, my stainless steel watch, and my pearls. I would intersperse those with a few other earrings, a variety of pendant necklaces, and a variety of statement necklaces.
I've taken a few pictures below of my favorite pieces for work — I'm not saying this is an amazing collection of jewelry, but I think it can be helpful to see concrete examples of what's worked for one woman.
It's funny, looking at them the same colors repeat: white, blue, red, which is a bit of a surprise — I hadn't intended that! But I know that blue and red both flatter my coloring, and they're easily mixed and matched with other pieces of my wardrobe.
My favorite earrings for work: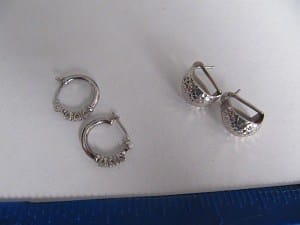 Other earrings I've worn for work in the past, and would again — even if some of them are bigger, none move. I always like white earrings because they show up well against my dark hair; I think the two below are both resin earrings from Dinosaur Designs. The weird blue/purple one is actually crushed flowers from my wedding bouquet.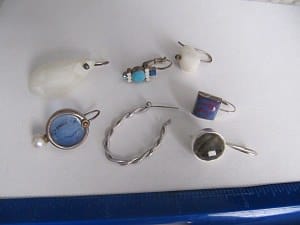 These are a bunch of rings I've worn for work through the years:
These are some of my colorful necklaces, most of them statement pieces. I mostly built this collection after leaving BigLaw, so these might be better for a less conservative office: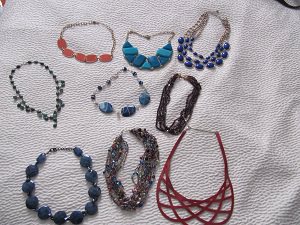 And these are some of my pendants (some subdued, some not subdued). I wore most of these to my BigLaw job (all but the big red scribble one):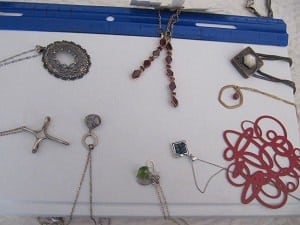 These are some of my favorite brooches, most of them thrifted: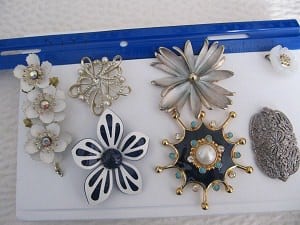 Readers, how have you built your jewelry collection? What pieces do you get a lot of use out of, and where do you fall into ruts?
Social media images via Stencil.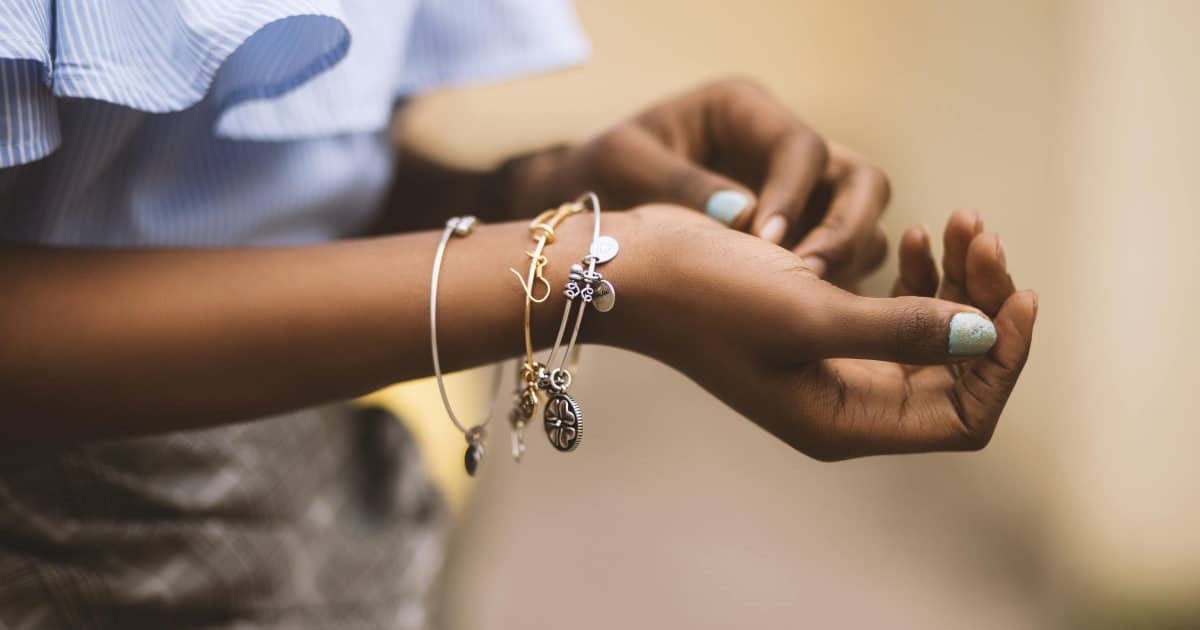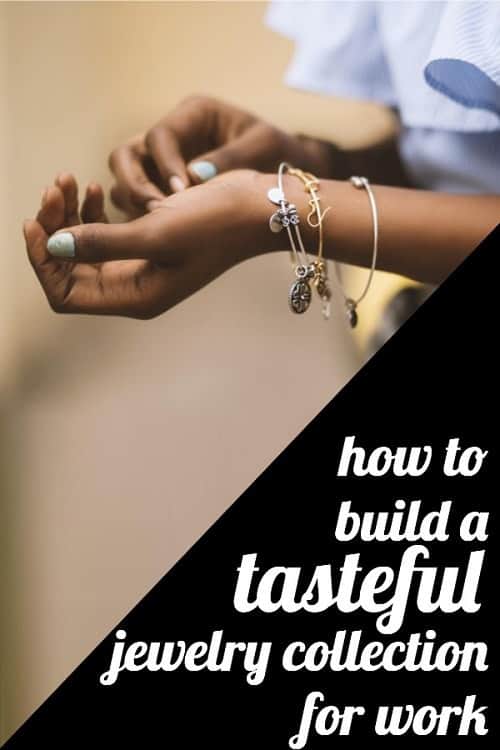 We are a participant in the Amazon Services LLC Associates Program, an affiliate advertising program designed to provide a means for us to earn fees by linking to Amazon.com and affiliated sites.