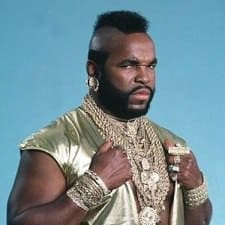 2018 Update: We still stand by this post on how much work jewelry to wear and links have been updated below; in a semi-related discussion you may want to check out our discussion on when to upgrade you engagement ring.
Ladies, how much work jewelry do you wear? Do you tend to lean towards "too much" or "not enough"? Where do you think the line is? How do you avoid getting into a rut with your jewelry? As I draft this post I realize this is something I've struggled with, so I'm curious to hear what readers say. (Pictured: I pity the fool who thinks this isn't enough jewelry for work! Sorry, had to…)
(Psst: in the past we've written before about my jewelry collection for work, how to wear jewelry for work if your style isn't particularly feminine, and how to mix metals with your work jewelry.)
For my $.02, I've always been a bit of a jewelry minimalist — three pieces of jewelry struck me as the right amount for daytime, for whatever reason. This changed a bit when I got engaged and started wearing my diamond ring on the regular. It meant I stopped wearing other rings, and it meant I tended to lean more toward my silver/white gold jewelry (my rings are platinum) versus my yellow gold jewelry or rose gold jewelry. Add a good watch in the mix, and you're left with a problem — your work jewelry choices are either very boring (because only one piece changes), or you're suddenly wearing a ton more jewelry.
Here are my general thoughts on work jewelry, just to throw some spaghetti at the wall to see what sticks:
If it jangles or makes a sound, it's too much. An arm party looks great in a picture, but if you're typing a ton or walking down a hallway with other people, you need to be wary of how much noise a bracelet or suite of bracelets can create. Similarly, some of my larger statement necklaces can definitely make sounds that, I think, would put them in "after work events only" territory — not work jewelry.
Earrings with a lot of movement can be distracting.  I've always felt this way, and wish I'd known how to take .gifs a few years ago because my best "proof of concept" here came when I was watching a documentary about the Enron scandal (probably The Smartest Guys in the Room).  The serious journalist being interviewed had long, shiny silvery earrings on, and every time she moved her head while speaking it made me focus on the earrings, not what she was saying.  I'm always a fan of huggies because I find posts to be uncomfortable to wear (particularly if you're having a phone conversation without a headset) and they're generally small, but of course there are drop earrings that don't have too much movement also.
I'm getting better at rotating my

jewelry

by focusing on putting my necklaces and earrings away at night, which forces me to consider the full range when picking out what I'm wearing in the morning. I find that if I save the "putting away" for the morning, that it becomes "putting them on" instead, and I get stuck in a rut.
Discount your left hand entirely. Daily watch + engagement ring/wedding band = things that don't count as jewelry if you're counting (or if you're against mixing metals). I think I've followed this rule more and more as I've gotten older, but I wish someone had suggested that when I was younger.
Pick one or two areas to focus on rather than "three pieces only." Especially since layered looks are so popular right now with more delicate necklaces and rings, I think limiting yourself to the number of pieces is a silly rule.  BI
Think about where your jewelry will be seen, and if you want to emphasize that area.  For example, if you're attending a networking party where you may be holding your drink, a cocktail ring can be a great choice because it'll be seen when you shake hands with people and hold your drink.  On the flip side, as a busty woman I've always avoided the 24-30″ necklace because they usually hit right in the middle of my bust; I've also talked about how a great necklace can "raise the neckline" of an outfit — a 16″ or 18″ strand of pearls is great for this because they reflect light back into your face; they also read as very conservative and can "stodge up" a more modern look or pattern. Similarly, if you're giving a presentation and plan to have your back turned to the audience often, a brooch at the back of your blazer or in your updo can be a nice touch.
Ladies, what are your thoughts on jewelry for work? What does a typical workday's jewelry look like for you — how often does it change — and what rules and tips do you follow for keeping your jewelry "appropriate for work?