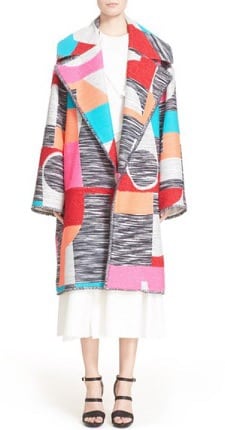 I was perusing Nordstrom's "emerging designer" section, which is definitely aimed at the sort of woman who prefers color, texture, and novelty over, you know, function, form, and, well, whatever else one could do with money rather than spending it on very expensive, odd clothes — but this multicolored coat appealed to me. I even like how the arms are oddly long (although, let's be honest, I'd probably have them hemmed, and I'd also probably belt the jacket). It's definitely a bit of a splurge (ahem): It's $3735 at Nordstrom, lucky sizes only. Roksanda 'Marles' Multicolor Woven Coat
Tough act to follow — but a few interesting multicolored coats are here, here, here, and here.
In other news: you have to see this suit.