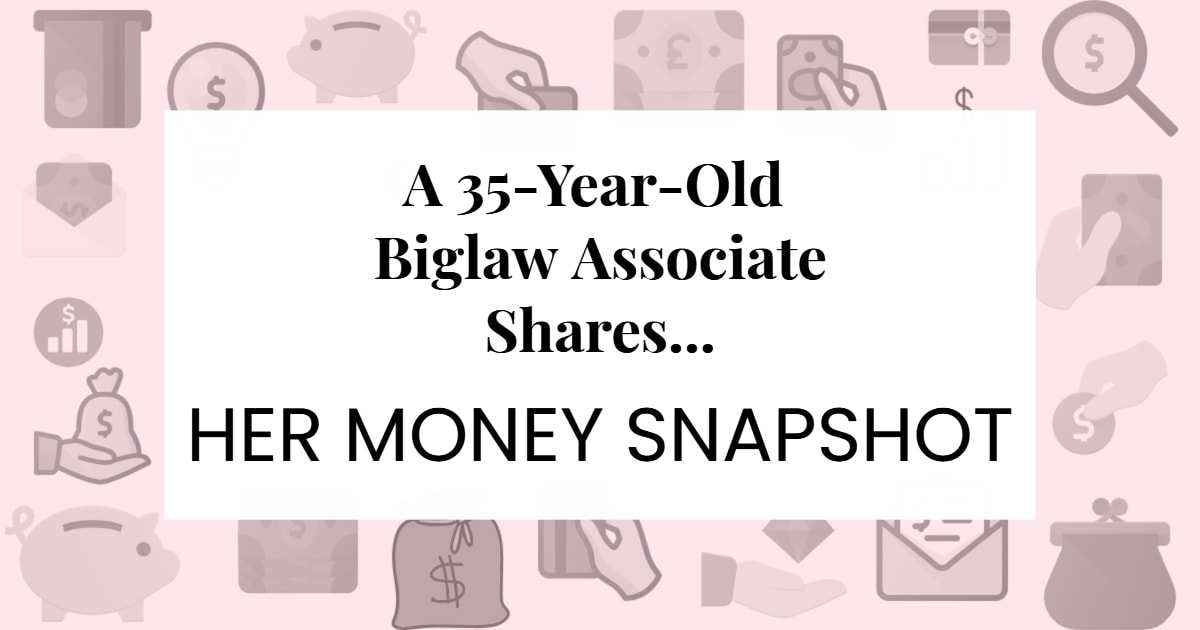 For today's Money Snapshot, we're talking salary, net worth, debt, and more with reader A in Charlotte, NC, who works as a Biglaw associate. She noted, "We got out of law school during the great recession and both had a hard time finding full-time, well-paying jobs in our chosen city. We were on income-based repayment for a while, and then "graduated" out of that as we started earning more, so only in the past 18 months have we gotten aggressive. We each also had an investment account that had been started by our respective grandparents and have only sold a small part of the stocks (about $20,000) to buy our first home."
We got a few requests from readers to launch our own "money diary" series, so we've asked willing readers to fill out a form with lots of details about debt, spending, saving, and more! If you'd like to fill out the form and be considered for a future personal money snapshot, please click here to submit your response! You can see a PDF of the questions if you want to review them ahead of time. See others in the Personal Money Snapshot series here.
Please remember that this is is a real person who has feelings and isn't gaining anything from this, unlike your usual friendly (soul-deadened, thick-skinned, cold-hearted, money-grubbing) blogger — so please be kind with any comments. Thank you! — Kat
Name: A
Location: Charlotte, NC
Age: 35
Occupation: Biglaw associate
Income: $280,000
Household income: $440,000
Family: Husband, 36 years old (in-house lawyer for a large company) and a 2-year-old
Household net worth: $1,225,000
Net worth when started working: -$15,000 due to student loans.
Debt
What does your debt picture look like?
$300,000 is student loans [A's & her husband's], $517,000 is our mortgage, and $20,000 is a loan against our investment account/stocks.
How much money are you spending each month to pay down debt?
About $6,700, which consists of approx. $2,600 for our mortgage debt and $4,200 towards student loans (between me and DH).
How did you pay for school?
Our parents each paid for our college degrees, but we were each responsible for law school, hence the huge amount of debt we have.
Do you own or rent? How much do you pay monthly?
We own. Our mortgage payment is about $3,300 a month, which is $2,600 for principal and interest and $700 escrow for taxes.
Home debt: Share your theories and strategies with us (including any that lead you to rent rather than own).
We own because we wanted a SFH and to be in a specific neighborhood where there are just not houses for rent. We plan to live in our city (and probably our specific neighborhood) indefinitely, so owning makes sense for us. We have a 30-year mortgage.
Have you paid off any major debt?
I finally refinanced my student loans with a private lender in December 2019, and between December 2019 and June 2021, I've paid off $70,000 in principal on my student loan. Still have $140,000 left to go, but I was proud when I realized that.
Psst: In honor of this series' original title, Tales from the Wallet — here's a mini hunt with wallets we love! They can be great gift ideas for the holidays.

This post contains affiliate links and Corporette® may earn commissions for purchases made through links in this post. For more details see here. Thank you so much for your support!
Savings, Investments & Retirement
How much do you save each month or year in retirement vehicles like 401Ks, Roth IRAs, and others?
I save (and max out each year) a 401(k) through work (no employer match) and a backdoor Roth IRA. My husband maxes out his 401(k) and gets an employer match.
How much money do you allocate to other tax-savvy investments/accounts like HSAs, 529s, FSAs, and others?
We each max out our HSAs and don't currently use them for medical expenses. We hope to avoid using them for medical expenses until retirement but recognize that is not a given. Additionally, since our child was born, I've had a dependent care FSA that I have maxed out. We've used this to slightly defray the cost of childcare.
We don't have a set monthly amount that we have put into a 529. However, we've added all monetary gifts our child has received to their 529, plus portions of our annual bonuses. Since we make too much money and our state doesn't allow for a tax deduction for 529 contributions, we split money between a 529 (with our child as the beneficiary) and a regular investment account where our child is the beneficiary. Our goal is to be able to fully pay for four years at a private university for our kiddo.
How much do you save outside of retirement accounts?
We have $1,600 transferred each month to a joint savings account. It's an automatic transfer.
Talk to us about investments. Do you have/use a financial adviser or planner?
When we graduated law school, my investment account had about $140,000 in it and my husband's had $250,000 in it.
We do use a financial planner who we really like. Honestly, I pushed for it more than my husband. I felt stress that we weren't doing the "best" thing with the investments we had. My husband and I were fortunate that we each had a grandparent that bought us some stock in the companies they worked for when we were born, and then the companies just paid dividends which got reinvested. There were some additional small stock birthday gifts on my husband's side until he was 10, which just got added to the principal and then dividends reinvested.
I like our financial advisor a lot. He is a few years older than my husband and I, but works with people who are in their late 50s/early 60s as the ones running the office. So, we get the benefit of experience, but also our FA understands our current life — kid, student loans, saving for college — because he does the same thing. I am one of those "you don't know what you don't know" people, and our FA gives me piece of mind that someone who actually is looking at the market and understands it is making the decisions. I'll also say that my husband is a person who (if he cares a lot/is interested in the matter) will ask people (in my opinion) rather challenging and probing questions about their job/profession/how they do things. So, he asks our FA a lot of specific questions and, sure enough, our FA answers all of them with really well thought out, detailed, and researched answers, so I feel very confident in what our FA is doing with our money.
Do you have an end goal for saving or are you just saving for a rainy day?
I feel like we're simultaneously saving for a few things — an eventual kitchen renovation, slightly early retirement (maybe 60 vs. 65), college costs, and a rainy day.
When did you start saving seriously? How has your savings strategy changed over the years?
About five years ago when we were looking to buy a bigger place, I got a job that paid a Biglaw salary and felt like we had more breathing room to save, and we were starting to talk about trying to have a baby.
What's the #1 thing you're doing to save money, limit spending, or live frugally?
Setting up automatic transfers to a savings account and paying extra on our student loans
Have you ever made a big money move or investment with savings in mind, such as rolling over an older IRA into a Roth IRA or superfunding a 529?
Yes — we have put a lot of money into our child's 529 and education investment account (about $75,000 since they were born in 2019).
Do you have an estate plan in place? A trust?
Yes. Considering DH and I are both lawyers, it took an embarrassingly long amount of time to get one in place. I was sort of intimidated by the idea I'd have to gather all of my information — bank account numbers, life insurance policy numbers, etc., to be included in the will. Turns out, you don't have to be that granular, so it was a rather easy process.
How much do you have in cash that's available today?
$80,000
How much do you have in cash that's available in a week?
$80,000
How much is in your "emergency fund," and did you include it in the previous question?
$40,000 — joint savings account
How much do you have in retirement savings?
$535,000–$200,000 in my 409(k), $35,000 in my backdoor Roth IRA, and $300,000 in my spouse's 401(k)
How much do you have in long-term investments and savings (CDs, index funds, stocks) that are not behind a retirement wall?
$655,000
If property values (home, car) are included in your net worth, how much are those worth?
Our house is worth about $850,000.
Spending
How much do you spend on the following categories on a monthly basis?
Groceries: $900
Restaurants, bars, takeout, and delivery: $400
Clothing and accessories: $300
Transportation: 0 (Cars are both paid off as of May 2020. We bought them new, and plan to keep them for at least another five years.)
Kid-related expenses: $4,200 a month for our nanny; $200 a month for private swim lessons
Entertainment: $75 a month on various streaming services
What's your spending range for these things? What's your average?
Vacations – Range: About $5,000–$7,500 per week between hotels, airfare, food/entertainment
Vacations – Average: $6,000
Charity – Range of donations: $50–$300 per month
Charity – Average donation or giving amount: We give $300 a month to our alma mater
We asked A about her donations to her school, and she elaborated:
My husband and I met in undergrad, so it has a lot of sentimental meaning to us. We also each have an incredibly close-knit group of friends from our school. The alumni network is very strong, and we each have received help getting a foot in the door due to these alumni connections. Donating regularly feels like we are paying back just a very, very small part of what the school has given us. My husband's company also matches (up to a certain dollar amount) charitable donations that are made to educational institutions, so we feel like we can really make our donations go far. It's a long-term goal of ours to fund a full-ride scholarship at the school, and/or provide funds for student and faculty research.
Individual items of clothing – Range: $25–$100
Individual items of clothing – Average: $60
Apartment or house – Current main residence: Bought for $700,000 about 4.5 years ago
Car or other vehicle – Range: $30,000–$45,000
Car or other vehicle – Last purchase / current main vehicle: $30,000
If you have children, how much do/did you spend for childcare and/or education?
One kid, 2 years old, who is home with a nanny and will be going to full-time school later this year. Between salary, taxes, and a payroll service, the nanny expense averages to $1,000 week.
Fill in the blank on this question: I could save _____ if I stopped ______, but I don't because _______.
If I stopped buying new clothes and books for my child, I could probably save $150–$200 a month. However, I love buying kid clothes and I find that all the stuff I want is gone by the time things are on sale, so I spend the money.
If you're married: When was your wedding, how much did it cost (total), and how much did YOU pay?
2013, and I'm not sure how much it cost, as my parents and in-laws paid for the whole weekend.
At any point in your life to date, has inheritance played a role in your money situation?
Not inheritance, but husband and I each had an investment account that was started when we were born, and those grew a lot in the 25-ish years before we touched any of the underlying stocks.
How has your family provided financial support in your adult life, if any? (Or, do you provide support to them?)
Yes, tons: paid for college, helped out with some expenses in law school, bough my first car for me, paid for our wedding.
Does your family provide any non-financial support?
We are extremely fortunate that both my parents and my in-laws have moved to our area and are in great health. They watch their grandchild regularly for date nights and overnights and have helped out with daytime childcare when our nanny has gone on vacation.
We asked A whether she planned to say in Biglaw, and she had this to say:
This is tough. While my job has some of the terrible aspects that are common among bigger law firms (perfection is the expectation, long hours, no true vacation), I actually have carved out a decent niche for myself. I work for partners that are incredibly great people and I've developed excellent relationships with them. I also don't have the pressures of being in a big city like NY, which is helpful. On the downside, my particular practice area doesn't have a lot of great or well paying exit opportunities in my geographic region, so I am also stuck if I want to keep doing the kind of work I do.

So, at the moment I am relatively happy with where I am, and my skills are valued in my office, so I am not overly concerned about being "pushed out" if I don't make partner right away. Also, my salary and bonuses keep getting increased, and I'm taking advantage of that by funding my kiddo's 529, paying down student loans, and developing as many transferable skills as I can. We'll see. I had enough job upheaval in my early career that I am constantly keeping my resume updated and Networking, as I think one should always understand what other career opportunities are out there.
Money Strategy
Do you have a general money strategy?
Pay myself first — retirement, savings account, then pay down our highest-interest debt first (student loans).
Time vs. money — do you spend money to save time (e.g., cleaning service)? Do you donate your time instead of money? What else does this phrase mean to you?
Yes, we spend money to save time. We have a regular housecleaner, and I sometimes send our laundry out (maybe once every six weeks when we have an especially busy work time/weekend).
The biggest thing is that a few months after I was back at work, I was getting really stressed about us making dinner each night in the very small window between getting home and getting our child to bed. I heard about a local meal delivery company from a friend, and it's been awesome. The menu changes each week, and we get 3–5 dinners (depending on our schedule and what we like on the menu) delivered to our doorstep each Sunday in the late afternoon. Everything is already cooked, so we just pick a meal and heat it up.
Is it the most delicious and interesting food I've ever had in my life? No, but it's relatively healthy and saves us so much time between meal planning, cooking, and cleaning up the kitchen during the week. Could I make some of it better myself (because I love to cook)? Yes, absolutely. However, it's bought us back probably an hour each night with our kiddo. I also think, but haven't done the hard research to prove this, that it has ended up not being all that much more expensive than when we were buying and cooking everything, because we have so much less food waste. It averages out (with the occasional coupons we get) to about $23 a meal for the two of us. I try to sell every set of working parents I know on the meal service.
What are your favorite resources for personal finance?
The Corporette blog always has interesting posts and brings up topics I've never heard of.
What advice would you give your younger self about personal finance?
I would say, "seriously — refinance your student loans sooner!! The job loss protections from the federal student loans that you think are worth the high interest rates are really, truly, NOT worth it."
Icons via Stencil.