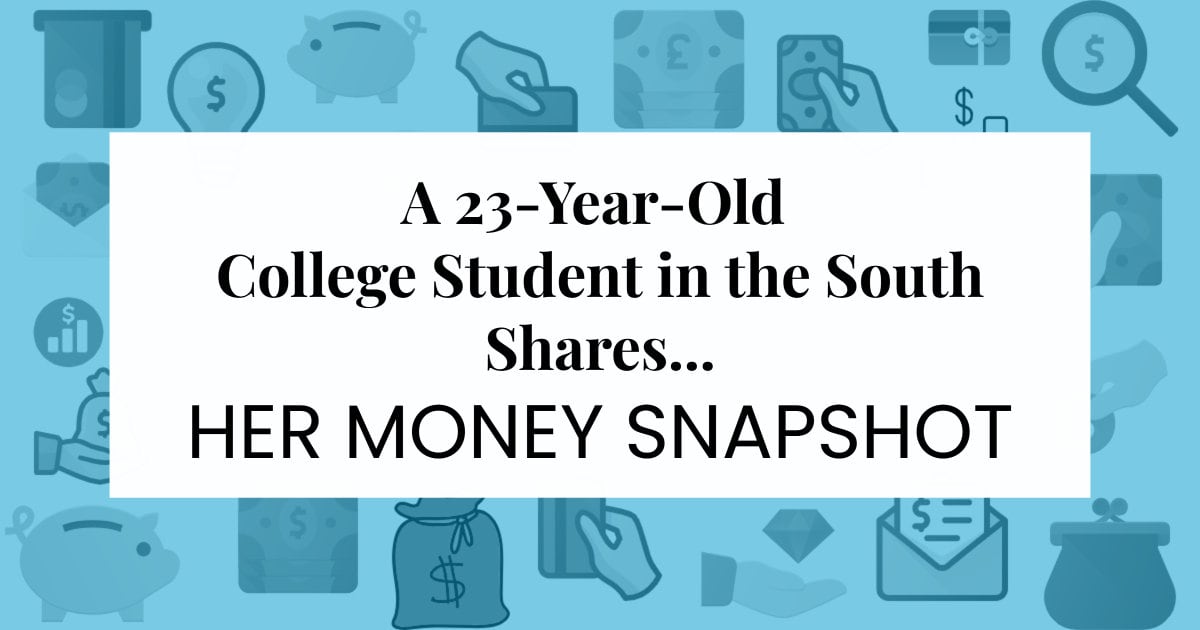 For today's Money Snapshot, we're talking salary, net worth, debt, and more with reader L in the South, who is a college student and works part time. She noted, "I'm living extremely frugal right now, but this time next year should be doing a lot better because I will have a job lined up when I graduate."
We got a few requests from readers to launch our own "money diary" series, so we've asked willing readers to fill out a form with lots of details about debt, spending, saving, and more! If you'd like to fill out the form and be considered for a future personal money snapshot, please click here to submit your response! You can see a PDF of the questions if you want to review them ahead of time. See others in the Personal Money Snapshot series here.
Please remember that this is is a real person who has feelings and isn't gaining anything from this, unlike your usual friendly (soul-deadened, thick-skinned, cold-hearted, money-grubbing) blogger — so please be kind with any comments. Thank you! — Kat
Name: L
Location: Mountain region in the South; MCOL and rising everyday!
Age: 23
Occupation: Student with part-time side gigs (Etsy business, microtasks, nannying)
Income: Under $15,000: side gigs, $200 a month; financial aid, $3,000 a semester; nanny, $400 a month
Net worth: My net worth is about $10,000, which is very little considering I have no debt.
Net worth when started working: 18 is when I started a "real" job; before that I did babysitting and some ranch work.
Living situation: Pay $200/month to live in mother's house
Debt
What does your debt picture look like?
No debt; paid off my car this year and I have no student loans. :)
How did you pay for school?
I earned my associate's degree in 2018 at a community college for free with financial aid. I then worked two jobs to save up to continue my education at a local state university, where I was incredibly lucky to get financial aid, and recently a scholarship. I should not have to take out any loans unless I lose my financial aid support. It took me almost three years of working to finally go back to college, but here I am!
Do you own or rent? How much do you pay monthly?
I pay $200 a month for my room in my mother's house. If I continue living with her past college, my rent will go up to about $600 a month.
What does your debt picture look like? How did you incur it (student loans, credit card, etc.)?
I spent entirely too much money on a new-ish car when I was 20, but I paid it off in just over three years. I was paying twice the amount of the principal loan each month, which really helped. My loan was fixed at five years, but I was on track to finish in two before the pandemic. I decided to use most of my savings to pay off the car and officially be debt free, but that isn't for everyone; I'm making big sacrifices now because that money was originally supposed to help me support myself through the next year. My food budget is a little under $20 a week and I don't really have much wiggle room for fun or if something goes wrong. Overall, it was worth it to me because I was always taught to be debt free and to live within my means.
Home debt: Share your theories and strategies with us (including any that lead you to rent rather than own).
I do not own a home, but I do hope to be able purchase one by the time I'm 30. I intend to start hardcore saving next year for retirement and a house, but I'm really not sure about if I should limit my loan or take as much as I'm qualified for.
Have you paid off any major debt?
I had $10,000 owed on my car, which I bought when I was 20 after my 1996 car died. I decided to buy a relatively new car to have reliable transportation and save money on future repairs. I paid it off aggressively when I was making more money before the pandemic, but I lost my job in 2022. I finally paid it all off this January, and am now debt free!
Have you ever done anything noteworthy to avoid or lessen debt?
I'm still living at home at 23, a fact I'm not proud of, but it is what it is. If I didn't choose to live at home where my "rent" is so inexpensive, I would absolutely be in debt, either from taking out loans or from credit card debt. I did end up using my savings to pay off my car, instead of using it to have a better quality of life while I am in school.
I think prioritizing and figuring out what is most important to you should be a key factor in prioritizing debt repayment or quality of living. If you are going to be miserable eating rice and eggs for every meal that's understandable, but I definitely support paying off a little bit of debt each month! I also cut back on a lot of expenses like eating out, travel, and getting my hair cut professionally, so I think everyone has something they could cut back on to pay towards debt instead!
Savings, Investments & Retirement
How much do you save each month or year in retirement vehicles like 401Ks, Roth IRAs, and others?
Nothing, I don't have the extra money right now.
How much money do you allocate to other tax-savvy investments/accounts like HSAs, 529s, FSAs, and others?
Nothing, again I don't have the cash flow right now.
How much do you save outside of retirement accounts?
I put about $20 a month into my Robinhood investment account. I don't have it automatically taken out, but each first paycheck of the month I take $20 out and invest in my portfolio.
Talk to us about investments: Do you have/use a financial adviser or planner?
I do not have a financial adviser; to my knowledge all of those would cost money. I usually stick my investment into a high-yield dividend stock or into S&P 500. In the future I want to buy bonds or stick money into a CD account.
Do you have an end goal for saving or are you just saving for a rainy day?
I would love to save for early retirement, but right now I'm simply saving to move out next year. I'm hoping to have about $6,000 to cover first and last months' rent, a little furniture, and save the rest for a rainy day.
When did you start saving seriously? How has your savings strategy changed over the years?
When I was 20 and realized that I needed to save up money if I ever intended to go back to college. My strategy hasn't really changed; I just lowered the amount I'm allowed to spend each month.
What's the #1 thing you're doing to save money, limit spending, or live frugally?
I am living at home, and eating as cheaply as possible. My diet isn't very different or tasty, but I make ends meet.
How much do you have in cash that's available today?
About $1,800
How much do you have in cash that's available in a week?
About $150 from whatever job I have worked this week.
How much is in your "emergency fund," and did you include it in the previous question?
$2,000, and no because this is for extreme emergencies (homelessness, hospital stay). I keep it in a safe at home.
How much do you have in retirement savings?
None
How much do you have in long-term investments and savings (CDs, index funds, stocks) that are not behind a retirement wall?
$200 in stocks
If property values (home, car) are included in your net worth, how much are those worth?
My car is worth about $6,000, which I included in my net worth.
Spending
How much do you spend on the following categories on a monthly basis?
Groceries: $75
Restaurants, bars, takeout, and delivery: $15
Clothing and accessories: $10
Transportation: $185
Rent/living expenses: $200
Entertainment: $12
Other major expenses (pets, hobbies, etc.): I pay $125 a month for car insurance, and buy my own groceries at about $75 a month (and yes, I eat a lot of rice, beans, ramen, eggs, and my prized iced coffee). I also pay for smaller things like my phone bill, car insurance, and gas. I knit with yarn my sister gave me, but I don't spend any money on this hobby right now.
Health care – premiums and other costs: I am uninsured, so I spend nothing.
What's your spending range for these things? What's your average?
Vacations – Range: $300 for the low end, $800 for the high end. I have never been out of the country.
Vacations – Average: $500
Charity – Range of donations: $0 right now, but used to be about $15 a month
Charity – Average donation or giving amount: $15
Individual items of clothing – Range: $30
Individual items of clothing – Average: $30 for jeans, $40 for shoes, and about $20 for a sweater. Ideally I would thrift my clothes and get everything for about half this price.
Apartment or house – Current main residence: $200
Car or Other Vehicle – Range: No more than $10,000 now, but I spent more several years ago.
Car or Other Vehicle – Last purchase / current main vehicle: $16,000 when I bought it
Fill in the blank on this question: I could save _____ if I stopped ______, but I don't because _______.
I could save almost $100 a month if I stopped buying face care, buying as many groceries, and streaming services, but I don't because I already buy the bare essentials.
Have any large medical expenses (including nursing homes) for yourself or others played a role in your financial picture?
Not yet
How has your family provided financial support in your adult life, if any? (Or, do you provide support to them?)
My mother lets me live in her house for only $200 a month, a deal I wouldn't get anywhere else.
Does your family provide any non-financial support?
No, but my mother does offer advice on where I could save money or invest it.
Money Strategy
Do you have a general money strategy?
Not yet, mainly I'm just trying to scrape by.
I am taking six classes this semester, which is why I am not working more and am simply trying to scrape by with what I make. My father left when I was in middle school and drained my parents' accounts, my mother is still bouncing back financially and as a teenager we were extremely frugal, so frugality is nothing new to me.
Time vs. money — do you spend money to save time (e.g., cleaning service)? Do you donate your time instead of money? What else does this phrase mean to you?
I do not spend money to save time, but I do donate my time to organizations like food banks instead of donating money right now. I think helping out others is important even when we have no money to give ourselves.
What are your favorite resources for personal finance?
I love the Refinery29 Money Diaries series, as well as YouTube videos about other people's spending habits, like Millennial Money.
What advice would you give your younger self about personal finance?
I would say to buy a less expensive car and eat out less, and to start investing earlier.
Icons via Stencil.
Want more posts like this? These are some of the latest Money Snapshots…