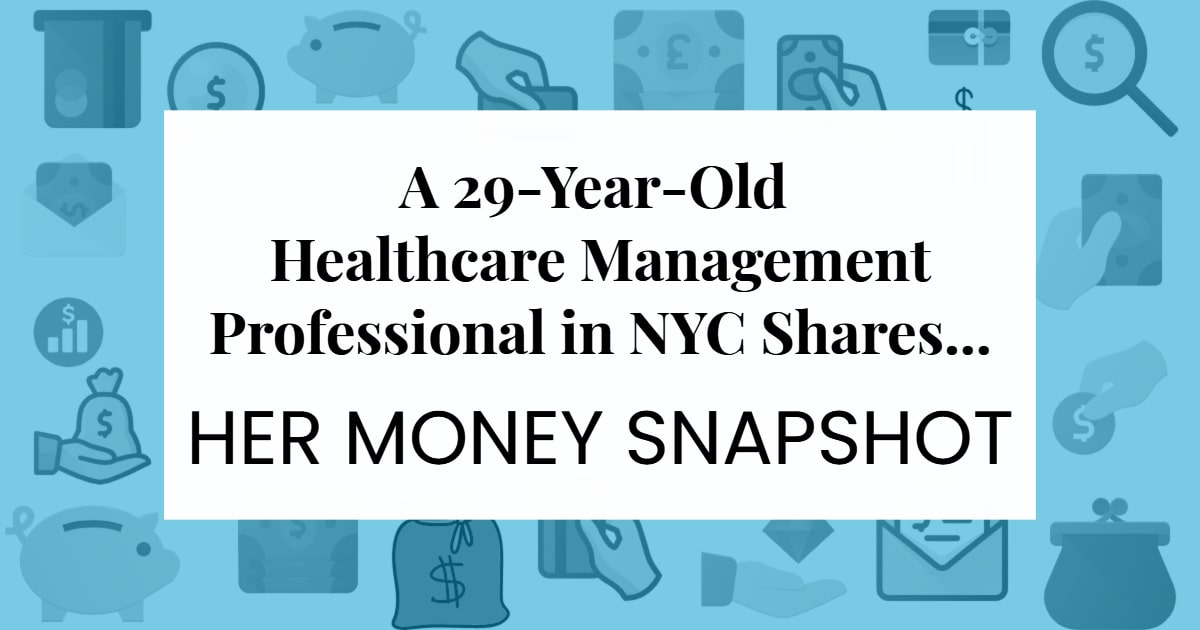 For today's Money Snapshot, we're talking salary, net worth, debt, and more with reader Kay in New York City, who works in healthcare management. She noted, "I have never had a student loan or any major debt of any sort," and added that her money strategy is "save as much as possible." (Note that we weren't able to reach Kay for an update on how the pandemic has affected her life and job.)
We got a few requests from readers to launch our own "money diary" series, so we've asked willing readers to fill out a form with lots of details about debt, spending, saving and more! If you'd like to fill out the form and be considered for a future personal money snapshot, please click here to submit your response! You can see a PDF of the questions if you want to review them ahead of time. See others in the Personal Money Snapshot series here.
Please remember that this is is a real person who has feelings and isn't gaining anything from this, unlike your usual friendly (soul-deadened, thick-skinned, cold-hearted, money-grubbing) blogger — so please be kind with any comments. Thank you! — Kat
Name: Kay
Location: NYC
Age: 29
Occupation: Healthcare management
Income: $60,000
Net worth: $200,000
Net worth when started working: At 21, $170,000
Living situation: Rent is $1,160
Debt
What does your debt picture look like?
No debt
How did you pay for school?
School paid with mix of scholarships and working while studying. I have never had a student loan or any major debt of any sort.
Savings, Investments & Retirement
How much do you save for retirement?
10% of income to 401k; end of year contribution to Roth IRA
How much money do you allocate to other tax-savvy investments/accounts?
$1,000 to Health FSA, $2,500 to Transit FSA
How much do you save outside of retirement accounts?
Whatever is left over after expenses. When my checking account balance gets large, I move money to savings in $5,000 increments.
Talk to us about investments.
Target retirement funds — Vanguard
Do you have an end goal for saving or are you just saving for a rainy day?
Retirement at 60
What's the #1 thing you're doing to save money, limit spending, or live frugally?
Roommates!
How much do you have in cash that's available today?
$15,000
How much do you have in cash that's available in a week?
$180,000
How much is in your "emergency fund," and did you include it in the previous question?
$10,000, yes
How much do you have in retirement savings?
$10,000
If property values (home, car) are included in your net worth, how much are those worth?
n/a — no significant property
Spending
How much do you spend on the following categories on a monthly basis?
Groceries: $100
Restaurants, bars, takeout, and delivery: $200
Clothing and accessories: $100
Transportation: $200
Rent/living expenses: $1,400
Entertainment: $50
Other major expenses: none
Health care — premiums and other costs: Premiums are entirely employer-paid.
What's your spending range for these things? What's your average?
Vacations – Range: $0–$3,000
Vacations – Average: $1,000
Individual items of clothing – Range: $5–$150
Individual items of clothing – Average: $50
Apartment or house – Current main residence: $1,160/month
Fill in the blank on this question: I could save _____ if I stopped ______, but I don't because _______.
I could save $200 a month if I stopped eating out for lunch, but I don't because it's so convenient!
Are there any other large expenses in your life, now or previously?
Large medical expenses in 2015
Money Strategy
Do you have a general money strategy?
Save as much as possible.
What are your favorite resources for personal finance?
Reddit
What advice would you give your younger self about personal finance?
Spend as little as possible on undergrad.
Icons via Stencil.