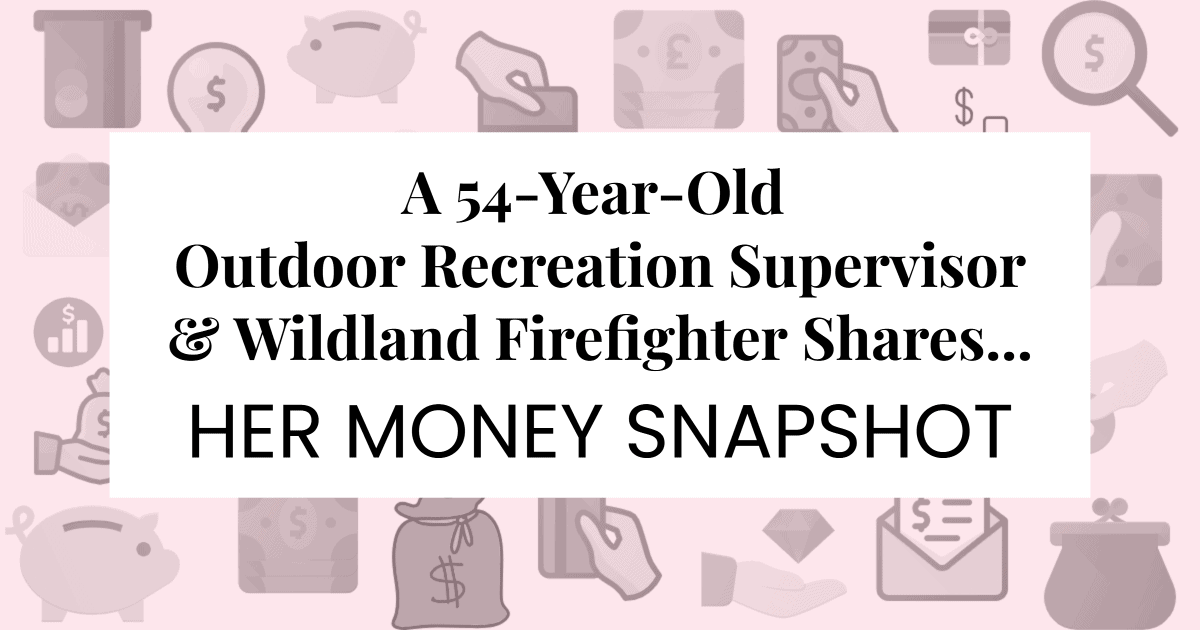 For today's Money Snapshot, we're talking salary, net worth, debt, and more with reader J in Northern Minnesota, who is 54 and works as a outdoor recreation supervisor and wildland firefighter. Regarding advice she would give her younger self, she shared, "Save as much as you can when you are young, but don't forget to enjoy the ride."
We got a few requests from readers to launch our own "money diary" series, so we've asked willing readers to fill out a form with lots of details about debt, spending, saving, and more! If you'd like to fill out the form and be considered for a future personal money snapshot, please click here to submit your response! You can see a PDF of the questions if you want to review them ahead of time. See others in the Personal Money Snapshot series here.
Please remember that this is is a real person who has feelings and isn't gaining anything from this, unlike your usual friendly (soul-deadened, thick-skinned, cold-hearted, money-grubbing) blogger — so please be kind with any comments. Thank you! — Kat
Name: J
Location: Northern Minnesota
Age: 54
Occupation: Outdoor recreation supervisor and wildland firefighter
Income: $69,000 plus $10,000–15,000 a year overtime
Household income: $130,000
Household net worth: $3,200,000
Net worth when started working: 21, net worth $-8,000
Debt: $133,000
Partner: 64, retired government firefighter; still helps with forest fires
Living situation: Own home, pay $2,850 a month on a 12-year mortgage
Debt
What does your debt picture look like?
My parents did not help me in college. I worked a lot and was able to graduate from a state school with $8,000 debt. When I started my Forest Service position right after graduation, I paid it off in two years. Right now, between my husband and I, we have $90,000 in credit card debt. This sounds intimidating but all of this is at 0% interest with a small balance transfer fee. We turn around and invest this money in our TD Ameritrade account.
We have also refinanced our house several times over the years, cashing out some every time and investing it. Right now, we are paying 2.25% interest for a 12-year mortgage and our investments have averaged 15% per year. We both have 800 credit ratings. We are down to only owing $43,000 on our home, valued at $600,000 plus, and have decided to pay it down and not take on another mortgage at this point in our lives. It will be paid off in mid-2023 and I will retire in mid-2024.
How much money are you spending each month to pay down debt?
$3,834
How did you pay for school?
Worked three jobs while attending a state college, incurring $8,000 debt. Of course, this was in the late '80s to early '90s when school wasn't so expensive. Then again, minimum wage was horrible at $2.65 then too.
Do you own or rent? How much do you pay monthly?
Own home, pay $2,850 a month on a 12-year mortgage
Home debt: Share your theories and strategies with us (including any that lead you to rent rather than own).
I have always done a 15-year mortgage to build equity sooner. Doing this allowed me to go from my starter home to the home we live in now. Over the years, I learned the time value of money. My house could have been paid off years ago, and it was somewhat of a risk, but after 2009, we used the low mortgage rates and high stock market returns to make a lot of money for us. I refinanced every five years or so and cashed out the equity, turning around and investing in good individual stocks.
Have you paid off any major debt?
My husband and I have both had to work a lot of extra hours in our careers as Forest firefighters. We have a good balance of paying off debt and investing in Roth IRAs and our TSP with the government, in addition to investment accounts. Our home was bought at $228,000 in 2002 and has grown in value to over $600,000. Nothing like some parts of the country, but we are happy where we are living on a lake in northern Minnesota.
Have you ever done anything noteworthy to avoid or lessen debt?
No, I'm not afraid of debt as long as I can come out ahead with investing. Not all debt is bad debt.
Savings, Investments & Retirement
How much do you save each month or year in retirement vehicles like 401Ks, Roth IRAs, and others?
I save $26,000 in my TSP account, $6,000 for my husband and myself in each respective Roth, and help our kids fund their Roth IRAs to a small extent as well.
How much money do you allocate to other tax-savvy investments/accounts like HSAs, 529s, FSAs, and others?
I put any extra money we make into our TD Ameritrade account. There is no set amount for this.
How much do you save outside of retirement accounts?
Nothing set up; each year sell some stocks to fund our Roth IRAs in early January of each year.
Talk to us about investments. Do you use a financial adviser or planner?
I do not use a financial planner. I feel I am doing well on my own. I plan to possibly speak to a fiduciary when it comes time to take money out of our accounts when retired.
Do you have an end goal for saving or are you just saving for a rainy day?
I can retire at 56.5 in two and a half years. My husband has trusted me with the investing and we are on target to be able to withdraw 3–4% a year and have more money when retired than when working. Our goal is to travel, help our children and grandchildren, and possibly buy a winter condo in Florida.
When did you start saving seriously? How has your savings strategy changed over the years?
I have saved since I was a kid. In hindsight, I wish I was able to have more fun in my younger days. But I really didn't have a lot. Since my mid-30s, when we no longer had to pay for daycare, we have taken nice vacations and live less frugally. As I get older, having the ability to have my money make money in investments has been the biggest game-changer for me.
What's the #1 thing you're doing to save money, limit spending, or live frugally?
There's three big things we have done: We use credit cards to our benefit, traveling whenever we can using earned miles and free motel nights. We also are both good cooks do not eat out much. Also, I have only bought one brand new car in my life.
Have you ever made a big money move or investment with savings in mind?
My biggest money move was when we only owed $80,000 on our house and we re-financed it at $300,000, cashing out $220,000 and putting it into the stock market in 2011. This move really helped our financial future.
Do you have an estate plan in place? A trust?
It sounds crazy even to me, but this is something we both need to do yet.
How much do you have in cash that's available today?
$16,000 in savings
How much do you have in cash that's available in a week?
$16,000; could sell stocks in our TD Ameritrade and probably have the money in a week. That would be $523,000.
How much is in your "emergency fund," and did you include it in the previous question?
Our TD Ameritrade account is our emergency account. The $16,000 in savings is for funding our Roths next month and taxes.
How much do you have in retirement savings?
My husband has $250,000 in his 401k and $309,000 in his Roth. I have $1.23 million in my 401k and $226,000 in my Roth.
How much do you have in long-term investments and savings (CDs, index funds, stocks) that are not behind a retirement wall?
We have $523,000 in stocks.
If property values (home, car) are included in your net worth, how much are those worth?
House is worth $650,000.
Spending
How much do you spend on the following categories on a monthly basis?
Groceries: $500
Restaurants, bars, takeout, and delivery: $100
Clothing and accessories: $400
Transportation: $300
Rent/living expenses: $3,500
Kid-related expenses: Done with this!
Entertainment: $200
Health care – premiums and other costs: $370 month for two; thankfully both healthy
What's your spending range for these things? What's your average?
Vacations – Range: $500–$4,000. The high number was a two-week Hawaii trip.
Vacations – Average: $1,000
Charity – Range of donations: $1,000–$2,000 per year
Charity – Average donation or giving amount: $100 each
Individual items of clothing – Range: $10–$50
Individual items of clothing – Average: Mostly exercise clothes and dresses
Apartment or house – Current main residence: $2,850 a month
Car or other vehicle – Range: Both paid off
Car or other vehicle – Average: Last bought a Mazda 6 in 2015, $25,000
Any other large personal expenses?
Property tax $6,000 a year
If you have children, how much do/did you spend for childcare and/or education?
Five children between us, all grown. Helped each child with $5,000 per year. Some got scholarships.
Fill in the blank on this question: I could save _____ if I stopped ______, but I don't because _______.
I could save $200 a month if I stopped drinking red wine, but I don't because I like a glass with dinner.
If you're married: When was your wedding, how much did it cost (total), and how much did YOU pay? |
Wedding cost $4,000, 75 people. We paid it all. Had a meal, but no dance.

At any point in your life to date, has inheritance played a role in your money situation?
No
How has your family provided financial support in your adult life, if any? (Or, do you provide support to them?)
No
Does your family provide any non-financial support?
No
Money Strategy
Do you have a general money strategy?
Use debt to your advantage.
Time vs. money — do you spend money to save time (e.g., cleaning service)? Do you donate your time instead of money? What else does this phrase mean to you?
Not yet, maybe in future.
What are your favorite resources for personal finance?
Just talking to other investors
What advice would you give your younger self about personal finance?
Save as much as you can when you are young, but don't forget to enjoy the ride.
Icons via Stencil.
Want more posts like this? These are some of the latest Money Snapshots…