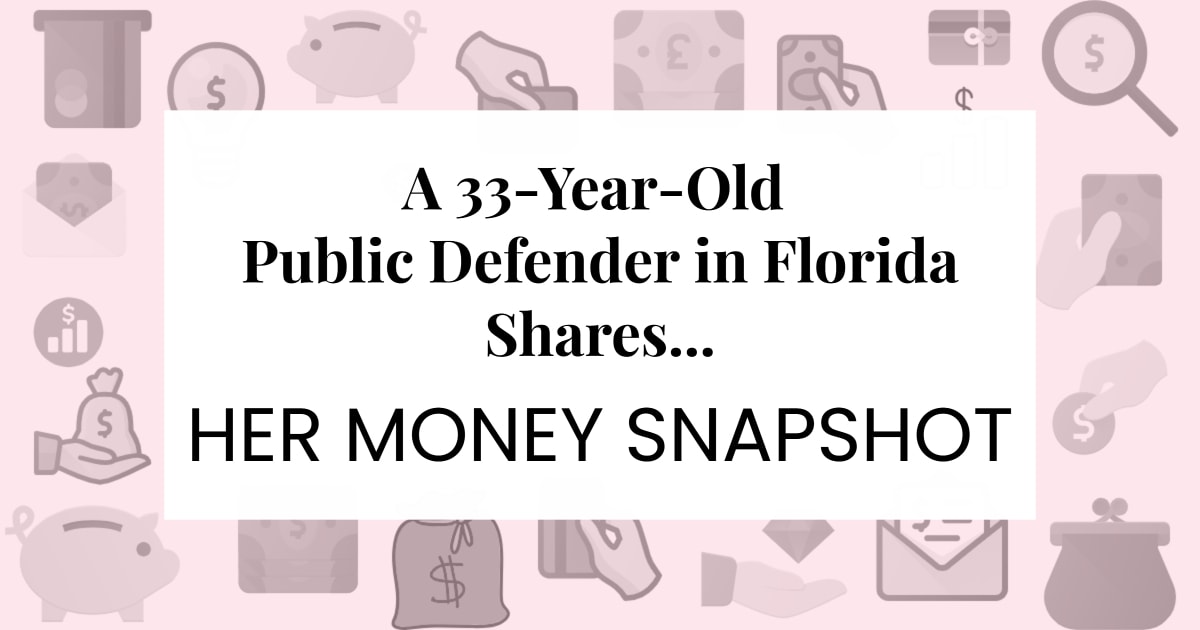 For today's Money Snapshot, we're talking salary, net worth, debt, and more with reader N in Florida, who works as a public defender. She noted, "I want to retire by age 50–55" and also shared, "I avoid debt now like the plague. If we can't afford it, we don't buy it."
We got a few requests from readers to launch our own "money diary" series, so we've asked willing readers to fill out a form with lots of details about debt, spending, saving, and more! If you'd like to fill out the form and be considered for a future personal money snapshot, please click here to submit your response! You can see a PDF of the questions if you want to review them ahead of time. See others in the Personal Money Snapshot series here.
Please remember that this is is a real person who has feelings and isn't gaining anything from this, unlike your usual friendly (soul-deadened, thick-skinned, cold-hearted, money-grubbing) blogger — so please be kind with any comments. Thank you! — Kat
Name: N
Location: Daytona Beach, FL
Age: 33
Occupation: Public defender
Income: $60,000
Household income: $82,000
Partner: Husband, 29, he works as a subcontractor for the post office, but he's self-studying to go into IT
Net worth: $200,000 (investments and real estate equity), but actually -$60,000 since my student loans are $260,000
Net worth when started working: 24, -$250,000
Living situation: Own a home
Debt
What does your debt picture look like?
$260,000 in student loans (hoping will be forgiven in four years for public service), $205,000 on my home.
I was really bad with credit cards in college and law school, to the point that when I got out of school and didn't have a job, I defaulted and was later sued for payment. I settled and paid monthly for about two years to get them paid off. I certainly had a shopping problem, and sometimes it creeps up on me. I took out loans to pay for private law school and cost of living while in school. My mom told me my job was to finish school. I did pay off my car once I got my inheritance.
Follow-up question: How did you get control of your credit card spending? What advice would you share for readers with the same challenges?
My advice would be to unsubscribe from emails and texts from shopping websites. It's like, you won't eat cookies if they aren't in the house; you won't be tempted to shop a sale if you don't know about it. Maybe even unfollow Instagram accounts that tempt you to keep up with the latest trends or buy the newest "life hack" from Amazon. Take the credit cards out of your wallet, so you won't be able to use them when you're out.
How much money are you spending each month to pay down debt?
Student loans frozen now, usually $450/mo., and $1,850 mortgage
How did you pay for school?
Undergrad, I went to an Ivy League school that had lots of aid and pretty much guaranteed no loans if your parent made under $60,000 a year. My mom was in graduate school herself my last three years of college, so no loans for any of that. I worked three jobs part time in undergrad as a bartender, assistant in a psych lab, and a theater usher. I did not work during law school and took out federal loans for all.
Do you own or rent? How much do you pay monthly?
Own, $1,850 includes taxes and insurance
Home debt: Share your theories and strategies with us (including any that lead you to rent rather than own).
I received an inheritance from an aunt I was very close to. I may have been able to put a down payment down without it, but not before I turned 30. I used $12,000 for the down payment. I got a great deal on a home two blocks from the beach. I did a 30-year mortgage, but I want to pay it all off within 10 years by making extra payments when I can.
Have you paid off any major debt?
Yes! I have paid off my car and my husband bought his car in cash. I don't carry any credit card balances.
Have you ever done anything noteworthy to avoid or lessen debt?
I have touched my investments to avoid putting expenses on my credit card.
Psst: In honor of this series' original title, Tales from the Wallet — here's a mini hunt with wallets we love!

This post contains affiliate links and Corporette® may earn commissions for purchases made through links in this post. For more details see here. Thank you so much for your support!
Savings, Investments & Retirement
How much do you save each month or year in retirement vehicles like 401Ks, Roth IRAs, and others?
Right now, I put aside about $150/month (4%) of my paycheck in a 401k, with a 3% employer match. I also put $100 month pre-tax in a deferred compensation plan. My husband and I try to contribute up to the $6,000 max each to our Roth IRA.
How much money do you allocate to other tax-savvy investments/accounts like HSAs, 529s, FSAs, and others?
I plan to contribute about $100 a month pre-tax to my HSA next year, realizing how much I spent on medical expenses this year.
How much do you save outside of retirement accounts?
I plan to contribute about $100 a month pre-tax to my HSA next year, realizing how much I spent on medical expenses this year.
Talk to us about investments.
I use a financial planner who is so helpful and explains anything I don't understand. He's a little more risk-averse than I am, which is good for me. Most of my money is in index funds.
Do you have an end goal for saving or are you just saving for a rainy day?
Early retirement by 50, travel, updates to my home.
Follow-up question: Can you share your strategies for retiring early?
I try to save money on things I'm already paying for by shopping around, especially big ticket items. I compare rates annually on my car and home insurance to save a few hundred a year. I am almost done refinancing our mortgage too — by improving my credit score over the last few years and avoiding debt, we were able to get a 3.35% rate (down from 5.6%), which will save us over $100,000 over the life of the loan!
Every time I put money into our investment accounts or think about making a big ticket purchase, I like to use an investment calculator to see how much that money will be worth in 20 years. It makes me think twice when I see a $500 purse vs. saving the $500, which could be $3,600 in twenty years!
When did you start saving seriously? How has your savings strategy changed over the years?
Cooking at home, not getting delivery. I also make coffee at the office and rarely get it out. I like to rate compare my homeowners and car insurance, I just saved $700 this year by switching to Geico! I avoid debt now like the plague. If we can't afford it, we don't buy it.
What's the #1 thing you're doing to save money, limit spending, or live frugally?
Over the last two years, my perspective on the future and savings has been more focused. I don't want to be tied to debt. I cannot wait to (hopefully) get my loans forgiven, that will be a huge relief. I am ok with having an older car or not the newest thing to make sure I stay out of debt. I want to be able to retire early and enjoy my life.
Have you ever made a big money move or investment with savings in mind?
Given the rising rent prices in my area, I'm so glad I bought in 2018. I would pay $1,800 for a nice two-bedroom apartment now, but that's my mortgage for my 3/2 home with a yard!
Do you have an estate plan in place? A trust?
I need to write my will. My husband and I have taken out term life insurance for each other for 20 years and $500,000.
How much do you have in cash that's available today?
$6,000
How much do you have in cash that's available in a week?
$32,000
How much is in your "emergency fund," and did you include it in the previous question?
$32,000, index funds, yes.
How much do you have in retirement savings?
$44,000, my husband $6,000
How much do you have in long-term investments and savings (CDs, index funds, stocks) that are not behind a retirement wall?
$32,000
If property values (home, car) are included in your net worth, how much are those worth?
Car about $5,000 for mine, $8,000 for my husband's car. Equity in home about $115,000 (worth $320,000, owe $205,000)
Spending
How much do you spend on the following categories on a monthly basis?
Groceries: $500
Restaurants, bars, takeout, and delivery: $250
Clothing and accessories: $0–200
Transportation: $50 gas, $85 insurance, no car payment
Rent/living expenses: $1,850/mo. mortgage
Entertainment: $100
Health care – premiums and other costs: As a state employee, we get a great deal on insurance. For $80/mo. pre-tax, my husband and I get vision, dental, and health insurance. I spend about $40/mo. on all my meds (I have an auto-immune disorder) and a few hundred a year on co-pays and procedures.
What's your spending range for these things? What's your average?
Vacations – Range: $150–$3,000
Vacations – Average: $1,000
Charity – Range of donations: $25–$100
Charity – Average donation or giving amount: $50 but I raised almost $2,000 for ovarian cancer research for my birthday.
Individual items of clothing – Range: $5–$150
Individual items of clothing – Average: Work clothes, $50; workout leggings, $40; purses $300–$500
Car or other vehicle – Range: Free/inherited to $16,000
Car or other vehicle – Current main vehicle: $16,000, paid off
Apartment or house – Average: $650 my 1-bedroom by the beach to $1,850 for my 3 bedroom home I own.
Current main residence: $1,850 mortgage ($220,000 at time of signing in 2018, worth $320,000 now)
Any other large personal expenses?
$30/mo. on Book of the Month and used bookstore, $225/mo. on CrossFit for myself and my husband, $125/month on a lawn service since we don't want to do it. I get my nails done for $50/mo., hair every seven weeks for $140, and pay $350/year for a bikini wax package. I'm a big fan of paying for things I don't want to do and also make me look more presentable without having to do much.
Fill in the blank on this question: I could save _____ if I stopped ______, but I don't because _______.
I could save $200 a month if I stopped eating out, but I don't because I like convenience and certain restaurants are delicious.
Any other large personal expenses? What are they?
$600 on lip filler before my wedding
Going to need to replace my old cast iron pipes, that will be about $10,000.
If you're married: When was your wedding, how much did it cost (total), and how much did YOU pay?
Oct 2021, $9,000; we paid it all ourselves.
Tell us about your wedding!
So fun! 50 people, beach ceremony and a big party in our backyard. I spent money on things I think matter, like having our favorite restaurant cater, having a full bar, and great music. I did spend on a photographer. I didn't spend it on things I don't care about like flowers or table linens.
How has your family provided financial support in your adult life, if any? (Or, do you provide support to them?)
My father lives with us; he gives about $1,000/month money for bills but I also pay his cell phone and car insurance.
Follow-up question: Do you have any advice for readers considering having a parent or other relative live with them?
Make sure your boundaries are clear on what you are and are not paying for/what you expect them to provide. You want to help them, but you also don't want to put yourself in a hole doing so. My dad understands that I am paying for groceries, mortgage, etc., but that I expect him to pay back his fair share. When he asks for extra things, I make sure he is able to pay me back for them before agreeing. I do take him out for breakfast every now and then; I'm not a total Scrooge. I started talking to him about his own retirement plans and have gotten him into investing, which he's never done in his life.
At any point in your life to date, has inheritance played a role in your money situation?
I inherited about $95,000 in 2018 and used a good chunk to pay off all my credit cards and put a down payment on my home. I put the rest in investments. My husband inherited $75,000 in 2020 and used it to buy a used car in cash and pay for our wedding; the rest is in investments.
Money Strategy
Do you have a general money strategy?
Don't live beyond your means; save something every month even if it's small in your eyes. I also think it's important to talk about salaries, finances, etc., with your friends and family.
Time vs. money — do you spend money to save time (e.g., cleaning service)? Do you donate your time instead of money? What else does this phrase mean to you?
I do spend money to save time — hair, nails, waxing. I pay a friend who has a cleaning service $150 every two months or so to do a deep clean. I pay $125/month for lawn care.
What are your favorite resources for personal finance?
I hate that I like his advice, but I listen to Dave Ramsey. I do really like Suze Orman, and Nicole Lapin has a great, bite-size Money Rehab podcast. I really love these money confessions!
What advice would you give your younger self about personal finance?
Save some damn money, stop buying stuff, stop using credit cards.
Huge thanks to N for sharing her thoughts on her public defender salary, loans, debt, her net worth and more!
Icons via Stencil.
Want more posts like this? These are some of the latest Money Snapshots…