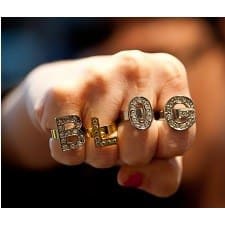 If you have a personal blog that's not work-related, should you keep your blog a secret at work? When does your company need to know? Reader K wonders…
As a fellow lawyer, I followed your blog closely back in my NYC law firm days. I now have a more flexible legal position. (I often work remotely as my primary job is meeting with clients.) My question is concerning blogging — as I can't express much creativity in my day job, I've been blogging at night and on weekends (on my own non-work laptop). It's a personal non-money making blog — in fact it's more of a money pit. My blog has nothing to do with work, I never even mention work — nor is it controversial. (It's about shopping & travel.) What is the etiquette concerning letting people at work know about my blog? (My work FB friends know, but I don't offer the info to anyone unless asked.) I know you blogged anonymously for a long time — I thought about doing this but it seemed like it might hold me back (Google authorship, guest posting, etc.). Should I worry about work "finding out"?
Great question, K. I "came out" to my law firm a month or two after I started Corporette because, even though I wasn't making much, I had started the blog as a business and was worried about running afoul of an ethics rule my firm had regarding disclosing business connections. Still, there can be a big difference between a handful of HR people knowing about your blog, and attaching your name to the blog publicly — both for professional and personal reasons — so let's get into it.
If you're trying to monetize your blog at all — regardless of whether you're succeeding — I would mention it to someone who would most likely be aware of company policy on such things. For example, HR might need to know — but your immediate boss might not need to know. (Know your office, though, as well as your boss. If he or she would be upset to find out second hand, tell him or her at the same time.) Make it clear that you are not blogging on work time or about work-related issues — you may also want to post a visible disclaimer on the blog that "all opinions are my own" or something like that. I'd also be aware of your dual roles in your online interactions — don't get into a heated argument on Twitter or Instagram if your accounts link to your blog/your real name. In other words, be professional in all of your interactions.
Blogging has come a long way, but I think there can still be professional ramifications for blogging. As a fashion blogger, I was worried about being seen as a flibbertigibbet — I'd worked hard to get to where I was in the legal world, and didn't want people to think I was easily distracted by shiny sparkly things. Even if you're not blogging about fashion, though, I'd be wary of telling people too widely, because it can be a bit like telling people you're interviewing for another job, even if you only intend the blog to be a hobby. Finally, personally there can be ramifications when you attach your name to a blog, because when people Google you the blog will often be the first thing that comes up. Every choice you make on the blog, from the font to the pictures to the content to the ads — is something that people will possibly judge you for.
As far as telling your work friends, I wouldn't worry about it — don't go out of your way to do it, but bring it up like you would any other hobby. Examples of normal, natural ways to talk about it might be: "Oooh, I can't wait to blog this!" or "I spent all weekend trying to figure out the footer on my blog!" (I kid you not, I once spent an entire weekend working on the footer on my blog.) You can also link to it on your FB page; some of my blogger friends also post links to individual posts on their personal newsfeeds. (I usually don't, but that's me.)
Readers, how would you go about disclosing a blog to your employer or coworkers? Are you hesitant to start a personal or hobby blog because of the potential professional ramifications?
Pictured at top: BLOG, originally uploaded to Flickr by Thomas Hawk. 
—————
N.B. These substantive posts are intended to be a source of community comment on a particular topic, which readers can browse through without having to sift out a lot of unrelated comments. And so, although of course we highly value all comments by our readers, we're going to ask you to please keep your comments on topic; threadjacks will be deleted at our sole discretion and convenience. Thank you for your understanding!