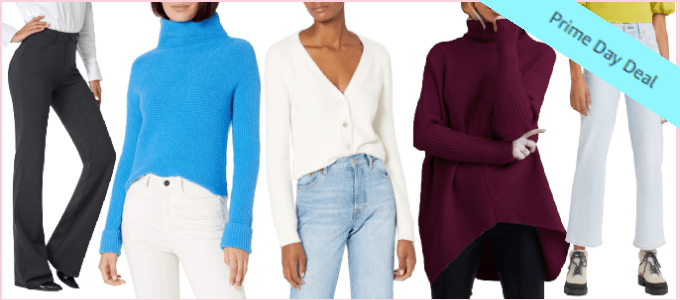 Pictured above, L-R: pants / blue sweater / white cardigan / burgundy sweater / straight jeans
We are a participant in the Amazon Services LLC Associates Program, an affiliate advertising program designed to provide a means for us to earn fees by linking to Amazon.com and affiliated sites.
I started noticing earlier today that a lot of the beauty deals we featured back in July are happening again during the Amazon Early Access Prime Day deals — and when I rounded them up I realized there's a ton of nice workwear and weekend basics in the sale (and a ton of nice gift ideas). Here are some of my favorites…
Clothing deals I'm seeing in the sale include:
In terms of workwear, some of the recent sellers we rounded up in our post on what to buy at Amazon for work outfits are on sale – Daily Ritual (lots of great basic sweaters like this one), Grace Karin (these paperbag pants were reader favorites earlier this year and are on lightning sale), Tapata (their office pants come in petite, tall, and petite plus sizes!)
We didn't include The Drop in our roundup, but they have a lot of great things in the sale – this blazer is $50, this cozy slim-fitting cardigan is cute, this ribbed midi dress, this trench, these colorful flat-front work pants, and a ton of loungey sweater coordinates
Weekend wear from Levi's, Anrabess (this slouchy sweater is always a bestseller), Amazon Essentials, Core10, and workout pants from IUGA (XS-3X)
Big Beauty Brands I'm Seeing in the Sale
Great Little Gift Ideas
(many of these have been featured previously – check out the tag Little Things to see our reviews)
Something random I bought in July during the Amazon Prime sale that I've been loving: these Snail Bee eye mask patches — they're weirdly soothing.