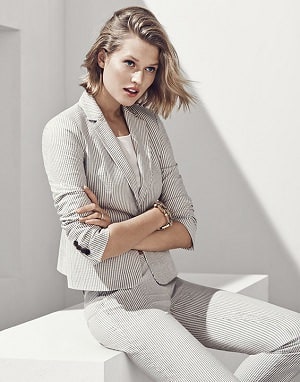 Disclosure: This post is sponsored, but written by your friendly regular blogger, Kat Griffin.
Ann Taylor's summer suiting event kicks off today, and there are a ton of cute options that are now 30% off with code POWER30.  A few picks from the sale…
I've said it before, I'll say it again: a linen blend suit is a great option for truly sweltering days when you still have to wear a suit.  I'm loving the "iced latte" color here — it makes the white blouse look so crisp! I also like that you can buy matching pants or a matching skirt.  After the discount, the jacket (Linen Cotton Two Button Jacket) is $118.30, the skirt (Linen Cotton Skirt) is $55.30, and the pants (Linen Cotton Trousers) are $68.60.
Cotton sateen is another great option for summer because it tends to hold its structure and form a bit better than linen or more fluid fabrics.  All of these pictured pieces below have great reviews and are available in beige and navy. The one-button jacket (Cotton Sateen One Button Jacket) is now $111.30; the straight leg trousers (Signature Cotton Sateen Straight Leg Pants) are now $62.30, and the pencil skirt (Cotton Sateen Pencil Skirt) is now $55.60.
There are also a ton of well-reviewed pieces that are available exclusively online, including the two-button jacket in navy and black (Cotton Sateen Two Button Jacket), now $111.30, a ton of white pant options, including the pictured curvy trousers (Curvy Cotton Sateen Trousers), now $62.30, and these online-exclusive modern cotton sateen trousers, available in all colors (Modern Cotton Sateen Trousers), now $62.30.
Readers, what are your must-haves for summer suiting? Which are your favorite cuts and styles from Ann Taylor's suiting line?
(L-all)