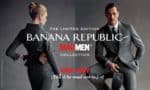 I've long been a fan of the fashion of Mad Men (see my 360 Review of first-season character Rachel Menken) and so I was super excited when I heard about the Mad Men/Banana Republic collaboration coming out. Well, ladies, the wait is over — the collection hit North American stores on August 11. There are so many pieces that are great for work — the perfectly spiked pumps, the collections of pearls, and the clothes, my God, the clothes.
Personally I've been craving the blue begonia print dress for work — love the fuller skirt with the more fitted top! — as well as the lace tipped dresses (the gray is particularly nice, I think).  The cardigan sweaters and tie neck tops are classics, and I'm loving the ever-present bracelet sleeves, which make me want to start wearing elbow-length gloves, stat.
Readers, what's your favorite piece from the collection?  If you're a fan of the show, whose style would you most like to emulate?
Disclosure: This post was written by Kat Griffin, but sponsored by Banana Republic in conjunction with Elle/Style Coalition.