In the 360 Review, Corporette examines a "professional woman"s" attire and critiques it from all perspectives: underling, boss, friend.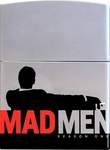 This week's 360 review is in honor of the women of Mad Men, which just began it's second season last night. (AMC is showing repeats all week if you missed it!) In addition to showing us exactly what sort of daily glamour was par for the course back in 1960, the show also manages to show us the rampant sexism and horrible working conditions for women. It's a great show; we highly recommend it. One of our favorite characters last season was Rachel Menken, the wealthy daughter of a department store scion (played by Maggie Siff). She's a modern woman, of sorts — she runs the store, she hires the advertising company, she's waiting to marry someone she loves. She also has some crazy suits. Let's take a look…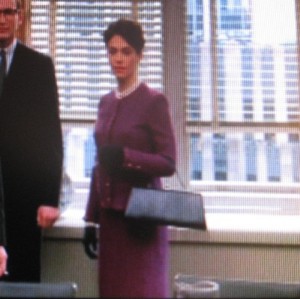 When we first meet Rachel, she's wearing a purple (Chanel?) suit, black leather gloves, white pearls, and a matching purple hat. Minus the gloves and the hat, this look would still work today, although it might be odd to see such a young woman wearing such a buttoned-up skirt suit.
Oh, that hat! We love it. Ok, not really. But we do love the attention to detail — the shoes that match the gloves that match the bag; the necklace that lays perfectly over her suit.
What a great '60s suit. We're guessing this is another Chanel suit, and we love the leopard-print blouse beneath it. The necklace matches the bracelets, and we're sorry but are those gold shoes? Loving it all. Great way to do a buttoned-up leopard print.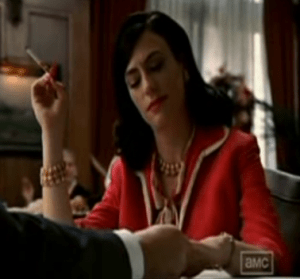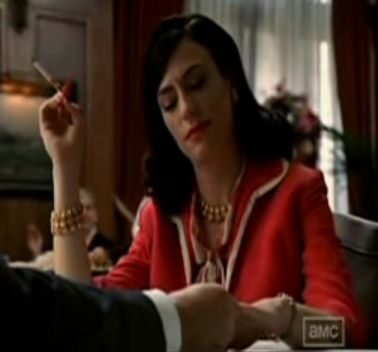 Great red suit; love the way the necklace matches the bracelets. (This is something we ordinarily hate doing — being too matchy matchy with jewelry — but we think the size of these pieces has something to do with what we love so much about them and the fact that they match.) She, of course, has a cigarette holder. (Not that smoking is cool, kids!)
Our take: If we were her underling, we would worship the ground she walked on — she's so smart! she's so well dressed! It's like the department store is her closet. (Of course, if we were her underling we might think she was a little old to still be unmarried and why is she running her own store, but then we'd have a bunch of cigarettes and alcohol and forget all about it.) If we were her equal we might think some of her choices were a bit outlandish, but that she was beautifully dressed and, hey, she has to promote new trends, it is her JOB. If we were her superior… well, that's the point, she has no superiors because she's the boss. She does answer to her father, of course, who was apparently just wondering why he had to have a daughter and not a son. Ah, the '60s!
Did you like last night's episode? Discuss in the comments section, below…