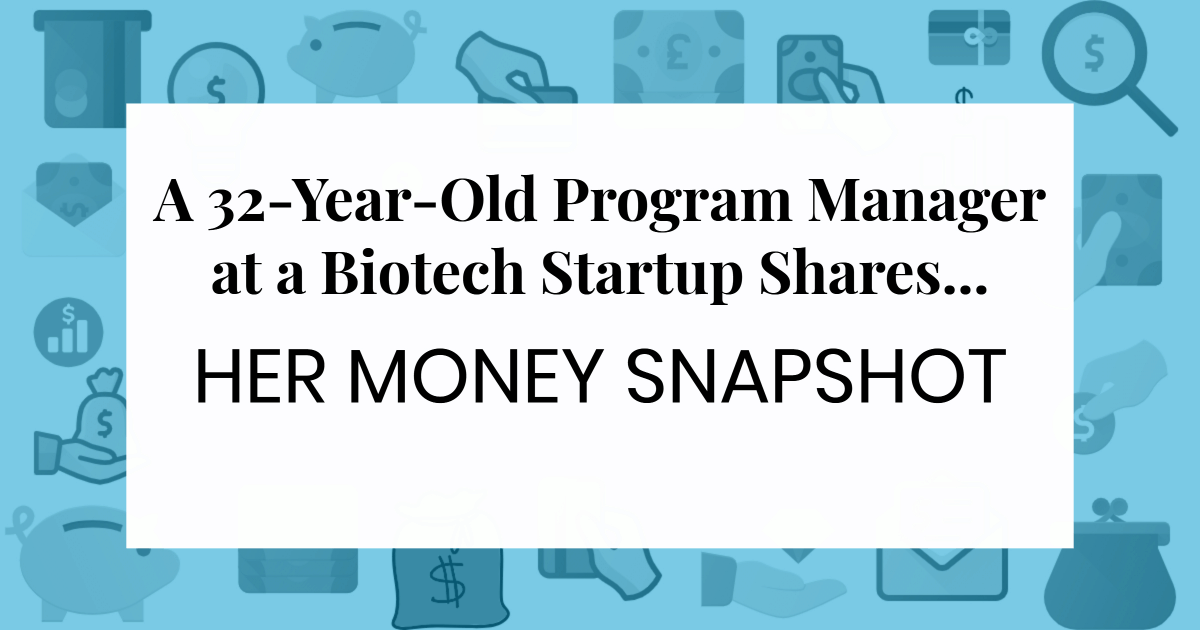 For today's Money Snapshot, we're talking salary, net worth, and preparing to buy a condo with a reader in Boston who works as a program manager for a biotech startup. She notes, "We paid off our student loans and car, and are currently renting, so we're not carrying any debt."
We got a few requests from readers to launch our own "money diary" series, so we've asked willing readers to fill out a form with lots of details about debt, spending, saving and more! If you'd like to fill out the form and be considered for a future personal money snapshot, please click here to submit your response! You can see a PDF of the questions if you want to review them ahead of time. See others in the Personal Money Snapshot series here.
Please remember that this is is a real person who has feelings and isn't gaining anything from this, unlike your usual friendly (soul-deadened, thick-skinned, cold-hearted, money-grubbing) blogger — so please be kind with any comments. Thank you! — Kat
Name: Katy
Location: Greater Boston area
Age: 32
Occupation: Program manager for a biotech startup
Income: $76,000
Household income: $200,000
Partner's age: 33
Net worth: $290,000
Net worth when started working: At 28, I graduated from my PhD program with ~$40,000 in debt from my bachelor's degree.
Living situation: Currently renting to the tune of $2,050/month. About to close on a condo, which we'll be paying around $2,800/month for.
Debt
What does your debt picture look like?
None — we paid off our student loans and car, and are currently renting, so we're not carrying any debt. We charge almost all of our non-housing expenses to a credit card, so we pay a monthly credit card bill that usually totals $3,000 to $5,000.
How did you pay for school?
My bachelor's was paid for with financial aid and student loans — some I took out and some my parents took out. My husband's parents paid for his bachelor's upfront. He took out loans to finance business school, and I completed a graduate program that came with a full tuition scholarship and stipend. Most of my student loans were federal, so they incurred no interest while I was in grad school.
Have you paid off any major debt? Please share a success story if you have one!
I took out $42,000 in loans to cover my bachelor's degree, and my husband took out a similar amount to finance business school. So at its peak, our student debt burden was around $80,000. We lived in Atlanta during and after grad school so were blessed with a low cost of living that allowed us to pay down our debt aggressively. We were down to $0 student loan debt just a couple months before we both turned 30. I'm glad we got that taken care of before we moved to the Boston area, because there's no way we would be able to pay down debt so quickly given the much higher cost of living here.
Home debt: Share your theories and strategies.
We are just about to buy our first home and assume a $2,800/month mortgage payment. We did not take on the biggest mortgage we would qualify for — far from it. Having lived in affordable areas for most of our adult lives, we are having a hard time swallowing the Boston housing market and so limited our search to homes totaling $500,000 or less (roughly $3,000K/month for a 30-year mortgage, given a 20% down payment). Our take-home is around $9,000/month, so this puts our housing costs around 33% of our income, which feels reasonable to us (even if the $3,000/month figure turns my stomach). We are hoping to make extra payments toward our principal every month, in the neighborhood of a few hundred to $1,000. We were tempted to enter the housing market with a down payment <20% but held off and socked money away until we could hit that figure.
Savings, Investments & Retirement
How much do you save for retirement?
We each have 401Ks or equivalent through our employers. I save 10%; my husband maxes out his 401K yearly.
How much money do you allocate to other tax-savvy investments/accounts?
We don't! We (mainly I) get easily overwhelmed considering all possible investment options so we've been diversifying our portfolio slooowly.
How much do you save outside of retirement accounts?
When we lived in Atlanta, after we paid off our student loan debt, we were saving $2,000 to $3,000 monthly. The cost of living in Boston hasn't allowed us to keep saving at that clip, though we've still been saving $1,000 to $2,000 monthly, plus my husband's twice-yearly bonuses (totaling around $12,000/year). We opened up a high-yield savings account through American Express and make our deposits manually.
Talk to us about investments. Do you have/use a financial adviser or planner?
We are newbies to investments. The closest thing we have to an adviser is my husband's dad (who was a captain of industry before he retired). We've basically been following his advice — first working up to 10–20% savings in retirement accounts, then once those were well funded, shifting more of our savings into our savings account in preparation for the down payment. I'm not sure what we'll do once the down payment has been put into our condo. My gut is telling me to just sink the money into the mortgage and try to shave down our overall interest payment. Like I said, I get easily overwhelmed thinking about all the possible investment strategies.
Do you have an end goal for saving or are you just saving for a rainy day?
My husband is motivated by early retirement and I'm curious about the whole FIRE thing, but at this point I feel like I really enjoy work and am not desperate to leave the workforce anytime soon. I'm more of a risk-averse person, so having a big pillow in our savings account makes me feel fundamentally relaxed.
What's the #1 thing you're doing to save money, limit spending, or live frugally?
Honestly, living in a tiny shoebox apartment in Boston has put a cap on my spending. We literally can't fit any more stuff in our house, so I'm hesitant to even buy a new pair of socks.
When did you start saving seriously? How has your savings strategy changed over the years?
About a year before I finished grad school, I turned a corner and became deadly serious about reducing debt and saving. I had been living in the glorious bubble of student loan deferral, where I didn't feel the pressure of regular loan payments. As the reality of impending loan payments approached, I kind of woke up and decided to get a jump on my loan balance before I graduated and the interest began to accumulate. Once our loans were paid down, we didn't change our lifestyles (except maybe taking more vacations), and put the money that had going toward loan payments into our savings account.
Have you ever made a big money move or investment with savings in mind, such as rolling over an older IRA into a Roth IRA or superfunding a 529?
Not yet. I have a 403b retirement account from an old job I'm considering rolling into an IRA account, but again, I get easily overwhelmed by this stuff and in this case don't think it will make a big difference, so I'm in no rush to do this.
Do you have an estate plan? A trust?
None yet! The idea that we even have any accumulated wealth to worry about is still so new to us we haven't taken this step yet.
How much do you have in cash that's available today?
$120,000 ($74,000 of which will make up the balance of our down payment)
How much do you have in retirement savings?
$170,000 — just $30,000 of that is mine, and the rest is my husband's.
How much $ do you have in long-term investments and savings (CDs, index funds, stocks) that are not behind a retirement wall?
$0
Spending
How much do you spend on the following categories on a monthly basis?
Groceries: $500
Restaurants, bars, takeout, and delivery: $600
Clothing and accessories: $200
Transportation: $170
Rent/living expenses: $2,050
Entertainment: $200
Other major expenses: My husband is super into paintball, which is a relatively expensive hobby — maybe a few hundred dollars a month. We also vacation relatively frequently (e.g., a few weekend ski trips/year, a one- to two-week big vacation each year, and maybe six other long weekends that require air travel and hotel).
Health care — premiums and other costs: Combined, we spend about $100/month on premiums and maybe as much as $1,000/year in healthcare expenses beyond that (but possibly much less).
What's your spending range for these things? What's your average?
Vacations – Range: $300 to $3,000
Vacations – Average: $1,000
Charity – Range of donations: $25 to $150/month
Charity – Average donation: $100/month x 7 charities
Individual items of clothing – Range: $30 to $100
Individual items of clothing – Average: $50
Car or Other Vehicle – Last purchase / current main vehicle: Spent $15,000 on a used Prius in 2014. Only have one car — husband uses it to commute, and I bike or use public transportation to commute.

Apartment or house – Current main residence: $2,050/month
Fill in the blank on this question: I could save _____ if I stopped ______, but I don't because _______.
$100/month if I boycotted Lyft, but I figure I spend so little biking and busing to work that every now and then it's fine to use rideshares.
When was your wedding, how much did it cost (total), and how much did YOU pay?
June 2014. Total cost was around $20,000 (incl. honeymoon), $15,000 of which was covered by a gift from my husband's parents. It was great! We got married in a barn in upstate New York, near the town where we met (as college students). We kept the guest list smallish by today's standards (invited ~110 people), almost all of who came. Dinner was a BBQ buffet, and in addition to our DJ, we had a square dance caller come and lead some dances. It was a blast.
How has your family provided financial support in your adult life, if any? (Or, do you provide support to them?)
My husband's parents have been super generous (they are relatively well off and my husband is an only child). They gave us $15,000 toward our wedding, and then as we were saving for our down payment, they gave us two big gifts totaling $40,000. It's been clutch.
Money Strategy
Do you have a general money strategy?
Save as much as possible. When we spend, we spend on experiences, not on things (vacations are our biggest splurges).
Time vs. money — do you spend money to save time (e.g., cleaning service)? Do you donate your time instead of money? What else does this phrase mean to you?
I support this strategy but don't have much cause to employ it right now (no kids, and our apartment is so small it would be ridiculous to hire a cleaning service). I guess I do take Lyfts from time to time when I don't want to waste time on a long train or bus ride.
What are your favorite resources for personal finance (podcasts, blogs, books, series, conferences)?
Podcasts. In grad school I got super into Dave Ramsey for a few months and that kind of inspired me to start getting serious about my debt. Though now I find him to be kind of a windbag. I also look at the Mr. Money Mustache blog from time to time.
What advice would you give your younger self about personal finance?
It would have been great to start chipping away at my student loan debt earlier in grad school but honestly I don't think it would have made a huge difference. I was super lucky to have been able to take out mostly federal loans, so didn't have to deal with accumulating interest during that time.
Icons via Stencil.