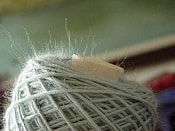 How do you reduce static cling in pants and skirts? Reader K wonders…
Wondering how to deal with unlined pants & trouser socks (or long underwear, for that matter) such that the pants don't get all bunchy and sticky, especially for wider-leg trousers. Are you just going to have to resign to have a certain amount of clinginess to your lower legs if you're wearing trouser socks, or are some silkier than others/are there other products out there that function the same as a slip? Static is one issue, but fabric on fabric is what seems to be causing me the most trouble.
Wow — I had no idea before I looked into this a bit how many interesting techniques are out there. For starters, I will say that I haven't had this problem too much in the winter, perhaps because I've often worn
silk long johns
beneath unlined wool pants (with trouser socks, if any, below those) — in these nasty days I have to sing their praises again; they're super warm when you're outside but not noticeable at all when you're inside. (I also often tend to wear boots in the winter with pants, and generally switch from trouser socks to regular (often silly) socks such as those from 
HotSox
and
HappySocks
.) A few tips from the interwebs:
Readers, do you have problems with static cling in the winter? How do you handle?
Pictured: Yarn Cake Static Cling, originally uploaded to Flickr by cakersandco.
We are a participant in the Amazon Services LLC Associates Program, an affiliate advertising program designed to provide a means for us to earn fees by linking to Amazon.com and affiliated sites.