2018 Update: We still think this is a great roundup of stylish pencil skirts, but you may also want to check out our more recent roundup of pencil skirts for work.
Sure, we all know what basics professional women are supposed to have in their closets, but if you're buying one for the first time or replacing one you've worn into the ground, it can be a pain to find exactly the right incarnation in stores. In "The Hunt," we search the stores for a basic item that every woman should have.
Ladies, here's something we haven't talked about in far too long: which are the most stylish pencil skirts for work? I've heard the J.Crew No. 2 pencil skirt is on the upswing (reviewers note it's more similar to older versions of the skirt), and the old reader favorite, Halogen's pencil skirt, is still getting positive reviews even after the design change — but otherwise it seems very much to be an open field right now.  Do you prefer pencil skirts in solid neutrals or suiting fabrics — or do you find colorful pencil skirts to be an easy way to inject fun to your working wardrobe?  Do you prefer midi skirts or A-line skirts these days? Which are your favorites?
We've rounded up some of our favorites on the market right now — and ooh boy are there some good sales. First, some specialty groups:
Curious for our last discussion on the best pencil skirts? Check it out here.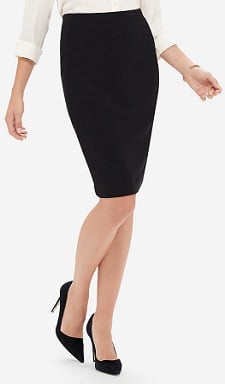 At least one of the commenters on our recent roundup of the best suiting brands for women noted how much she loved the Luxe collection at The Limited, and it's easy to see why — a super classic, basic skirt with matching jacket, available in sizes 00-18 as well as petite and tall sizes. It's $69.95 full price, but today you can take $25 off every $50 with code night, which brings this skirt down to a very affordable $45. Luxe High Waist Pencil Skirt
We've featured this before, but I keep seeing this Loft pencil skirt everywhere, and it always looks great (better on real women than the models, I think).  Ladies, this may be a unicorn: it's a pencil skirt with pockets! It's normally $69, but some colors are on sale for $59 today; if you're a cardmember you can get an additional 30-40% off today.  Slit Pencil Skirt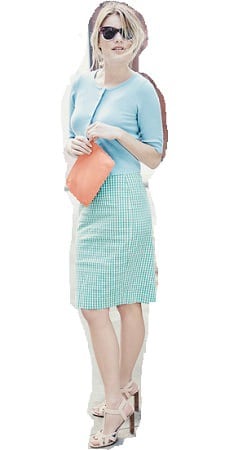 Boden's Modern Pencil comes in regular and tall sizes, and has a ton of fun prints to choose from. I like that it's machine washable, has a nice bit of stretch, and finishes just below the knee. It's $88 at Boden. Modern Pencil Skirt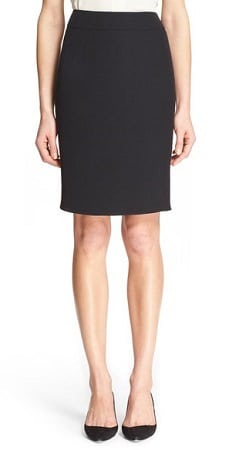 I haven't quite processed this information, but must share: there are a number of great sales on Armani going on around the web right now.  Nordstrom has a ton of pieces marked 60% off (I'm now obsessed with this dress and may have to get it), and Bloomingdale's also has a decent sale on a number of Armani pieces.  This wool pencil skirt — a great basic! — is down 60% (!!!) at Nordstrom, from $495 to $197 — with lots of sizes still left. Pictured: Armani Collezioni Wool Cady Pencil Skirt
Their loss, your gain: The disastrous styling of the first Zac Posen / Brooks Brothers collaboration means that many of the pieces from the collection are on steep discount right now.  This pencil skirt was $498 originally, but is now down to $199 — and it still has sizes 0 to 16 available. Ignore the fugly shoes (what were they thinking?) and focus on the great deal for this Italian stretch dobby fabric with lovely vertical darting. It's also available in black, but still at full price.  High-Waisted Pencil Skirt
Honorable mention: this skirt is more of a midi skirt than a pencil skirt — and it's a pull-on style — but hello, it has 83 really positive reviews.  If you're on the hunt for a longer style, do check it out — especially since it's only $69.  I'm less of a fan of the brand's tube skirt for work (be wary of overly body conscious styles, ladies), but it's also got a zillion good ratings in both regular, petite and plus sizes. Pictured: Vince Camuto Ponte Midi Skirt
Like this feature? Check out other recent installments!